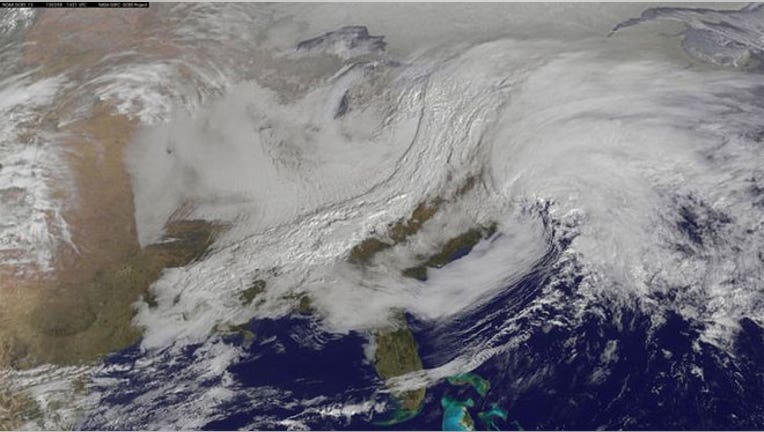 Thousands of flights have been canceled as a blizzard that could reach historic proportions sweeps up the Eastern Seaboard.
More than 3,000 flights have been canceled in the U.S. as of Friday afternoon, with New York's LaGuardia Airport and Newark Liberty International Airport leading the charge with more than 400 each, according to FlightsStats.
More than 350 flights were canceled at both Boston Logan International Airport and John. F. Kennedy International Airport in New York, more than 100 were canceled at Chicago's O'Hare International Airport and Philadelphia International airport and dozens more in Washington D.C., Connecticut, Detroit, Cleveland, Buffalo and Atlanta.
Cancelations began as early as Thursday and ramped up drastically on Friday. The number is expected to climb through the weekend as the storm system moves through the area on Friday and Saturday, dropping anywhere from a few inches to a few feet along the East Coast.
Major carriers like United Continental (NYSE:UAL) and Delta (NYSE:DAL) have been among those reporting extensive cancelations.
"The storm will do more than end a recent snow drought in part of New England," AccuWeater senior meteorologist Alex Sosnowski said in a post. "Some areas will be hit with an all-out blizzard and buried under a couple of feet of snow and massive drifts."
The winter storm comes just three months after Hurricane Sandy ripped through the region, causing billions of dollars in damage and catastrophe losses for insurers like Allstate (NYSE:ALL), Travelers (NYSE:TRV) and Chubb (NYSE:CB). Many areas, particularly low-lying regions or waterfront properties, are still reeling from the late 2012 superstorm. Sandy and Midwest droughts propelled 2012 into the record books, with insurers incurring an unusually high $160 billion in insured losses in the U.S., according to Munich Re.
Boston is expected to be hardest hit this weekend, with meteorologists predicting that as many as 24 inches could drop over the next two days, which would make it the city's worst snowstorm since the city's blizzard of 1978.
On top of the cancelations, there have been nearly 2,000 delays in the U.S., according to FlightStats, which tracks the level of delays and cancellations across the globe.
"With such intense snowfall, vehicles can become stuck and people can become stranded," Sosnowski  said. "Weak and/or flat roofs could collapse under the weight of the snow, which could be greatly uneven due to drifting."
Amtrak, meanwhile, is suspending northbound service from New York and southbound service out of Boston starting Friday afternoon.