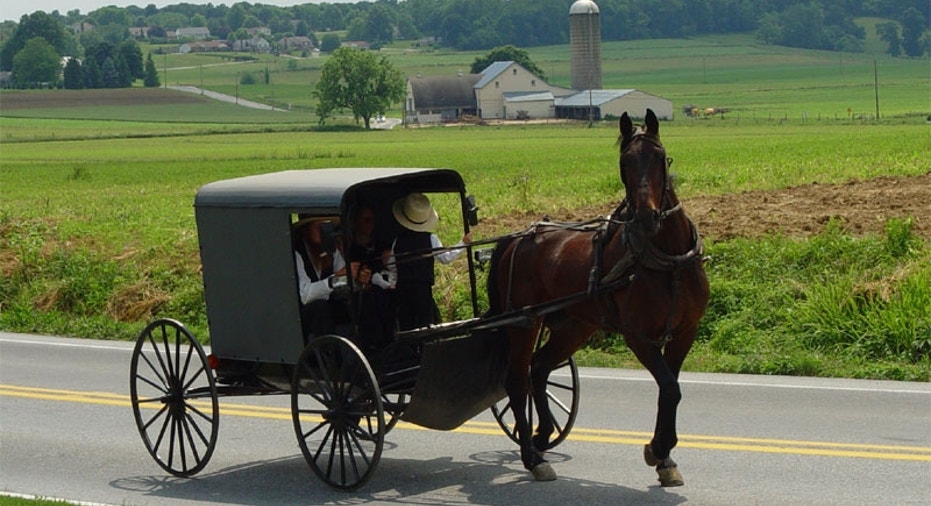 It's not drunken driving if you're at the helm of a horse and buggy, apparently.
Instead, the Sheriff's Office in western New York's Chautauqua County has charged four young Amish men with illegal possession of alcohol after their buggy collided with a squad car on Sunday. Deputies were responding to reports of a wheeled drinking party blocking traffic on a country road.
The buggy flipped after the collision, resulting in a minor injury to one of the passengers, police said. A horse broke free afterward and ran into a nearby barn. Several other buggies fled the scene.
Chautauqua County Sheriff Joe Gerace told the Jamestown Post-Journal Monday that there was "reason to believe" the buggies were racing when the accident occurred.
The men, all under 21, were charged with underage possession of alcohol. If convicted, the men face fines up to $50 and as many as 30 hours of community service.
Fast and furious and really lucky
Had they been behind the wheels of slammed Honda Civics (which have at least twice the horsepower), the men if convicted of DUI could have faced a mandatory six-month driver's license suspension, fines up to $1,000, a requirement to install an ignition interlock device and untold heck from their car insurance companies, which look almost equally dismally on street racing.  (See "Calculate your DUI limit: Avoid a car insurance disaster.")
But the Amish typically don't have insurance, which isn't required for buggies, just motor vehicles. But they can be sued, if at fault, for damage they cause.
Buggies and vehicles share the roads uneasily in many states.  Inattentive vehicle drivers, slow-moving carriages and narrow country roads have been a deadly combination.
Several states require use of bright orange hazard triangles on the buggies. Some Amish object because their faith shuns anything that is not "plain," including bright colors. In Kentucky, eight Amish men went to jail last year for refusing to display the hazard triangles.
A compromise that would allow them to use strips of white reflective tape is in the works.
The original article can be found at CarInsurance.com:This is an Amish DUI