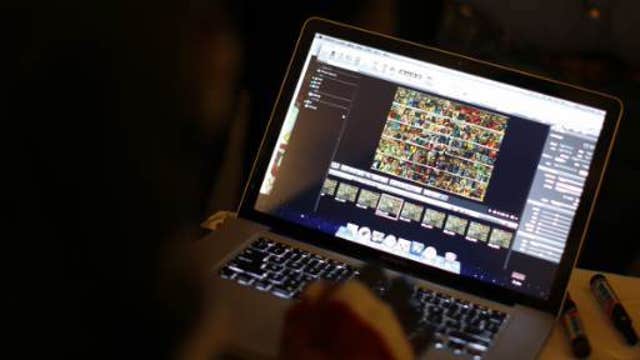 In 2014, tech heavyweights picked fights, formed alliances and learned that when it comes to cyber-security, hackers are going to keep at it -- here are the year's biggest headlines in the tech space.
Hackers Gonna Hack
It's been a whole year since Target (NYSE:TGT) got hacked last Thanksgiving, but hackers came out swinging in 2014. From big banks like JP Morgan (NYSE:JPM) and retailers like Home Depot (NYSE:HD), to the U.S. Postal Service, Apple's iCloud and most recently, Sony, the attacks proved no one is totally home-free.
Sony this month pointed fingers at North Korea after a probe linked the nation to an attack in which five previously unreleased movies were leaked and company computers paralyzed -- and that was just the first weeks' worth of leaks. Ultimately, after a string of threats, Sony pulled the plug on the Christmas Day release of "The Interview," a parody starring Seth Rogan and James Franco and involving the attempted assassination of North Korean leader Kim Jong Un. The FBI concluded mid-December that North Korea was indeed behind the hacks, and President Obama vowed retaliation in due course. A week later, Sony made an about face and pushed out the film in select theaters and online on-demand on Christmas Day, bringing in more than $1 million that day, according to Sony. How the U.S. chooses to fight back is still unclear.
And handful of high-profile celebrities, including Oscar winner Jennifer Lawrence, threatened to go to court after hackers broke into and stole images from their iCloud accounts. Cyber threats are increasingly all too real. In fact, American banks were compelled to bolster their digital defenses after five major banks were compromised. Security experts told FOXBusiness.com hackers were sending a direct message that even the most secure systems can be breached.
Life in the Fast Lane
In the wake of a GOP midterm election takeover, President Obama spoke up on net neutrality. Obama is calling on the FCC to regulate Internet service providers like public utilities to make sure they grant equal access to all content providers, no matter their size.
Daring to Ride Share
Ride-share startups kicked rivalry up a few notches. As the mudslinging between Uber and Lyft picked up speed, lesser-known competitors like Gett Taxi quietly raised impressive funding rounds. And while Uber came under heavy criticism for its pricing tactics (like inclement weather-related fare surging) and an executives unsavory comments hinting at digging up dirt on nosy reporters, competitor Lyft reported an uptick in business. All throughout Uber managed to fight regulatory hurdles left and right, from Germany and Las Vegas, to Colombia and Los Angeles. But it wasn't all sour news for the ride-share service: Uber raised $1.2 billion in capital over the summer and another $1.2 billion round in December, which upped its valuation to $40 billion.
Binge Stream
This year, digital streaming was all the rage. Twitter (NYSE:TWTR) danced into the sector with Audio Card, enabling users to stream audio directly from the app. Google's (NASDAQ:GOOGL) YouTube is tinkering with an ad-free, paid subscription service, Music Key. The music service is expected to launch this month at the cost of $10 a month, challenging rivals such as Beats and Spotify. Meanwhile, Spotify inked a deal with none other than Uber allowing users to play DJ from the back seat. The music streaming company, which is 50 million active users strong, also made waves when Taylor Swift's label Big Machine pulled all of the newly-minted pop star's music from the platform, citing fear of harm to album sales. Spotfity's CEO stressed the company was founded to help protect artists against piracy and disclosed that to-date it has paid $2 billion in royalties. For the record, YouTube has confirmed Swift's catalogue will be available in its entirety on Music Key.
In video streaming news, HBO is going all-digital for viewers who prefer to watch TV online. Those interested in cutting the cord on analog will be able to sign up for HBO's new stand-alone streaming service in the new year -- to which Netflix CEO responded was "inevitable and sensible" on HBO's part. Netflix has its own bag of tricks, however: It's doubling down on its original content success, teaming up with funny man Adam Sandler on a four-year movie deal. And on New Year's Day, is making all of the Friends series available to stream.
How About Them Apples?
Apple (NASDAQ:AAPL) held not one, but two shimmering product unveil events this fall. The Silicon Valley veteran took the wraps off its hotly-anticipated Apple Watch, which will become available early spring, affirming end-of-year predictions last year that 2014 could be summed up in one word: Wearables.
It also introduced a new mobile payment system, Apple Pay, to compete with the likes of PayPal, Square and Amazon's new Local Register. As investors weigh the risks of mobile pay, some large U.S. retailers (Wal-Mart, CVS) are refusing to use Apple Pay and developing a rival service to eliminate their transaction fees.
Other big-ticket items included new super-slim iPad and iPad mini models, an iPhone 6 and larger-screen iPhone 6 Plus (which sold out within hours of the pre-sale kick off), and an eye-popping iMac with Retina 5K display. But it wasn't all roses, at least not when iPhone buyers discovered that with enough force, the new phones could bend, sparking: #BendGate. And on the heels of the product-reveal frenzy, CEO Tim Cook in an op-ed for Bloomberg Businessweek wrote that he is gay.
Shake Ups and Break Ups
Meanwhile, shake-ups in the C-Suite drew lots of attention: First, Microsoft (NASDAQ:MSFT) CEO Steve Ballmer stepped down, handing the reins over to Satya Nadella. And while Ballmer sealed a $2 billion deal for the NBA's Los Angeles Clippers, Nadella enacted his own shake up within Microsoft, slashing as many as 18,000 jobs in the next year. And Oracle's (NYSE:ORCL) Larry Ellison left his post at the software titan after forty years as chief executive. Ellison will assume the role of chief technology officer, and Safra Catz and Mike Hurd will move up to co-CEO positions from their previous co-president roles.
For a while it seemed another week, another break-up, as old-name tech companies took cues from scrappy upstarts and thinning their operations to better their results on the bottom line. Two big examples are eBay (NASDAQ:EBAY) spinning off PayPal and H-P (NYSE:HPQ) splitting itself up. But top-dollar acquisitions also stood out including Facebook's $22 billion purchase of messaging app WhatsApp at the beginning of the year.
New Kid On the Block
The news the tech world waited for with baited breath arrived mid-September when Chinese e-commerce giant Alibaba (NYSE:BABA) made its public debut on the New York Stock Exchange. Shares of the company popped at the open and its value jumped to nearly $231 billion, making it the largest public offering in history. CEO Jack Ma told FOX Business the goal is to build an ecosystem, in which they help small businesses, not compete with them.
Alibaba didn't stop shattering records there; it reported $9.3 billion in sales on China's busiest shopping day dubbed Singles Day, more than Black Friday and Cyber Monday sales in the U.S. combined for 2013. BABA stock is up nearly 18% since its Sept. 22 open.
Happy New Year!
What's in store for 2015? All things mobile, social and of the cloud. Market research firm IDC predicts accelerated innovation in these areas and in big data. According to IDC, global IT spending will grow 3.8% in 2015 to more than $3.8 trillion, nearly all of which is concentrated on mobile, social, data and the cloud.