The World's Most Expensive Valentine's Day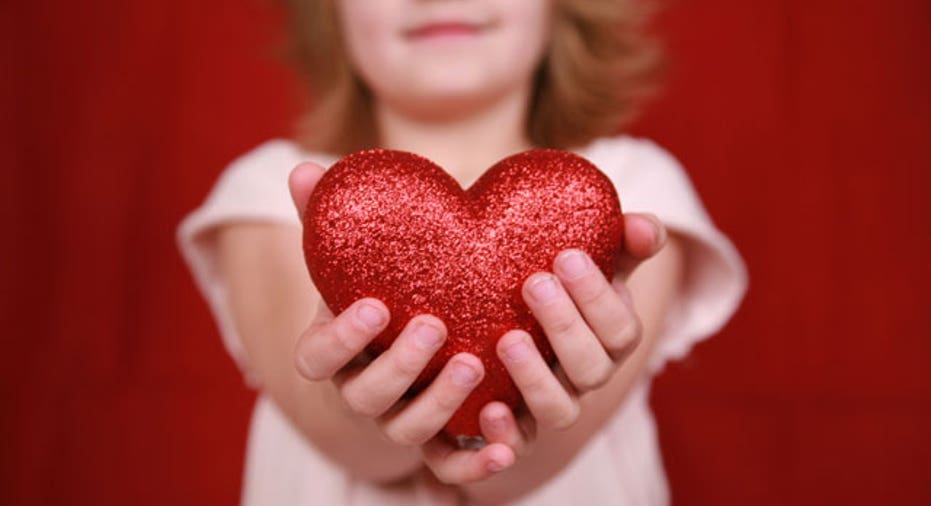 Go all out this Valentine's Day
Valentine's Day is probably one of the more polarizing observations on the calendar, other than the original purists who remember St. Valentine. You have the group of people who shun the holiday, scoffing it away as a master ploy to sell greeting cards. This group often spends the day trying desperately to ensure it is just like any other day, as long as any other day doesn't include going out to dinner or the movies.
Then there's everyone else. Last year, Americans were expected to spend $15.7 billion for Valentine's Day on everything from trinkets to jewelry and flowers, according to the National Retail Federation. We're not sure how often people actually buy their loved ones that huge bauble in Tiffany's, but if you're like most people, you're going to be nearing the ATM withdrawal limit to express your love. The average person was estimated to spend $116.21 last year, part of an upward trend that seems to suggest a bad economy can't stop love. That, or relationships can still cost a lot of dough regardless of the financial climate.
Let's see how best to blow through a bevy of bucks for your beloved this Valentine's Day.
Flowers
Flowers are a standby in any relationship. Anniversaries and birthdays are known to get a bouquet tossed their way, but on Valentine's Day, it's absolutely required.
Because we are going all out this Valentine's Day, why not look past the long-stemmed roses and go for something expensive and exotic?
Your darling would certainly fall for a Gold of Kinabalu orchid. The flower is endangered and only grows in a small, protected region of a Malaysian national park, so you'll need to fly there and do some searching. Though your gift wouldn't reach its full effect until it blooms in April, your round trip is still financially worth it because the orchid is worth an estimated $5,000 per stem. On second thought, it would be a bit of a depressing Valentine's Day spent in a Malaysian prison.
If you don't feel like risking it, try some fake blooms -- like what may be the most expensive bouquet in the world. Said to have been presented as a wedding gift from a Saudi businessman, the flowers in the bouquet are actually an origami made of currency. Elegantly folded bills of 50, 100 and 500 Saudi riyals total approximately $266,000. At least you wouldn't have to water them.
Greeting Card
Greeting cards usually come bearing a message or salutation about as genuine as a limp handshake. A preprinted "Happy Valentine's Day to someone very special" usually implies the exact opposite and would likely be better substituted by a blank card with a signature scribbled inside.
If you insist on expressing your love in card form but are loathe to actually create a worthwhile message, perhaps that is reason enough to up the ante. You can invest in a card from the expensive and exquisite Gilded Age Greetings. You might find yourself double-checking the company's acronym when making your Valentine's Day selection, but there will be no doubt you didn't swing through the drugstore for a quick card on the way home from work.
Gilded Age Greetings will create your couture Valentine's card by hand, adding that extra personal touch for your loved one. It provides that certain flare only 23-karat gold and precious stones can deliver. The most expensive card is sold at $3,950 in the collection, with some Valentine's greetings offered at a mere $2,250 price tag.
Arriving tassel-bound in a silk box and with white gloves for presentation by "the giftor," you may be setting a dangerous precedent for subsequent Valentine's Days -- one that can only be topped by an actual peacock. Maybe you should keep the gloves.
Perfume
Perfume and cologne have become Valentine's Day staples. They ensure our loved ones will smell great and they earn a few points for presentation, as fragrance companies tend to present their products as otherworldly essences.
Consider Imperial Majesty perfume by Clive Christian. As far as smells go, the perfume is probably swell. At an asking price of $435,000 on Amazon, you're paying for more than a smell and a brand. Only a handful of Imperial Majesty bottles were created for men and women as part of a very limited edition. Each bottle is handmade with Bacarrat crystal and is diamond encrusted. At this point, you probably wouldn't be surprised to know that the folks at Clive Christian bill themselves as "the world's most expensive perfume."
If you don't have the time to try to hunt down one of the only 10 bottles of Imperial Majesty worldwide, you can settle for the more accessible "No. 1" perfume for women from, yes, Clive Christian. Presented in a gold-crowned 1.6-ounce bottle, this $865 perfume includes notes of pineapple and plum. Take note, however: One of the select retailers references a high demand for the No. 1, and there's a purchase limit of six per month. That might be more of a hygiene issue, though.
Chocolate
Rare is the Valentine who doesn't appreciate the gift of chocolate. Women or men, dark chocolate or milk, box assortment or shaped like a chubby Cupid, it's hard to go wrong. It's also easy to play it safe, which is why you need a chocolate like no other: chocolate that looks like it may have been brought back from the surface of Mars.
La Madeline au Truffe from Connecticut chocolatier Knipschildt is your answer, hailed as the most expensive chocolate in the world. Priced at $250 for just 1.9 ounces, La Madeline is a rare French Perigord (mushroom) truffle ensconced in a ganache made from Valrhona dark chocolate, truffle oil, vanilla and heavy cream before being dunked in more dark chocolate and cocoa powder. Because your mouth is now probably watering, remind yourself this chocolate is $2,100 per pound. Made to order, it will be presented "lying on a bed of sugar pearls" -- as it probably should be.
Watches
Quick -- what time is it in Prague? If you're like most people, you probably gave up and didn't know the answer or did an Internet search. But this Valentine's Day, save your man the hassle and give him the gift of always knowing what time it is -- anywhere -- with the Patek Philippe World Time Complicated Watch. With a rather long glance (as the name suggests), he'll be able to tell the current time in any major world city. This complicated watch features a cloisonne enamel dial, an 18-karat yellow gold case, a sapphire crystal back and is water resistant to 30 meters. At only $215,595, it is well worth not having to learn time zones.
And for that special lady, you could make her smile even brighter with the most expensive watch ever created. Called the 201-carat Chopard, whoever owns this watch won't want people thinking she owns it for something as pedestrian as telling time. But in case someone does trouble her for the hour, three heart-shaped diamonds -- about 38 carats -- mechanically move away from the center and surround the watch face. There are another 260 pear-shaped diamonds, and in total the watch boasts 201 carats. The price is estimated at $25 million, so you may want to pay down that credit card first.