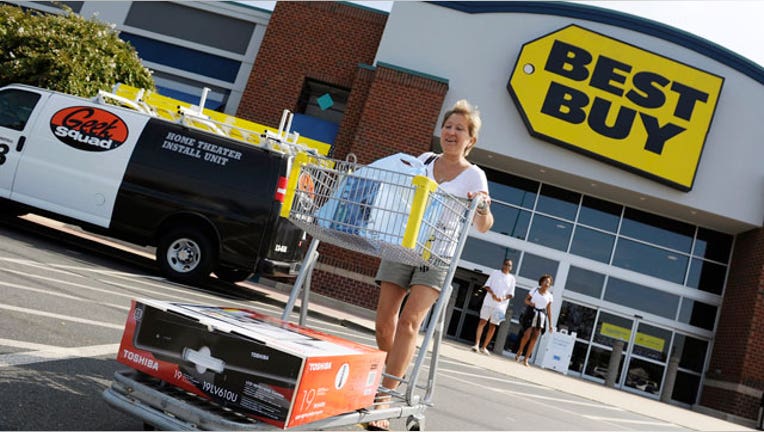 Welcome to OnSale at FOXBusiness, where we look at cool deals and insane bargains.
Best Buy says hello to the iPhone and the MacBook Air meets a worthy opponent. Rdio has a new, budget-friendly offer for music lovers. A new gifting tool for Facebook makes giving a group thing, and a robot promises to clean house, then charge itself afterwards.
iPhone at Best Buy
Apple's latest addition to its line of iPhones, the 4S, is now available at Best Buy. In-store pre-orders started shortly after Apple introduced the new device, and they're expected to ship by the end of this week.
The retailer has a large offering of Apple products including iPhone generations old and new, including the 3GS and the 4, plus accessories. Click here to see the lineup.
Serious Lightweight
The good people at Acer have a solution for those who appreciate the MacBook Air, but want something that won't weigh down their wallet.
The Acer Aspire S3 – from Intel's Ultrabook line –goes on sale this week. It weighs in at just under three pounds, has a 13.3-inch screen a Core i5 processor and 4GB of RAM, and packs a 320GB hard drive. The ultrathin laptop has an ultra-reasonable price tag: $899. (Compare that to the 13-inch MacBook Air, which costs $1,299.)
Pre-orders for the Ultrabook are available through Amazon, FRYS.com and Walmart.com.
All Songs, No Ads
Streaming music service Rdio now offers complimentary, commercial-free songs. Users can sign up to hear one of the site's many playlists with just an email address or a Facebook account.
An on-screen meter will gauge how many of the Rdio library's 12 million songs have been played over several months, and listeners will be notified when they've reached their limit for free music. After that, unlimited tunes cost just $4.99 per month for a web-based subscription.
Music is also downloadable for offline listening at a rate of $9.99 per month.
Group Gifting
OnSale told you about Giftly, the site that brings gift cards into the twenty-first century. Now there's a tool for Facebook users that makes group gifts a cinch. Giftiki allows Facebook friends to give each other gifts of $1 to $10 for various special occasions or just because. A Giftiki icon then appears on the gifted's Facebook wall, and the money can be used towards the purchase of an American Express (NYSE:AXP) gift card or for other retailers such as Amazon, (NASDAQ:AMZN) Macy's, (NYSE:M) Sports Authority, or Starbucks (NASDAQ:SBUX).
Home Goods
The latest creation from Neato Robotics aims to wipe the floor with other vacuums on the market. The Neato XV-12 all-floor vacuum cleaner is completely hands-free and automatically making its way around in-home surfaces by way of a laser-guidance system.
Less than 4-inches high, the machine finds its way under furniture and is programmed to return to its base for a recharge when the job is done. Neato Robotics says it's the most powerful robotic vacuum available on the market, and keeps all types of floors and carpets clean with a tangle-free brush. The XV-12 is only available at select Target (NYSE:TGT) stores starting Oct. 16, and is priced to sell for $399.99.
Know of a killer deal or insane bargain? Email the goods to OnSale@foxbusiness.com and share the wealth.