The 'Sweet' Smell of Success of Gigi's Cupcakes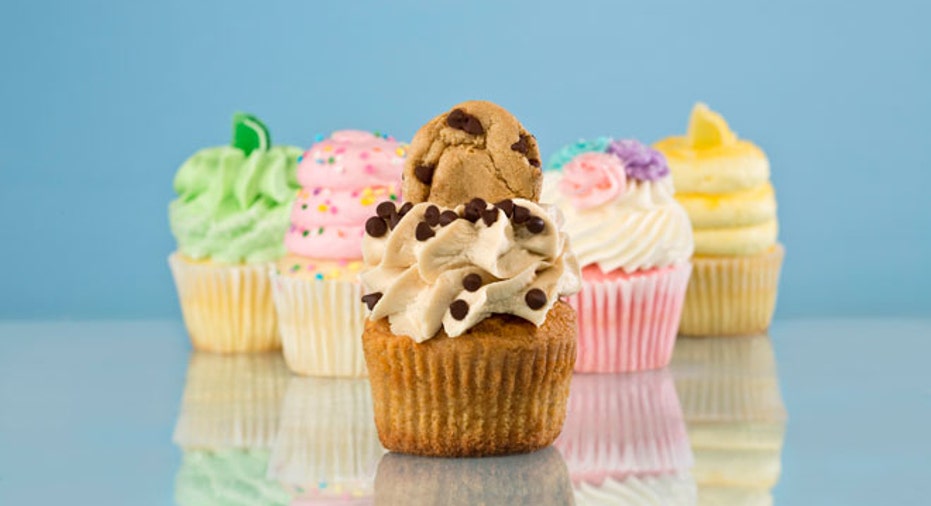 In this Salute to American Success, we're taking a look at Gigi's Cupcakes and founder Gina "Gigi" Butler. Starting off never knowing she'd end up in the cupcake business, Butler today is enjoying the "sweet" smell of success.
Butler was born in Oklahoma and raised in a desert town in California's Antelope Valley. From an early age, she was determined to do what she loved -- become a musician.
When Butler turned 15-years-old, she started her first business, a cleaning company.
"There was a housing boom at the time, so I decided to get into the cleaning business," said Butler. "I knew cleaning so well and knew I could make good money doing it.  It gave me creative freedom. I could write and sing while I worked."
Three years later, Butler edged closer to her goal of becoming a singer/songwriter by forming her own band, playing country music. Then, in 1994, she sold her cleaning company, paid her bills and with $500 to her name, she moved to the "Music City", Nashville, Tennessee.
It wasn't long after arriving in Nashville that the entrepreneurial bug hit Butler. Once again, she started a cleaning company.
"I got my first job at a Red Lobster.  I was able to get clients from the people I waited on," said Butler. "I'd clean during the day and sing at night."
After performing in various countries around the world, Butler, now 30, decided to retire from the music industry.
"It wasn't working out… I felt like complete failure for a while," said Butler.
She shifted her focus to her cleaning business, where she hired more employees to help serve the growing number of clients. Then, a simple phone call from her brother would change her career path.
THE BUSINESS
In September 2007, Gigi Butler's brother, Steve, was standing in line at well-known cupcake shop in New York City when he gave her a call, suggesting she open up her own cupcake business.
So, she decided to take a leap of faith and try her hand at baking. The first thing Butler needed to get the business going was money. Despite having "every bill paid off and great credit", the four banks she approached rejected her request for a loan. Finally, she found a banker who helped her get cash advance loans on her credit cards with lower interest rates.
As opening day neared, Butler was still facing some issues.  After cleaning a few houses to pay her plumber, her contractor walked into the shop and handed her a $15,000 dry wall bill. "I started to have a meltdown," Butler said. "I didn't know how everything would work out.  I didn't have much money left in my checking account. There was no money to advertise either."
On February 21, 2008, the first Gigi's Cupcakes store opened for business in Nashville.  Butler said it wasn't long before a line started to form at the door of the store.
"I had a week or so to pay about $4,000 in rent and my two employees," said Butler.  "And I did it."
BUILDING THE BUSINESS
Not long after the first store opened, at the recommendation of her landlord, she decided to franchise the Gigi's Cupcakes brand. In 10 months, a second store opened. In addition to the baking company, Butler was still cleaning houses. She did so until a 13th store opened its doors.
"I would start baking early in the morning, leave to clean houses, and then come back when I was finished," said Butler.   Currently, Gigi's Cupcakes has nearly 100 locations throughout the country.  Starting with $26,000 invested by Butler into the company, she says it has now grown to see more than $40 million dollars in revenue.
FUTURE PLANS
Butler has big ambitions for her company.  In January, Gigi's Cupcakes opened its first store overseas in South Korea.  Butler said she hopes to have "50 stores open there" in the future. Also, she envisions her company expanding more in the United States.
"We'd love to go to California, Boston and Seattle, even open more stores in Florida," said Butler. "Some states are harder to do business in than others. You also need money and infrastructure to support expansion in places that are farther away."
The company will soon be opening a store in North Chicago, as well as locations in other states.
In addition, Butler said the menu is expanding too.
"We're not just cupcakes anymore. We've added wedding cakes, cheese cakes, cookies and pies to our menu," said Butler.  "You have to learn to evolve."
ADVICE TO OTHERS
Butler stressed the need for up-and-coming entrepreneurs to have good legal representation.
"You need to have a good legal counsel.  If you want to franchise, you need an attorney who specializes in that practice," said Butler.
She added that "having great credit allows you to do so many things."
Butler also pointed out something that has stuck with her since her days running her cleaning business.
"I would clean the homes of Taylor Swift and LeAnn Rimes.  I learned from those experiences that you have to have something that sets you apart from everyone else," said Butler.
In the end, she said it comes down to the sweets themselves.
"Sweets won't go out of style... happiness won't go out of style," said Butler.  "Cupcakes make people happy."