The number of female CEOs has dropped this year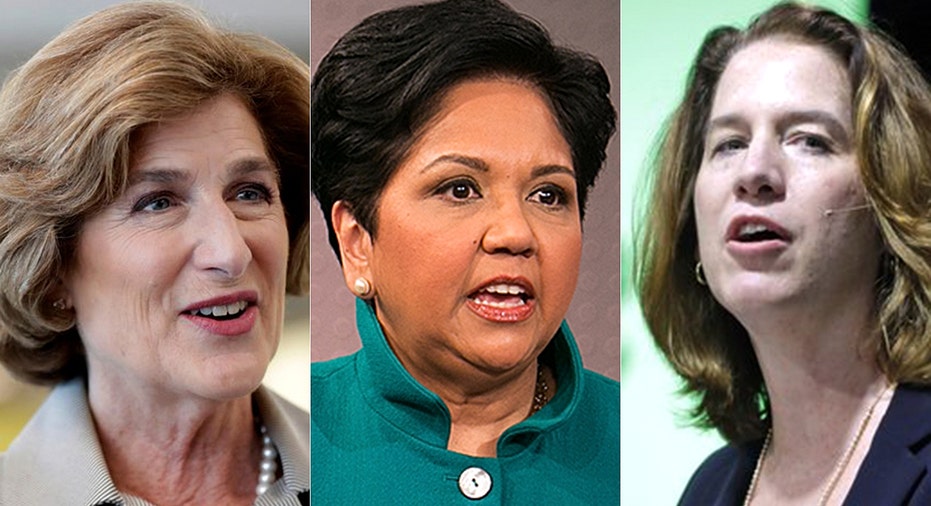 Several high-profile female CEOs have announced their exit in recent months, drastically reducing the number of women in chief executive roles at Fortune 500 firms from a record 32 in 2017 to a mere 23 today.
On Monday, long-time PepsiCo CEO Indra Nooyi, who is known as one of the most prominent women to lead a Fortune 500 company, announced she's stepping down on Oct. 3.
Her exit follows other recent notable departures, including Campbell Soup's Denise Morrison in May and Mattel's Margo Georgiadis in April, which according to experts, has dramatically altered the C-Suite's gender landscape.
"It's disheartening to hear the news any time a woman CEO steps down. Their departures are so noticeable because there are so few women CEOs to begin with," Anna Beninger, senior director at Catalyst, a non-profit that tracks women's progress in leadership positions.
According to Beninger, the process to parity in leadership has stalled at all levels.
Today, women currently hold 23 (less than 5%) CEO positions at S&P 500 companies, make up 11% of top earners, and less than 5% of senior-level positions are held by women of color.
"Men still lead 95% of the most powerful companies in the world," Beninger says. "The progress to date has been so slow that it's hard to say if we're reverting back to the way it was before. Essentially, there's just been very little progress in the C-Suite for the last two generations of women."
According to data from Catalyst, between 1972 and 200, there were never more than four women CEOs in the Fortune 500 in any given year (496 of 500 were men). In the 18 years since then, Beninger says the percentage of women CEOs has climbed at an agonizingly slow rate, just breaking the 5% mark in 2017. And, over the last decade, the number of women in senior roles in the country has only increased one percentage point.
"The deck is stacked against women at every stage of their career, and tremendous barriers still exist holding them back, so this slow pace of change is not surprising," she adds.
However, according Equilar data on CEO trends, at the 500 largest publicly traded firms, female CEOs have departed at roughly the same rate as their male counterparts since the beginning of 2017. Recent notable male CEO exits include Richard Smith from Equifax, Jeff Immelt from General Electric, and Mark Fields from Ford.
Yet, data from executive recruiting firm Spencer Stuart found that over the past five years, only one female chief at an S&P 500 company has been succeeded by another women. Debra Crew succeeded Susan Cameron as the head of tobacco giant Reynolds American in January 2017.
Here's a list of women who currently hold CEO positions at S&P 500 companies:
Mary Barra, General Motors
Gail Boudreaux, Anthem
Heather Bresch, Mylan
Michele Buck, The Hershey Company
Debra Cafaro, Ventas
Safra Catz, Oracle (co-CEO)
Mary Dillon, Ulta Beauty
Virginia Drosos, Signet Jewelers
Adena Friedman, Nasdaq
Michelle Gass, Kohl's
Lynn Good, Duke Energy
Tricia Griffith, Progressive
Marillyn Hewson, Lockheed Martin
Vicki Hollub, Occidental Petroleum
Patricia Kampling, Alliant Energy
Margaret Keane, Synchrony Financial
Beth Mooney, KeyCorp
Phebe Novakovic, General Dynamics
Patricia Poppe, CMS Energy
Barbara Rentler, Ross Stores
Virginia Rometty, IBM
Susan Story, American Water Works Company
Lisa Su, Advanced Micro Devices
Geisha Williams, PG&E Corp.