The NFL's Los Angeles Play Is Big Money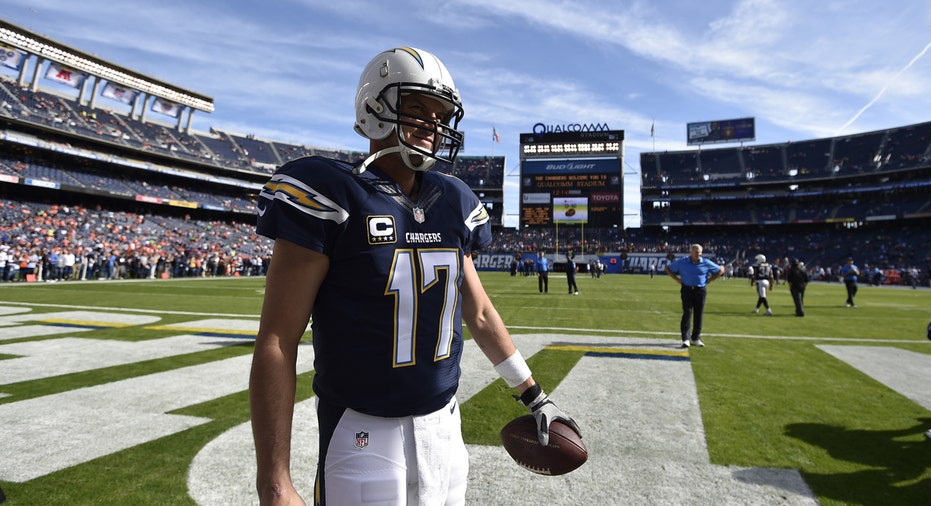 The NFL's race to return to Los Angeles is officially underway, and three teams are looking to cash in on the league's long-awaited return to the City of Angels. The St. Louis Rams, Oakland Raiders and San Diego Chargers each applied for relocation on Monday, but league officials still have to determine if the financial benefits associated with Los Angeles are enough to offset the hefty cost of uprooting a franchise.
Rams owner Stan Kroenke supports a $1.86 billion, one-team stadium in Inglewood, California. Chargers CEO Dean Spanos and Raiders owner Mark Davis are jointly backing a $1.78 billion plan to share a new stadium in Carson. Both projects would be funded entirely with private money. Each requires the support of 24 of the NFL's 32 owners to pass a vote. A maximum of two teams will be allowed to move to Los Angeles, league officials have said.
None of the three teams would earn more in Los Angeles from ticket sales or media rights deals than they would in their current markets, thanks to the NFL revenue-sharing model that grants all 32 teams an equal cut. But franchises are allowed to keep every cent they earn through stadium naming rights deals and in-stadium advertising.
A naming rights deal for a Los Angeles-based stadium is worth tens of millions of dollars more than similar deals in smaller cities. The NFL's two richest stadium-branding deals – MetLife Stadium, home to the New York Jets and New York Giants, and Levi's Stadium, home to the San Fracisco 49ers – were signed in major markets.
"You could envision naming rights selling for $10 million, $15 million a year more in L.A. than in San Diego, than in Oakland, than in St. Louis," said Victor Matheson, a sports economist at the College of the Holy Cross in Worchester, Massachusetts.
The NFL also allows its teams to keep most of the money they earn from in-stadium luxury suites – an arrangement that could create a "huge pile of money" for a Los Angeles franchise, Matheson added.
"They do need to take out an applied ticket price. If I have a $10,000 luxury box seat, I do have to take out $100 or something for whatever the ticket would be. But the rest of that luxury box is not the ticket to the game, it's the concessions or the amenities. You get to keep all of that," Matheson said.
A Los Angeles team would also gain an advantage in terms of recruiting high-profile free agents. The league's salary cap prevents franchises from substantially outbidding one another for a player's services, but an L.A. team can pitch star athletes on the business opportunities and public exposure that Hollywood affords. It's a common occurrence in the NBA, where franchises like the Los Angeles Lakers routinely land top-notch talent, even when the team itself isn't competitive.
But the NFL's potential return to Los Angeles also raises a few financial concerns. Traditionally, league officials have tried to secure public funding for new stadium projects. The Rams are balking at the city of St. Louis' proposal of $400 million in public money towards a new riverfront stadium, while the NFL's negotiations with the cities of Oakland and San Diego have broken down entirely.
Economists say there's little evidence to support the idea that a new sports stadium will stimulate a local economy outside the venue's immediate vicinity.
"While the specific city will benefit over time if the franchise is well run and competitive, much of what will take place within the regional economy will be a transfer of spending that would have otherwise been spent on other forms of sports and entertainment," said David Carter, Executive Director of the University of Southern California's Sports Business Institute.
Aside from securing the approval of three-fourths of the NFL's 32 owners, any relocating franchise has to pay a massive fee for the right to move to a new city. For the Chargers, Rams or Raiders, that fee is a reported $550 million, per NFL.com. League executives, including Commissioner Roger Goodell, have repeatedly expressed a desire for a stadium solution in the Raiders, Rams and Chargers' current markets.
"In order for relocation to work, it must benefit the league first and foremost – and the league is the collection of owners who want to ensure they will be enhanced by any relocation," Carter said.
Key NFL committees will gather in New York this week to assess and discuss the Carson and Inglewood stadium projects. The league's 32 owners will meet next week in Houston, where they will hear updates on the Los Angeles situation and, possibly, vote on which teams, if any, will be allowed to relocate.
That means the NFL could have team in Los Angeles in time for the 2016 season.