The New Voluntary Benefits Companies are Offering to Lure Top Talent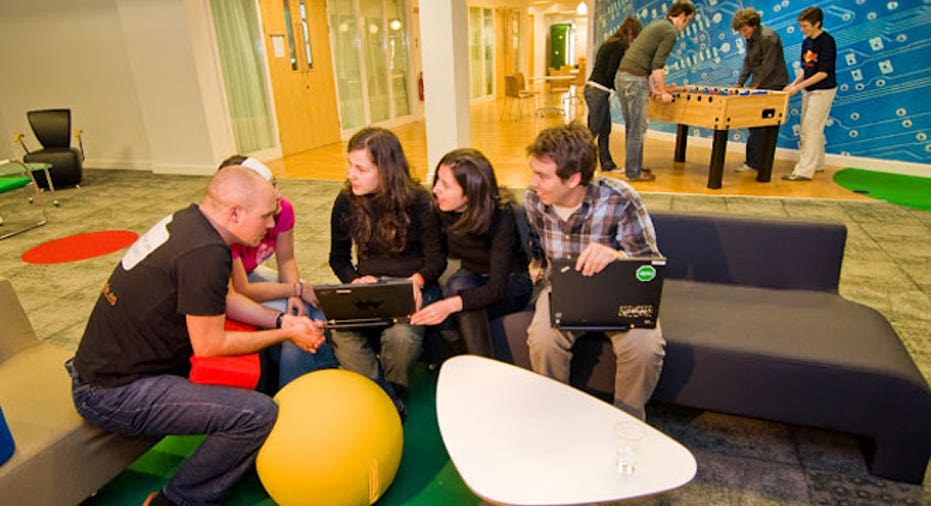 Rachel Ramsey is an editorial coordinator and an avid traveler, and she didn't want to give up her yen to see the world because of her job. Luckily, she found a company that allows its employees to spend one month each year working from any location in the world. She was hooked.
As a small business in Austin, TX, Ramsey's company, Software Advice competes with brands like Facebook and Google "We really have to differentiate ourselves when it comes to hiring," says Ramsey. "This stand-out program has played a big part in our high employee retention rate and has been a catalyst in our ability to recruit great talent. It was certainly a determining factor when I decided to take my job here."
But Software Advice isn't alone with its unique offering and it highlights a trend that's hot in employee benefits right now: voluntary benefits and services (VBS).
VBS have been around since the 1960s, but have continued to evolve to help round out an employee's total rewards package. According to a recent Towers Watson survey, VBS will be gaining even more traction in the next two to five years as companies look to increase retention and lure top talent.
The economy, tight benefit and salary budgets, major health-care reforms and employer competition are behind the recent push for VBS offerings. A company might not be able to offer workers the pay raises they want, but being able to take summer Fridays, or work from home two days a week, might keep them satisfied.
Corporations need to take care of their people, says Collier Case director of benefits at Sprint Nextel  (NYSE:S). For example, Sprint has had VBS for well over a decade, and in the last three or four years reviewed what VBS it offers, and increased them and made them more attractive to meet employee needs.
"These are not cover ups for cutbacks [in health care or other areas], but tools and resources to help employees live a more balanced life," says Case.
Financial counseling, for example, will be an important offering during this fall's 2014 enrollment season, according to the survey as employers work to increase workers' retirement and personal finance knowledge.
And insurance products that include dental, vision, life, disability, long-term care, accident, hospital indemnity, critical illness and universal life will be among the voluntary offerings employees should watch for this enrollment season, say experts. Employees will typically be responsible for some or all associated costs of coverage, but receive the benefit of group rates or discounts and convenient access to employer-vetted vendors, products and services.
Extra Insurance Eases Financial Worry
For as little as $5, $10 or $20 a month, employees can have peace of mind knowing they will have extra cash to help cover costs above what their traditional health plan will cover, says Beth Grellner, health care practice lead in Towers Watson's St. Louis office. It's just what employees need at a given point in time, says Grellner, who claims as the mother of two active kids she's spent her fair share of time in the emergency room.
While voluntary disability insurance may not be "fun or sexy," says Alliance Data senior benefits manager Kim Berdinsky, "it's important." Alliance recently beefed up its voluntary disability insurance offering to cover extra medical costs that crop up when an employee needs to be out of work, for example, during pregnancy. The product is offered through a cost share model, explains Berdinsky. "It's not 100% coverage but enhanced, so there's less financial worry."
Identity Theft for Tech Frenzy
Identity theft and legal protection are also hitting employer's benefits offerings. No one knows how to handle identity theft when it happens, says Grellner. Having access to help and protections is attractive.
Added legal plans from employers also run the gamut in coverage: will and trust representation, real estate transactions and reviews of simple business contracts, divorce, premarital agreements, immigration assistance and tenant eviction problems. And adoption assistance benefits are another unique offering.
Added Services Aid Medical Choices
24/7 nurse hotlines and virtual telemedicine help employees and their families address minor medical conditions quickly and with little time hassle.
Evren Esen, survey research manager at the Society for Human Resource Management (SHRM) claims these benefits improve employee health-care decision making. Some companies also provide apps that allow employees to compare the cost of medical services, she says. "Knowing what a service is going to cost may prevent going to the doctor at the drop of a hat when employees have a sniffle."
Having a more health-care conscious workforce increases productivity and reduces time lost from sick days.
Perks Match Personalized Preferences
But benefits also add value beyond crisis mode. For instance, benefits surrounding paid time off (PTO) are particularly appealing to employees. At TransLoc, senior management wants employees to unplug, so much so that they strongly discourage even checking email while on vacation, says John Mickey, TransLoc's director of marketing. The company offers unlimited vacation time, and to sweeten the pot, doles out a $1,000 bonus when an employee takes at least a five-day stretch of vacation, adds Mickey, who's been with the company seven months and is planning a two-week vacation in Costa Rica.
Some PTO programs combine sick, personal and vacation days into one category, explains Esen, allowing employees to dictate how they allocate their time. Therefore, a healthy employee might especially benefit by limiting sick days and stretching out vacation.
The personality of existing employee populations and the desired characteristics of new hires inform employer VBS offerings, according to Jared Olsen, chapter president of the Salt Lake City SHRM. For instance: veterinary pet insurance is popular at Sprint, says Case. But when it didn't take off at Alliance, Berdinsky says the company dropped it. Indeed, there are many perk offerings to choose from. In fact, SHRM's 2013 employee benefits survey already includes as many as 300 "work/life fits."
Many employees may not even avail themselves of any outside-the-box benefits, says Elizabeth Cogswell Baskin, CEO of Tribe Inc., but they will know management is listening and appreciate the creativity.
These creative cultural perks are becoming as important as salary, and they entice employees—particularly younger workers—to stay loyal to their companies, claims Olsen. "Younger workers want to work for creative, innovative companies—workplaces where they might enjoy acupuncture, massage, or an onsite haircut and have their tires rotated at lunchtime while eating sushi."