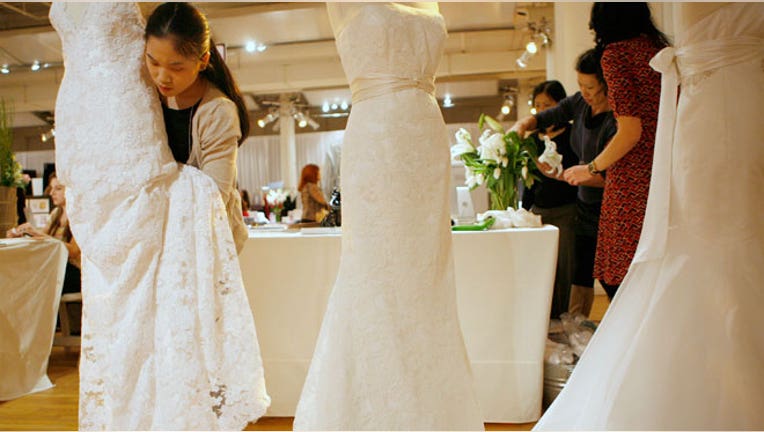 Walking down the aisle is pricier than ever, according to wedding site TheKnot.com.
According to the site's 2013 Real Weddings Study, the average U.S. wedding now costs $29,858. This is the highest average cost since TheKnot.com began surveying brides in 2007. It's also more than half of the median household income in the U.S. ($51,371, according to Census data released in 2013).
"We've seen average wedding budgets increase since 2010," says TheKnot.com site director Anja Winikka. "It had taken a dip between 2009 and 2010 … but then the next couple of years, it went back up."
Winikka says that as the economy has improved, couples are more willing to spend on the big day. "In 2010, people were counting every dollar. As the years have progressed, couples are a little more comfortable spending money on their wedding."
Even so, the amount that brides and grooms are willing to shell out for their wedding may be shocking. In Manhattan – the most expensive place to get hitched – the average wedding puts couples back $86,916. And in even in Idaho, the cheapest state for weddings, the average nuptials cost $16,159.
Despite this, Winikka says couples are still mindful of their money. Perhaps inspired by sites like Pinterest, Winikka says more couples are incorporating DIY elements into their weddings. And winter weddings are becoming increasingly popular, with 7% of couples choosing to get married in winter (up 2% from 2012).
"Part of it has to do with budgets. You can get a deal in the winter months – not in Florida, maybe, but in the rest of the country," says Winikka.
Want to see how your city stacks up? Here are the top 25 areas where weddings cost the most, according to TheKnot.com:
1. New York City (Manhattan): $86,916 2. Long Island: $57,343 3. North/Central New Jersey: $51,287 4. Chicago: $48,449 5. NYC Outer Boroughs: $47,121 6. Santa Barbara/Ventura, CA: $44,214 7. Rhode Island: $42,469 8. Westchester/Hudson Valley, NY: $42,444 9. Connecticut: $41,745 10. Philadelphia: $40,350 11. Los Angeles: $38,735 12. South New Jersey: $38,620 13. Washington, DC/Northern Virginia/suburban Maryland: $37,487 14. Southern Florida (Miami, Fort Lauderdale and surrounding areas): $37,210 15. Boston: $35,512 16. Houston: $35,475 17. Louisiana: $35,008* 18. Lehigh Valley/Poconos, PA: $34,488* 19. San Francisco: $33,836 20. Orange County/Inland Empire, CA: $32,021 21. Baltimore: $31,964 22. Chicago Suburbs: $31,489* 23. Detroit: $31,044* 24. San Diego: $30,885 25. Maine: $29,854*
*New addition to the top 25 list