The Most Popular Consumer Complaints of 2011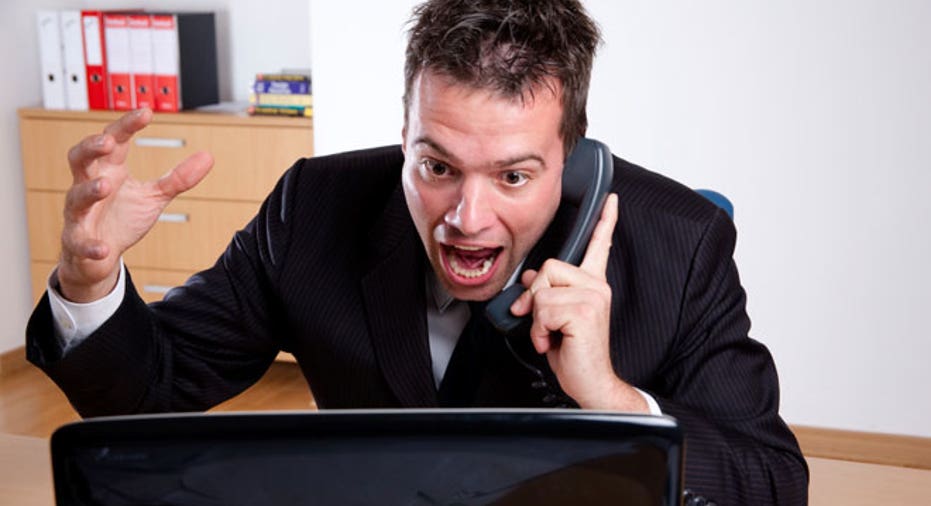 FTC Hears More Squeaky Wheels
Have you been unhappy with your bank in the past year? Or gotten an unpleasant call from a debt collector? You're not alone.
The Federal Trade Commission received more than 1.8 million gripes from consumers last year about identity theft, used-car sales and advance-fee loans, among others. That marked a 24% increase from 2010 and the fifth straight year that the number of complaints rose.
The big jump in complaints is largely because more sources submitted data last year than in 2010, according to David Torok, director of the division of planning and information at the FTC.
While the FTC tracks 30 complaint categories, Bankrate highlights 5 of the top 10 consumer complaints and outlines tips on how to resolve them and to avoid issues in the future.
(The five categories excluded from the top 10 in this slideshow are prizes, sweepstakes and lotteries; shop-at-home and catalog sales; Internet services; imposter scams; and telephone and mobile services.)
Consumer Complaint No. 1: Identity Theft
Identity theft topped the list of consumer complaints for the 12th year in a row in 2011, according to the Federal Trade Commission. About 15% of the complaints were about identity theft. Of those, almost a quarter were related to tax- or wage-related fraud.
"It's a quite frightening type of identity theft," says David Torok, director of the division of planning and information at the FTC.
To carry out tax- or wage-related fraud, a thief uses a victim's personal information and Social Security number to get a job. Any tax obligations from the thief's employment are attributed to the victim. Or a fraudster files a tax return in the victim's name and steals the victim's tax refund, Torok says.
"People discover it as they file their taxes," Torok says. "There's a real spike this time of year."
The first step to protecting against identity theft is safeguarding your Social Security number, says Steven Toporoff, an attorney in the division of privacy and identity protection at the FTC.
"You shouldn't carry it around with you. Be cautious anytime you use it," he says.
Toporoff also recommends checking credit reports regularly, monitoring bank and financial statements for accuracy, using strong passwords to access financial accounts, changing passwords regularly, and shredding financial documents before throwing them out.
Consumer Complaint No. 2: Debt Collection
Talk about popular. No single industry receives more consumer complaints than debt collectors, says David Torok, director of the division of planning and information at the Federal Trade Commission.
In 2011, consumers filed 180,928 complaints about debt collectors, accounting for 1 in every 10 complaints the FTC received last year.
Of those, 86% fingered third-party debt collectors. The remaining complaints involved collection efforts from creditors.
Debt-collection complaints included debt collectors who called repeatedly or continuously, falsely represented the amount or status of a debt, failed to send written notice of a debt, falsely threatened a lawsuit, used profane language, and failed to identify themselves as a debt collector.
All of these complaints are violations of the Fair Debt Collection Practices Act, says Jeffrey Suher, a consumer attorney in Pittsburgh specializing in debt collection cases.
"These debt collectors will do this type of stuff, and they are very arrogant about it to try to scare a person into making a payment," Suher says.
Report any problems you have with a debt collector to your state attorney general's office and the FTC, according to the FTC's website. Many states have their own debt collection laws that are different from the federal act, Torok says.
"Collectors can't harass. That's the simple bottom line," Torok says. "Know your rights."
Consumer Complaint No. 3: Banks and Lending
Ticked off at your bank in 2011? Join the club. The Federal Trade Commission received 89,341 complaints about banks and lending in 2011, or 5% of all consumer complaints.
Consumers griped about bank account issues, such as fees and overdraft charges; problems with customer service; deceptive or predatory mortgage lending practices; and problems with the modification of mortgage terms.
Big banks and mortgage lenders were lightning rods in this category. Last year, almost a third of consumers who filed banking and lending complaints had a problem with a national or commercial bank, while nearly a third griped about mortgage lending.
To head off potential complaints, read all account brochures and consumer literature provided by the bank or lender, including information about fees and requirements.
"All of that is in disclosures, and a lot of customers don't read it until it's too late," says Michael Beird, director of the banking services practice at J.D. Power and Associates.
If you do have an issue, reach out to your bank or lender, recommends Beird, whose firm just released a study on consumers switching banks over fees.
If that doesn't work, file a complaint with the Consumer Financial Protection Bureau. Consumers receive a tracking number after submitting a complaint to check its status on the CFPB website.
Consumer Complaint No. 4: Auto-Related
No one wants a lemon of a car. So it's not surprising that the most auto gripes are over the sales of new and used cars, according to the Federal Trade Commission.
More than 2 out of 5 auto complaints filed to the FTC last year were over new-car sales, while more than a third revolved around used-car sales. In total, consumers submitted 77,435 auto-related complaints in 2011.
Consumers also took issue with car rentals and car leasing, auto loans, parts and repairs, gas and warranty plans, and services.
Car buyers should always do research first before buying, says Jim Gaz, a senior director of automotive research at J.D. Power and Associates.
"Investigate the vehicle you want in terms of price and features and accessories available," Gaz says. "That way, you're armed with information when you go into the negotiating process."
Still stuck with a defective auto?
The Center for Auto Safety provides information on common auto problems, defects, vehicle recalls and lemon laws. It also maintains a database of consumer auto complaints and provides an attorney referral service.
The Better Business Bureau Auto Line helps car owners achieve resolutions for defective vehicles that are still under warranty and provides summaries of state lemon laws and auto manufacturer contact information.
Consumer Complaint No. 5: Advance-Fee Loans
Last year, 44,020 consumers filed complaints with the Federal Trade Commission regarding advance-fee loans. These loans lure consumers with the promise of a loan or credit card, regardless of an applicant's credit history, and require the payment of a fee in advance. Often, these loans turn out to be too good to be true.
"With advance-fee loans, they take the money and oftentimes, the loan doesn't appear," says David Torok, director of the division of planning and information at the FTC. "Be very, very cautious."
A lender that isn't interested in your credit history but requests personal information, such as a Social Security number or bank account number, is a red flag for an advance-fee loan offer, according to a fact sheet from the FTC.
Other warning signs include fees that are not clearly disclosed and a loan offer made by phone that requires you to pay in advance.
Before applying for a loan, check to see if a lender is registered in your state by contacting your state attorney general's office or your state's department of banking or financial regulation, according to the FTC's website.