The Latest: Some Android features not coming to Samsung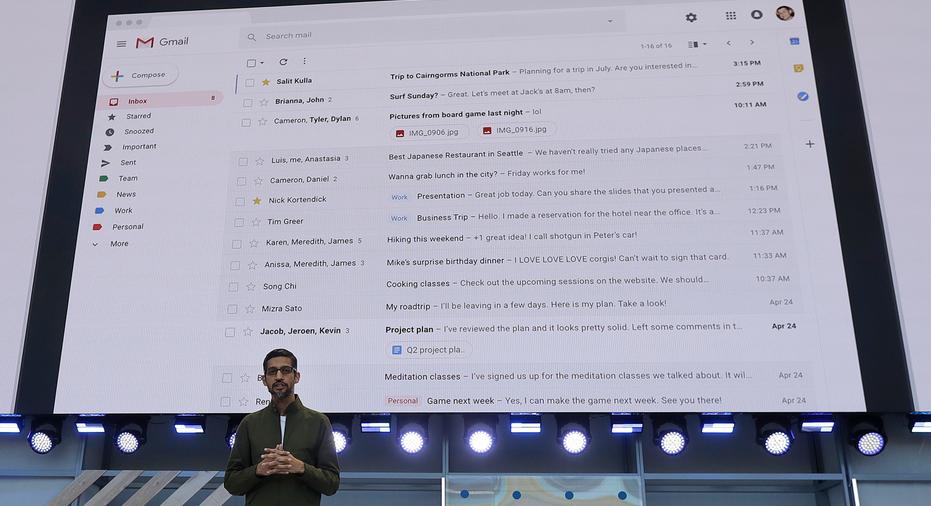 The Latest on Google's at its annual developers conference (all times local):
12:05 p.m.
Some of the features Google is announcing at its annual developers conference won't be coming to Samsung phones.
Google and Samsung have increasingly become competitors as Samsung launches services that duplicate what Google already offers on Android.
Google is making a test version of the upcoming Android P operating system available on some phones, but none are from Samsung, the leading maker of Android phones. Samsung owners will have to wait several months for a later version.
The new system promises better battery life and brightness adjustments with the help of artificial intelligence.
Likewise, Samsung's camera app won't get a built-in Lens feature that lets Google offer information after taking a photo of a building or sign. Samsung has been developing its own, Bixby Vision.
It's not immediately known which company made the call to withhold the features announced Tuesday.
___
11:45 a.m.
Google is introducing a navigation system feature with its Google Maps app that uses augmented reality to help guide people to their destination.
When Google Maps users pull up directions, they can look through their camera in Maps and get turn-by-turn directions while viewing the actual street. The app will also orient users and verify their position using local landmarks such as buildings and shops viewed through the camera.
Google says the technology is called VPS, or visual positioning system. It was unveiled Tuesday at the company's annual developers conference in Mountain View, California.
___
11:25 a.m.
Google outlined its latest improvements to its Android operating system, including more adaptive brightness settings and battery function. Called Android P it's the ninth major version of the Android operating system.
The battery will now use machine learning to adapt to how you use apps in order to conserve energy and have what Dave Burke, Android vice president of engineering, calls a more "consistent" battery experience.
It will also have something called "adaptive brightness" that learns how bright a user likes their screen based on manual adjustments, instead of automatically adjusting based on the how bright it is in the environment.
Another feature called "shush" mode automatically turns on the "Do Not Disturb" function if someone turns their phone face down on a table. And "Wind Down Mode" will fade the screen to greyscale at a designated bed time to help users disconnect before bed.
The features were discussed Tuesday at Google's annual developers conference.
___
11:05 a.m.
Google is working on technology it's calling Google Duplex that will use artificial intelligence to call businesses to make appointments and other tedious calls.
In two demonstrations, one setting up a hair appointment and another a restaurant reservation, a realistic-sounding automated voice used pauses and "ums" and "mmm-hmms" to sound more human during interactions with people.
"Hi, I'm calling to book hair appointment for a client," the AI voice said in the demo and then negotiated a time and date for the appointment.
At its annual developers conference Tuesday, Google emphasized the technology is still in development and rolling out as "an experiment" in coming weeks.
"We really want to work hard to get this right," CEO Sundar Pichai said.
___
10:30 a.m.
Google is introducing an autocomplete feature in its Gmail email service.
The feature called "smart compose" uses machine learning to offer suggested ways to finish sentences users start typing.
For example, "I haven't seen you" might be autocompleted to "I haven't seen you in a while and I hope you're doing well." Users can accept the completion by hitting tab.
The "smart compose" feature that was introduced Tuesday at Google's annual developers conference should be available to all users this month.
For its photos service, Google is starting a new service called "Suggested Actions." If it recognizes a photo of someone who is a Google contact, it can suggested sending it to the person. It can also convert photos to PDFs and automatically add color to black-and-white photos or make part of a color photo black and white. The changes are coming in the next two months.
___
9:45 a.m.
Google is showing off what it's like to experiment with artificially intelligent music.
Two performers are using synthesizers infused with what the company says is machine learning to warm up the crowd ahead of a keynote by CEO Sundar Pichai at Google's annual developers conference.
The music is a mix of electronic dance music and bells. Graphics suggest the sounds are meant to mimic a sitar, guitar, a piano and something called a "resopad."
Other than starting a wave, the attendees at the Shoreline Amphitheatre in Mountain View, California, don't seem that into it. Some people are waving when their images appear on giant screens around the stage.
___
12:01 a.m.
Google is likely to again put artificial intelligence in the spotlight at its annual developers conference.
The company's digital concierge, known only as the Google Assistant, could gain new abilities to handle tasks such as making reservations without human hand-holding.
Google may also unveil updates to its Android mobile operating system, enable better AI-powered suggestions from Google Maps, and push further into augmented reality technology, which overlays a view of the real world with digital images.
Google aims to make its assistant so useful that people can't live without it — or the search results that drive its advertising business. But it's also showcasing how its AI is being used by developers to improve health care, preserve the environment and make new scientific discoveries.