The Latest at CES: Skydiving and zombies in virtual reality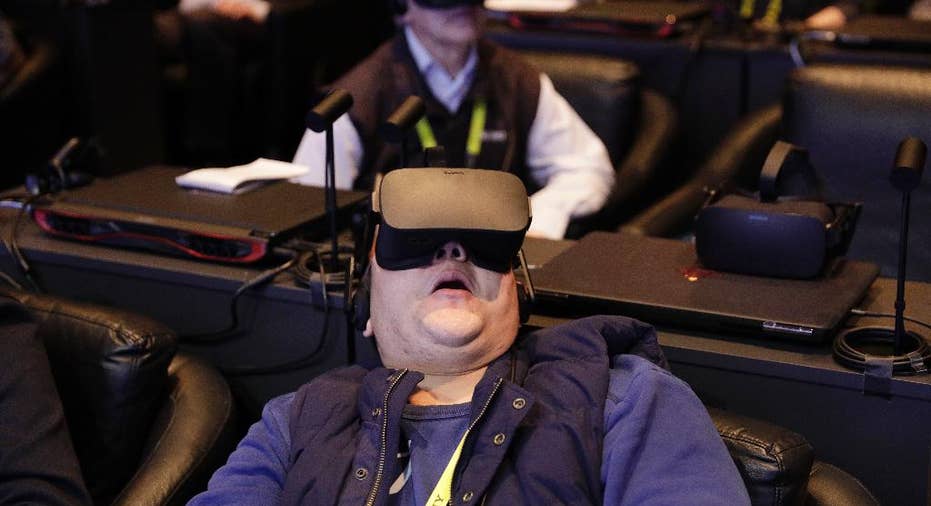 The Latest on the CES gadget show in Las Vegas (all times local):
8:20 a.m.
Intel thinks the future of virtual reality is skydiving in the desert, watching live sports from a ringside seat and cringing as zombies attack — all powered by Intel chips.
Wednesday's demo featured leather chairs, Oculus sensors and headsets — and a barf bag, signaling this was not an ordinary press conference.
One demo was a live feed from a 360-degree camera attached to a drone inspecting solar panels in a desert. Intel was showing how the technology could be used in a work environment. A more exciting live feed showed a college basketball game between Butler and Villanova.
Travel experiences took viewers to a waterfall scene in Vietnam and a skydiving experience in the Moab Valley. A trailer for "Arizona Sunshine," a VR game, made viewers jump as zombies lunged for them. No one — noticeably — made use of the barf bags.
CEO Brian Krzanich acknowledges that some people are questioning whether VR is going anywhere. He adds, "I hope these experiences give you a taste of where it's going."
The CES gadget show in Las Vegas formally opens Thursday after two days of media previews.
___
7:10 a.m.
Amazon doesn't have an official presence at the CES gadget show in Las Vegas but its Alexa voice control software seems to be everywhere.
Whirlpool is adding Alexa voice control to its suite of smart-home appliances, including a stove and refrigerator. With that capability, someone can instruct the oven to pre-heat to 400 degrees by speaking a command to an Alexa-enabled device, such as Amazon's Echo speaker.
Jason Mathew, senior director of global connected strategy for Whirlpool, says voice is "the most natural way to interact with a product."
Other gadgets that include Alexa: Sensory and OnVocal are both launching headphones that incorporate Alexa. Simplehuman is announcing a voice-activated trash can. And GE Lighting is launching a table lamp that includes Alexa software.
Amazon has an edge on the market for now because its software has been out longer, but Google's and Apple's systems are catching up. Mathew says "Amazon is the most mature, but we expect to offer other options in the future."