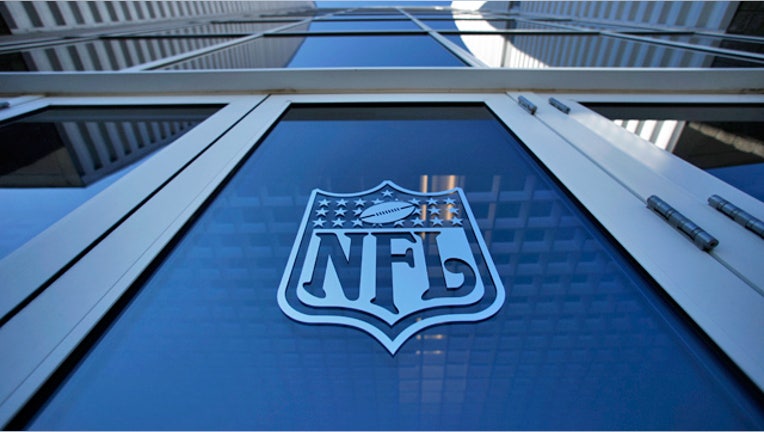 Forget the old notion of football widows, or wives who lose their husbands to NFL games all Sunday long as they watch their favorite teams play throughout the season. Today, football fans are taking in all the games with a new intensity thanks, in part, to the ever-growing popularity of fantasy football.
The game allows participants to construct fantasy teams with players across the league, and calculate points based on how well their individual players do each game. Some leagues are free, while others have pots in the tens of thousands of dollars, upping the amount of time dedicated "owners" keep tabs on players and scores throughout the season.
The industry has long surpassed the $1 billion mark, as players have become addicted to the idea of building the perfect team and cashing in on their picks.
Julian Hagmann, 28, is one such addict. He began playing fantasy football nearly a decade ago and says he was hooked instantly.
"It's fun and gets you involved with other teams," he says. "I am a Giants fan, but I am more [inclined] to watch others play if I have those fantasy players on my team."
Hagmann says he spends about $300 a year on fantasy football, between three different leagues. But he stands to bring in nearly $2,000 if he wins.  Annually, he says he probably spends about 100 hours on the sport.
"My best year was a few years ago, I won twice, around $1,900," he says. "So I am up on fantasy football overall. "
In 2012, 33.5 million Americans played fantasy sports, and 77% (25.8 million) played fantasy football. Paul Charchian, president of the Fantasy Sports Trade Association says one of the reasons the industry continues to grow is that many of its players get hooked and play for years.
In fact, Charchian says 80% of today's players say they plan to participate for the next decade, and 40% say they will play for life.
"People don't quit," he says. "We have also seen enormous growth in the under-18 player demo, which is our fastest-growing population. This is in part, because parents have been playing long enough to have kids old enough to play, and also because kids are now forming their own leagues in their school cafeterias."
In 2012, Charchian says $1.67 billion was spent on industry products and services, not including entry fees. This is up from $800 million in 2008.
Tracy Varites, a 28-year-old fantasy player, says this year she will participate in two different leagues, one in New Jersey and a second in Delaware. Her buy ins are under $150 total for the two leagues, and she can win up to $700 for one and $200 for the second.
Varites says she likes being a woman participating in the fantasy leagues, and taking some of the male emphasis off the sport.
"It's just a fun thing to do," Varites says. "I am a Giants fan, but this league helps you stay on top of what's going on all across the NFL. You're not just interested in watching your team—it makes it more fun. I play with a bunch of girls and it's a great way for us to get involved."
Cashing in on the Industry
Joe Bryant has seen firsthand just how ravenous fantasy players' appetites have become for information regarding their players throughout the season.  He owns FootballGuys.com, a subscription service which he likens to The Wall Street Journal 's WSJ.com for fantasy football.
"People pay a subscription to access our premium content and tools," he says. "We currently have more than 295,000 subscribers to our free daily email update, and our site is serving over one million views a day."
Subscriptions begin at $30 a year, and Bryant says the service is really for more serious customers that are playing "for keeps" and want every edge they can get. On average, Bryant says the typical fantasy player spends around $50 minimum per year, and spends under 10 hours a week on the sport.
Raising the Stakes
High-stakes fantasy leagues have also gained in popularity over the past decade, although the FTSA maintains they are a small minority of the spending overall within the industry. Dave Gerczak runs a high-stakes competition called the Fantasy Football Players Championship (FFPC), which has an entry fee of $1,650 for its main event with a $250,000 prize.
This year, Gerczak says the FFPC will have more than 5,000 players at different stake levels, some as low as $77.
"The higher-stakes industry is like a cult in a way," he says. "It's totally legal, but there's not a national awareness."
Whereas the average fantasy player will spend around 10 hours a week on their hobby, a high-stakes player may spend up to 40 hours a week watching games and calculating potential winnings.
"We have a player with 200 teams in the contest, who manages waivers each week and even took off a month to do his drafts," he says. "It's a hobby for people, and men especially, who don't have a sport anymore as they get older and love the sense of competition and the ability to compete and win."
One of Gerzac's 'cult' members is Mike Santos, a 32-year-old California dairy farmer, who has been playing fantasy sports since 1998. He participates in high-stakes competitions throughout the year. Santos says this year he is in about 20 different leagues with $1,600 entry fees each.
His biggest draw was in 2010, where he won $45,000, about six-times what he put in. Weekly, Santos estimates he spends between 14 and 20 hours on fantasy football.
"If I can double my money, I'm good. It's not a game of luck, it's a game of skill," he says. "It's like poker, the same players are at the table every year…. The return is greater—it's a chance to win the best prize."