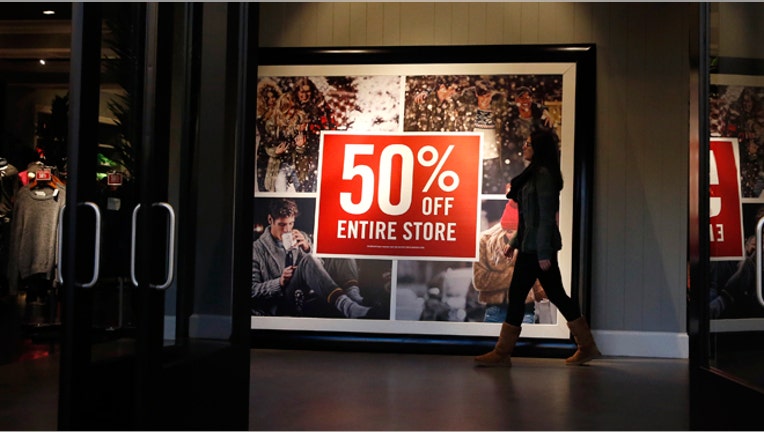 Despite screaming sales signs, the holiday promotion is actually living a double life.
While retail stores like Abercrombie and Fitch (NYSE:ANF) and Aéropostale (NYSE:ARO), are in an intensely promotional period around the holidays, discounts for luxury retail names like Kate Spade (NYSE:KATE) are going the way of the dodo bird.
Matthew McClintock, senior apparel and retail analyst at Barclays, said to think of it this way: Consumers are increasingly willing to spend their money, but they're not willing to shell out on full-priced jeans that are the same style of denim they can get at any retailer.
Clearly, consumers aren't buying the sale hype. Sales were down 11% from last year over the Thanksgiving/Black Friday holiday weekend, one of the biggest shopping periods of the season, according to the National Retail Federation.
But on Cyber Monday, sales topped $2 billion, jumping 17% from last year, to record the heaviest online spending day ever in the U.S., according to data from comScore.
The trend could be seen as trouble for bricks-and-mortar, while those retailers with a major online presence in addition to physical stores are seeing gains.
Sectionalists and Survivalists
The divergence in the retail picture is due in part to an economy that's bouncing back in an uneven way from the worst recession since the Great Depression. The way PricewaterhouseCoopers sees it playing out among consumers is in essentially two forms: Sectionalists and survivalists.
"I believe we may have permanently conditioned consumers to expect promotions and it will be difficult for retailers to move away from that in the foreseeable future."
The selectionists are the consumers with incomes above $50,000, and they're sitting at the top end of the retail category. The survivalists are at the opposite end and include those making fewer than $50,000 a year, likely struggling to make ends meet and more closely watching the discretionary dollars they spend.
Steven Barr, U.S. retail and consumer sector leader at PwC, said the problem facing the retailers is the divergence in these two categories. The selectionists are out there spending in a meaningful way, but that segment is actually on the decline.
"We've seen survivalists grow from 62% two years ago to 67% today," he said. "So, that explains why the apparel and fashion retailers serving those ranges are working so hard to be promotional from a consumer-facing standpoint."
Making matters worse for these retailers, though, is a conditioned consumer coming out of the recession who expects to see discounts and promotions.
"It's a relevant question to wonder if we'll ever get out of the promotional environment for the mid-low end consumer," Barr said. "I believe we may have permanently conditioned consumers to expect promotions and it will be difficult for retailers to move away from that in the foreseeable future."
Adding additional pressure for more traditional apparel retailers is the emergence of fast-fashion brands like Forever 21 and H&M that bring competitively priced products to market.
"The apparel companies are really in a conundrum of addressing macro-level trends including fast fashion, dealing with demographic trends with millennial shopping behavior, and then dealing with economic trends of the non-recovery recovery we're dealing with and the underemployment, low-wage growth environment," Barr added.
He said there's no "magic answer" for these pressured brands except to come out with innovative designs more quickly at the right price point to reach both the mid-to-low end consumer, as well as those with more robust discretionary income.
Difficult for these retailers, perhaps. But high-end and luxury retailers are singing a different kind of tune.
Joan Payson,  U.S. luxury goods and broadlines senior equity research analyst at Barclays, said when you zero in on a certain portion of that segment, especially the handbags division, you see an increased move away from a promotional environment.
She pointed specifically to designer brands including Kate Spade and Coach (NYSE:COH). Those brands' consumers have seen a decent promotional period which has included flash sample sales online, and extended Facebook (NASDAQ:FB) "friends and family" discounts – it's a trend Payson says has been all about customer acquisition.
Now, Kate Spade is beginning to pull back on the number of flash sales, and instead entice customers to their full-priced offerings through promotions like thematic events.
"It's something short-term that can impact their comp sales because the online business for the past two years has been growing at a 50% rate, and doubling before that. Not having sales will slow that growth to the 20% area this year, but that's still healthy growth," Payson said.
Added to the less-promotional environment for this season are cleaner inventories – in other words enough product to last through the holidays but not so much that it'll be left on the sale floor come March – not just for high-end and luxury brands, but across the retail spectrum.
The Make-or-Break Omni-Channel Offerings
If this year's Cyber Monday numbers are any indication, shoppers are increasingly turning to online platforms to either complete, or round out, their buying experiences. It's a trend that's reverberating across the retail landscape, and there's one phrase to describe it: Omni-channel. That's offering customers a shopping experience on an array of platforms including in-store, online, on mobile, and through social media. Shoppers are increasingly turning to online stores to find and research products they want before moving to physical retail spaces to complete the transactions.
"Retailers who have been able to successfully adopt (an) omni-channel strategy are having more success than others," Barr said. "They're really succeeding because they can touch the consumer in all places along the journey…but there has to be integration between store-based and online-based activities. Many retailers are doing an excellent job, and some are still finding the way to make those work together."
Barclays's research suggests overall e-commerce penetration could reach 8% in the fourth quarter, that's up a percentage point from the same period in 2013. The investment bank noted throughout 2014, there's been a continued shift from physical store to e-commerce, and retailers like Best Buy (NYSE:BBY), Staples (NYSE:SPLS), and Williams Sonoma (NYSE:WSM) are well-positioned to benefit from the growth.
For the higher-end and luxury retailers, Payson said the pressure is lower to accelerate quickly into e-commerce.
"They felt less pressured for online websites than other retailers because they get exposure to online via department stores. So it takes that pressure off the brand to develop a separate online presence," she said.
But where that pressure does come into play is where stand-alone retail locations and department-store partnerships collide. Payson described it this way: If department stores begin to take a more active role in the promotional period and become more aggressive with discounts, it puts a bigger burden on the brand to offer similar promotions in their own stores, and possibly extend into their online spaces as well.