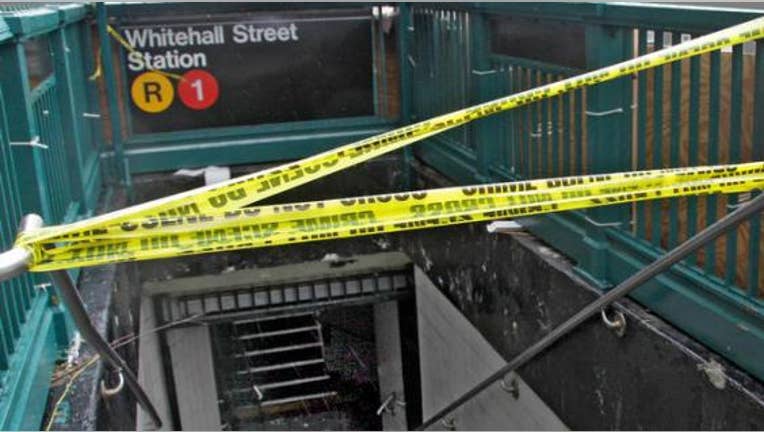 What was Hurricane Sandy is now a post tropical cyclone, having hammered New Jersey, New York and Connecticut. Sandy is now moving on to Pennsylvania, the Ohio valley and the Great Lakes, albeit with less force.
The job of rebuilding will be huge.
In the New York City borough of Queens, a fire in a community there destroyed at least 80 homes. On 57th street in Manhattan, a crane on a 90-story residential building under construction partially collapsed and was dangling over the street. New Jersey Governor Chris Christie said there was damage to each and every New Jersey transit line and that commuter trains wouldn't resume service for 7-10 days.
Atlantic City is underwater, and the southern tip of Manhattan is submerged.
So far experts say that Sandy could cost the region $5- $10 billion in insured damages, and up to $20 billion in total costs once you factor in uninsured liabilities. However, that may well understate the problem.
Economists are considering whether Sandy will clip the nation's overall economic growth. After all, analysts said the iPhone 5 would add a quarter to a half percent to GDP. If a phone can move the needle, don't you believe a once in a century storm could do the same?
Here are some of the losses that are less obvious- the hundreds of thousands of brokers, store clerks and bank tellers who stayed home during the storm. That's a lot of lost productivity and a lost wages. Companies, large and small sent workers in the path of the storm home- General Motors was one.
Airlines canceled a total of more than 18,000 flights - according to flightaware.com. That is about half of the level of Hurricane Irene. The cost of that storm was $40 million in revenue for United Continental and $15 million in profits for Delta Air.
The global business travel association estimates that a big storm like Sandy costs airlines, Amtrak, rental car companies, and hotels $700 million.
No chump change here.
Then there are the shippers in seaports from Virginia to Boston. In the middle of the freight-transportation industry's peak holiday shipping season, Sandy slammed in. The nation's largest rail operator, CSX, shut lines along the East Coast.
Of course, this will hit retail sales as well, with the storm at the tail end of the Halloween shopping season. The storm could shave 3% from same store sales for November.
One of the reasons that the impacts are so big is that New York is a hub of corporate headquarters from banking to media and retail. The local economy generates $4 billion a day! That's a $20 billion economy over the course of just a week.
To be sure the impacts are going to be huge an in the short term it will clip national economic growth by a tenth of a percent to a half percent.
The effects of government spending by the feds and state governments are yet to be felt. We will recover, but in the short term there is a lot of rebuilding to do.