The Business of Creating 'Sharks'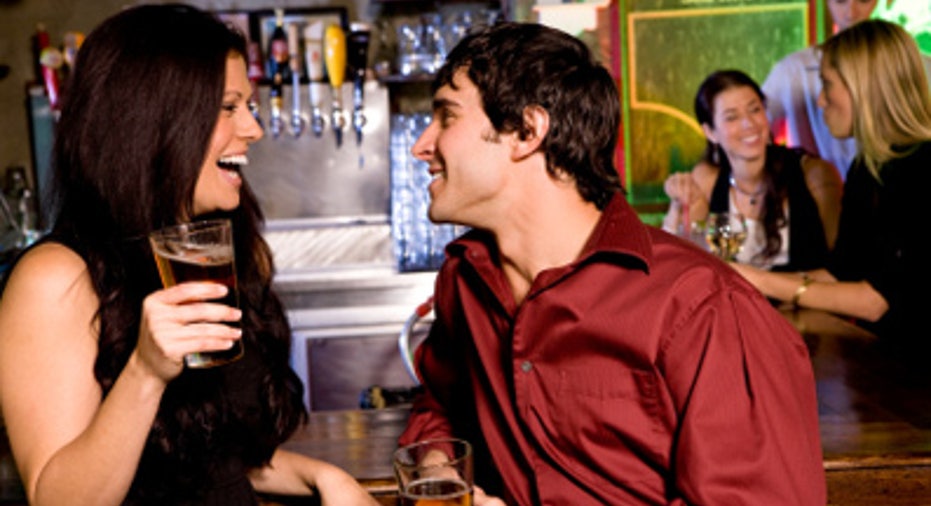 It was back in caveman days, Justin Gottlieb tells me during our recent interview, that men were first afraid to approach women. Because, legend has it, if a man went up to a woman who was taken, the significant other caveman would kill him.
OK, thats officially scary.
Gottlieb, though, isnt scared despite being the president and CEO of a company with the potentially intimidating name Social Shark, Inc. And even though the 28-year-old doesnt come off like a great white with razor-sharp teeth, I get the impression he could deliver on making a guy into one.
His business consisting of dating advice, party reservations, life improvements, social consulting, and blogs strives to take a dolphin and make him into a shark on the dating scene. He calls the tagline Turning wimps into pimps meant to be tongue-in-cheek the best thing I ever did.
Thats because all of the marketing buzz makes people pay attention. Perhaps more important, though, is that underneath it all, this guy knows of what he speaks. Hes been on the dating scene. Hes been the schmuck who didnt know how to dress. He has a psychology degree from Penn State. He listens. He recognized a few years back that he had to change himself. And he has an entrepreneurial spirit.
Im in the trenches with them, says Gottlieb over an iced coffee one afternoon in a nicely air-conditioned public space on Madison Avenue. Im constantly learning and improving on myself. For a while I was just working and going out with my friends. When I went on dates, all I had to talk about was work and going out. I realized I needed to become more well-rounded.
Enter the life improvement tool he calls Quarterly Quarters. The idea is to do four new things in ones life in different areas like sports/culture, volunteerism, professional and one open-ended category.
For example, Gottlieb himself has taken up things like volleyball, painting and photography; his paintings have even served as conversation starters when he has women over. He also does a lot of fundraising for KEEN, a nonprofit volunteer-led organization that provides one-to-one recreational opportunities for children and young adults with developmental and physical disabilities at no cost to their families and caregivers.
I start all my consulting sessions with that tool, he says. Every single client has a different situation. Some want an image makeover. Others have boring lives or no time to really date. I customize the consulting to the client. Ive kept the evaluation to $50. Thats reasonable. From there, some want a three-month program, some say I want everything youve got.
That could include Gottlieb trailing them on dates, taking them to Bloomingdales for a style consultation or finding them a trainer. It can be helping them formulate a text or answering questions about whether to call or text in certain situations. Based on his experience, its fine to ask out women under 26 via text but better to call women over 26; that fine line is due to the fact that the younger women have grown up texting and almost find phone calls jarring because texting is so natural.
Im happy every time Im asked a question and I have a simple answer, Gottlieb says. Ill get a response like, Thank you, she texted me back right away.
Gottlieb explains to clients that its best to be funny or whatever shows her your value. He has had clients who wonder why theyre not getting second dates, so he does whatever he needs to get a good grasp of whats going on.
A lot of guys wont be able to do what I ask, he says.
He goes on to explain an exercise where he takes a client out and says, Were going to go up to 10 girls tonight and say hi. The next time it will be giving 10 girls compliments. And the next time it will be to ask 10 girls for directions.
It gets them comfortable interacting with women, Gottlieb says. You can learn a lot from this. If he has no eye contact, I can bring that to his attention. Or tell him hes fiddling with his shirt.
Gottliebs discerning eye has helped him build other features on his website. In fact, his scouting of potential places to take a date in New York is a big part of his calling card. Do a Google search on NYC date spots and the first thing that comes up is Social Shark. His site also has a party reservation feature that has inspired the bulk of his testimonials. All of this has people pitching him to review places (he doesnt post negative reviews).
Another feature on Social Sharks site is the blogs and articles. While I found most of them helpful and informative, I had a bit of trouble wrapping my head around A Day in the Mind of a Girl (Parts I, II and III). The idea--a good one -- is to bring in viewpoints of women as a resource, but this one had me wondering why Gottlieb chose a man-obsessed woman who confesses to always having Gchat open during work and manically checking her phone every 15 minutes. It is dizzying to read.
She wants to be tan for boys. She takes time to look good in the morning in case she runs into a boy (sole reason). She signs into Gchat at work to talk about boys, weekend plans, boys. Plots how to be casually late. Sets her BlackBerry alarm to return a Facebook friend request exactly 4.5 hours after a boy initiates. Picks a machine at the gym based on where the boys are.
How exhausting. One gets the impression that there is no other purpose to this womans life outside of manically evaluating every male who crosses her path. It seems ironic, by contrast, that Gottliebs potential male clients who might be reading her blog are working to become more well-rounded.
Everybody is on Gchat and Facebook at work, Gottlieb says in response to my concerns. Thats a whole different conversation about productivity. The blogs and the She Said section, [Social Shark] is not necessarily endorsing those viewpoints. Its not about what girls should be like, but what they are like.
Still scary, but point taken. Perhaps I can chalk it up to generational differences.
On a more practical level, what Gottlieb has managed to do with the female presence is bring to light things like how often women wish a man would approach them or what women go through before a date. Its all about adding illuminating perspectives for his clients. Plus, overall the site has gotten a very positive response from women.
In fact, because Discovery Channel has been hyping Shark Week, Gottlieb is offering a special on his site (extended a week if you mention this article) and he is open to consulting with men and women. Currently his audience ranges in age from about 22 to 35, mostly because thats who knows about his site through word of mouth.
This has increased my social life exponentially, Gottlieb says. I feel like Im constantly taking baby steps to reach my goals with women. You learn new things about yourself. Theres an image transformation that happens.
Bye bye, caveman.
Nancy Colasurdo is a practicing life coach and freelance writer. Her Web site is www.nancola.com and you can follow her on Twitter @nancola. Please direct all questions/comments to FOXGamePlan@gmail.com.