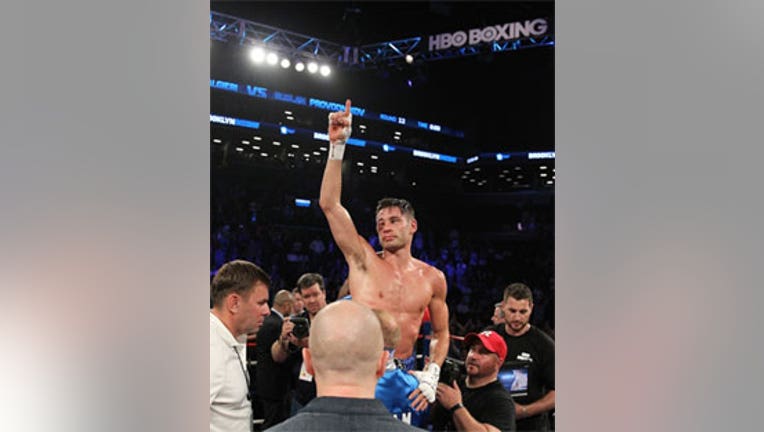 Chris Algieri pulled off an unexpected win last weekend to clinch the junior welterweight champion title against heavily-favored Ruslan Provodnikov. The win, which left Algieri with a badly damaged eye, came with a $100,000 payday. The check also brought the 30-year-old another title: debt-free.
Sunday's win was the biggest victory so far in the Huntingon, N.Y. native's career, but he says that for the most part the money is already gone. He didn't spend the windfall on a fast new car, the latest gadgets or a five-star getaway. He paid down his debts, including $50,000 in student loans.
"I don't plan to live as momentarily rich. I am going to pay taxes on it now so I don't get caught at the end of the year and I am going to get rid of all my debt so I don't have to worry about that any more. I am also a business — I have employees I have to pay, training camps and team members."
Like many young adults, Algieri says he's struggled to make ends meet, and that having debt "bothered" him.  Algieri's new title guarantees bigger fights that come with higher payouts (Manny Pacquiao is rumored to be a possible future opponent), but he doesn't expect a substantial shift in his lifestyle—and doesn't plan to move out of his parent's home for awhile.
"I want to help my parents with their mortgage and help with things around the house like maybe adding a pool, and I will get a new car: a Honda Accord."
Not having to worry about money would be a new experience.
Algieri went pro at age 19, but continued to go to school while he trained. He graduated from Stony Brook with a bachelor's degree in health-care science in 2007 and has a master's degree in nutrition from New York Institute of Technology.
Algieri has plans to continue his education, but right now he's focused on his time in the ring. "I've always enjoyed being in school, but I have the opportunity to aim very high in this sport and make a lot of money. I am going to do that when I still can. I would love to go back to school and build a practice when money isn't an option. When I am 40 and already have $1 million in the bank."
While this might be considered sound financial planning, many professional athletes -- including Joe Louis and Evander Holyfield -- have ended up bankrupt. Algieri doesn't plan to fall into this category.
"I know what it's like to walk into a gas station and only be able to buy water because I couldn't afford the Gatorade. It's those lessons that you don't forget."
He adds that his age also makes him more fiscally responsible. "It's hard to make the right decision when you become a millionaire at 19. But I've had years of monthly expenses. I know what it's like to quit a steady-paying job to pursue a dream."
He says his mom and grandfather encouraged him to become a doctor as a child, but he was resistant to the idea at first. "I wanted to cut against the grain. But then I realized I was actually very good in those classes because I was interested in the topics. I was so concerned with athletics, my performance and how my body works that I started to study physiology and how our bodies work."
Algieri started My Competitive Life, a professional training program, with two other partners in 2012. The company works with clients to improve their nutrition and fitness in addition to hosting seminars. He is also working on building his own personal brand and company called Champion Lifestyle.
Time-management has become the lynchpin to his success of balancing his professional boxing profession with his long-term career and brand.
His routines are pretty simple: Sundays start with a long run, time with the family and food prep for all his meals until Wednesday. His Mondays, Wednesdays and Fridays look like this: leave the house at 6:00 a.m. for a cardio workout at the gym, train clients until noon, then drive 35 minutes to his boxing gym where he trains for two hours before heading to his conditioning coach. The day ends at home with family dinner.
On Tuesdays and Thursdays, Algieri gets to sleep in a little and spends the morning responding to e-mails and doing work related to MyCompetitiveLife and working with his nutrition clients. He then gets in a 90-minutes workout with his strengthening coach and heads to the gym to train his clients.
"Time management has become a necessary skill for me to learn in order for me to fulfill my dreams," he said. "My social life has probably paid the price, but for now I am living my dream."