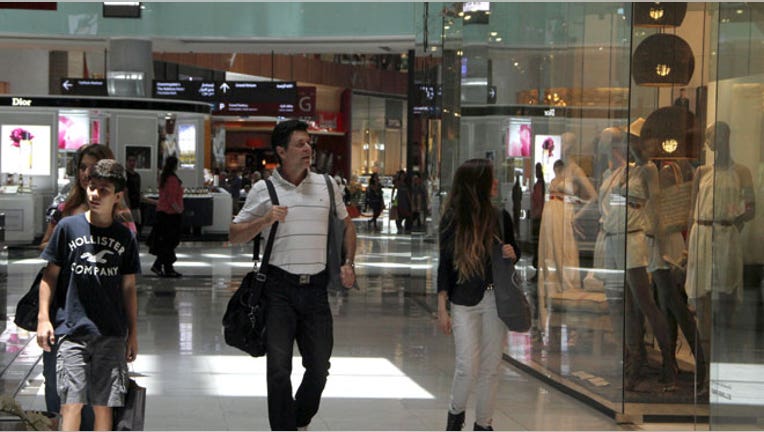 With the holiday shopping season officially underway, it's time consumers create a budget to avoid entering 2013 in the red. It's important to choose a spending strategy that works well with your budget and financial goals and to be armed with the right credit card.
Most people will use credit cards this season to pay for their gifts and it is important they find the best- suited card for their financial situation. Credit card companies lure new customers with a variety of offerings like signing bonuses to long-term savings and discounts, but these don't necessarily mean they are the best card.
Here's a breakdown of the top credit cards for different life circumstances that will able you to get gifts for everyone on your list without incurring a financial headache come the New Year.
The best credit card if you want to: Sign up now, buy a lot, pay it off quickly, and ditch the card: Chase Sapphire Preferred Card
You've got your holiday fund stocked, but with the right card, you can also accrue some killer rewards. The Chase Sapphire Preferred Card is a good option: If you spend more than $3,000 in the first three months you'll receive 40,000 bonus points—translating into a $400 statement credit or $500 in travel booked through Chase's Ultimate Rewards program. If you don't plan to spend $3,000 on gifts this year you can still get the bonus by diverting all spending—groceries, gas, and more—toward the card. Chase offers a solid rewards program as well, including double points on dining and travel, but be warned there is a $95 annual fee, which could be a deterrent for keeping the card, but the fee is waived for the first year.
The best credit card if you want to: Spend moderately, pay off monthly, and keep the card for the long haul: Blue Cash Preferred Card from American Express
If signing up for a credit card just for the holidays is an off-putting idea, consider a credit card like the Blue Cash Preferred Card from American Express. With its generous benefits program, a typical household can accrue decent savings over the holidays and keep them coming throughout the year. The card offers 6% cash back at grocery stores (up to $6,000), 3% at gas stations and select major department stores and 1% cash back on everything else. You'll also receive a $150 signing bonus if you spend $1,000 in the first three months. The card does carry a $75 annual fee. If the fee is a major obstacle, consider the Blue Cash Everyday Card. The Everyday card doesn't have an annual fee, but the signing bonus and the cash-back percentages are halved.
The best credit card if you want to: Buy big and spread the payments out over a few months: Discover More Card
While most advisors frown on carrying a balance, if you find the right card, you can spread your payments out without feeling the pinch. One option is the Discover More Card. For signing up this holiday season, you'll receive interest-free purchases for the first six months and 0% interest on balance transfers for 18 months with a three percent transfer fee. Plus, from now until the end of the year, purchases made at department stores and online will be accrue a 5% cash back reward on the first $1,500 spent for a maximum reward of $75. To sweeten the deal, cardholders receive free next-day shipping with Amazon on select items and purchases from ShopDiscover.com earn bonus rebates of up to 15%.
The best credit card if you want to: Make your list, check it twice, and do your gift buying at one store: JC Penny Credit Card
Store cards can vary vastly in their value, and many are not worth it, but the JC Penny card could be worth the investment. The card offers 20% on all apparel, shoes, handbags and fashion jewelry as well as 10% on fine jewelry, watches and home merchandise. However, cards like the Chase Freedom Card also have select department stores they are affiliated with and can be competitive with store cards. For Kohl's (NYSE:KSS) shoppers, the Chase card typically gives 5% cash back and during the holiday season, it's stacking an additional 10% Ultimate Reward on top for a total of 15% off your first $1,500 in Kohl's purchases for a maximum of $225 in cash back rewards. While that reward cash can be used to offset spending, the Chase Freedom Card rewards can be used for special holiday experiences offered to cardholders, like access to the Radio City Christmas Spectacular or the Sundance Film Festival.
Credit card companies are bringing their A-game this year to lure in customers, and the savvy shopper can make the most of that.
Credit Sesame helps consumers make smarter decisions to save money and live richly. It provides a complete picture of your credit and loans in one place, including your credit score, market monitoring, customized financial analysis, and unbiased loans and savings recommendations – all for free.  Its proprietary savings recommendation engine, with bank-level analytics, monitors the market, runs thousands of scenarios and analyzes each consumer's debt, to identify the best loans and savings opportunities.