The Back-to-School Item That's Becoming Less Popular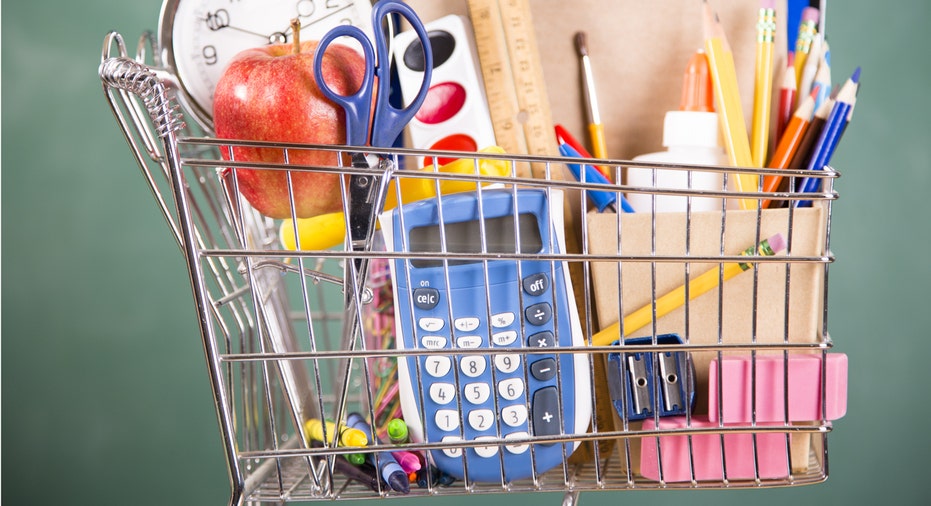 Tablet sales have been shrinking for some time, but there's fresh evidence that the market for the devices is in distress: Shoppers spending big on back-to-school gadgets expect to buy more external hard drives than new tablets, according to a new survey. And even while spending on back-to-school tech is expected to surge, spending on tablets for school is falling.
Back-to-school is the second-most important season for gadget sellers behind the end-of-year holidays. The survey, by the Consumer Technology Association, found that consumers expect to spend $18.5 billion this year on calculators, laptops, and other gadgets, outpacing last year by 6.2%.
Practicality seems to be the driving factor behind the most-desired gadgets, with 71% of consumers saying they will buy portable memory, and 55% saying they will buy a calculator.
Overall, the optimism bodes well for tech makers and sellers, the CTA says.
"Early back-to-school promotions are building interest and momentum for the second-largest shopping event of the year," said Steve Koenig, senior director of market research for CTA, in a prepared statement. "Deals on the tech items for back-to-school including 2-1 laptops, Bluetooth speakers, headphones, tablets and more are creating excitement among consumers. This consumer enthusiasm also bodes well for tech sales across the second half of the year."
On the other hand, while 44% say they'll buy a new laptop, only half that number, 22%, will buy a tablet.
Here's the CTA's list of top 10 gadgets that back-to-school shoppers expect to buy.
Portable memory (71%)
Basic calculator (55%)
Headphones (52%)
Scientific/graphing calculator (51%)
Carrying or protective case (48%)
Laptop (44%)
Software for computer (39%)
External hard drive (23%)
Tablet (22%)
Product subscription service (22%)
The poor tablet results square with sales figures from market researcher IDC, which has reported tablets falling out of favor for more than a year. In its latest research, IDC said that tablet shipments fell 12% compared to the same quarter last year. Only tablets that mimic laptops — sometimes called detachables — saw growth, but those still represent a small portion of the tablet market.
"The market has spoken as consumers and enterprises seek more productive form factors and operating systems — it's the reason we're seeing continued growth in detachables," Jitesh Ubrani, senior research analyst with IDC, said in a report.
In the end, tablets have struggled to find a place as a third gadget in consumers' lives, alongside personal computers and mobile phones. In addition, larger phones that can do almost everything tablets can have squeezed out tablets. Also, when tablet sales first started to slump back in 2015, Apple CEO Tim Cook explained that upgrade cycles for tablets had been longer than expected, and definitely longer than cell phones. Consumers who bought one tablet didn't see the need to upgrade.
Still overall, both Synchrony Financial and the Consumer Technology Association predict brisk tech sales this August. Synchrony, which predicted an overall sales increase of 3.2%-3.7%, said spending on tech will rival spending on new clothes.
Remember, if you're looking to buy new gadgets this school year, it's important to stay on budget. High credit card balances and other debts can damage your credit. To see how your debts and spending habits are affecting your finances, you can view your free credit report summary, updated each month, on Credit.com. And, if you've already overspent, you can read this guide for tips on getting out of debt.
Updated 8/15:
The overall sales increase cited by Synchrony Financial and the Consumer Technology Association was originally listed as 2.7%-3.7%. The correct figure is 3.2% to 3.7%. 
More from Credit.com
This article originally appeared on Credit.com.
Bob Sullivan is author of the New York Times best-sellers Gotcha Capitalism and Stop Getting Ripped Off. His stories have appeared in The New York Times, the Wall Street Journal, and hundreds of other publications. He has appeared as a consumer advocate and technology expert numerous times on NBC's TODAY show, NBC Nightly News, CNBC, NPR's Marketplace, Terry Gross' Fresh Air, and various other radio and TV outlets. He helped start MSNBC.com and wrote there for nearly 20 years, most of it penning the consumer advocacy column The Red Tape Chronicles. See more at www.bobsullivan.net. Follow Bob Sullivan on Facebook or Twitter. More by Bob Sullivan