The Anti-Shopper is Alive and Well...Dressed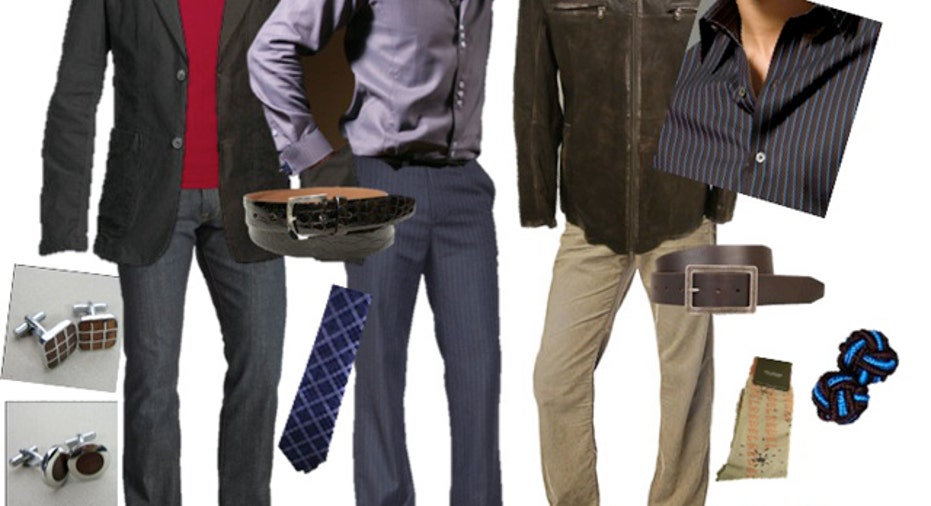 Most U.S. retailers and publishers of fashion magazines will tell you the "reluctant male shopper" is a stereotype that has been perpetuated since the dawn of the department store.
They will also tell you it's a stereotype headed for extinction.
Certainly, there is a lot of truth to that claim. For the last decade or so, the fashion industry has sought to engage the male consumer in ways that had previously been reserved only for women. Whether you peg it on well-groomed soccer star David Beckham or the dapper cast of Mad Men, interest in men's fashion has been taken to new levels and the volume and variety of goods available in the men's marketplace has ballooned. From the cut of their jeans to the type of facial moisturizer they use, men have more choices now than ever about the way they present themselves.
But more choice doesn't always translate into more style. And it definitely doesn't translate into more desire to hit the mall.
That's the realization that led Lisa Bruckner to create Hendricks Park, a Web-based luxury clothing service for men who have "the means and need" to dress well, but lack the time and/or willingness to go shopping.
Bruckner, 36, was inspired to start the business by witnessing the fashion failures of her husband, an executive at a technology company who once left the house wearing a Pepto-Bismol pink T-shirt that said "Everybody poops."
"I would cringe and nag him as he would leave the door for work," she said. "And then a light bulb went off in my head."Bruckner, a stylist, envisioned a service that would grant men – typically of the executive, jet-setting variety – a highly-personalized shopping experience without them having to set foot in a store. This past spring, she launched the Web site Hendricks Park (named for a historic park in her town of Eugene, Ore.), which offers clients exactly that kind of digital personal-shopping experience.
The way it works is this: Men go to the Web site and fill out an application. They are then put in touch with a Hendricks Park's style expert (there are seven total) via webcam in a "get-to-know-you"-type session. From there, the expert assembles an assortment of designer and private-label clothing and ships it to the man, and they meet again via webcam to discuss what does and doesn't work. The man keeps whatever he likes and sends the rest back, free of shipping charges, and the process repeats itself as little or as often as the man likes.
The style expert can also do a wardrobe analysis, where she virtually examines a man's closet, explains what needs to be tossed and offers tips on how to pull an outfit together.
The business, which has been operational since the spring but won't celebrate its formal launch until December 13th, has already attracted more than 150 clients and is averaging about a dozen new applicants per week just by word of mouth.
While the service is open to men of all professions and locations, the men generally share a few commonalities, with the main ones being they spend $1,000 or more on clothes each season and often travel a lot.
"We're not really for every man. We're really designed for a niche clientele," Bruckner said, stressing that her services do not cater to the discount shopper.
Bruckner believes the magic of her business isn't in the number of sales she does or in the glitz of the technology she uses, but in the high level of personal attention and care it delivers.
"We could've done an e-commerce store and said here's some clothes, here's an easy way to buy them," she explains. "But it's not just about the sales. We're putting a name on [the client's] style and his look. We want him to feel confident beyond his shopping experience."
The cost of the experience? Well, that all depends on the clothing a client selects. The company makes its money by buying wholesale (it has deals with about 70 vendors, including Ted Baker, 7 for All Mankind, Citizens of Humanity and Agave), factors in sourcing expenses and rolls the cost of its services into the pricing. The end result is a price tag similar to what you might find at a boutique, Bruckner said.
"We don't do an across-the-board markup for everything. We try to keep pricing as fair as possible," she said.
Clients are also asked to put down a $500 security deposit for shipping, which is then either put toward the cost of the items purchased or returned to the customer when he sends back his items.
Critics might say that, between having to schedule webcam meetings and ship boxes back and forth, Bruckner's business sounds like it takes a lot of time and energy out of the consumer. But Bruckner says the client has no commitment to the company whatsoever, and that the whole endeavor puts him in the driver's seat. He can get what he wants, whenever and wherever he may be; the company's stylists are the ones checking in and planning ahead so he doesn't have to, she said. The company even sends complimentary webcams to those who don't have one.
For those wondering why a man would choose this kind of service over the services of a personal shopper in his immediate geographic area, Bruckner said it all comes down to the level of follow-up and accessibility.
"A lot of our men actually have used personal shoppers but didn't enjoy the experience because they felt like the personal shopper was really motivated to make the sale," she said. "Once they left the store, [the personal shopper] could care less if the man liked it or his wife liked it."
Bruckner also argues that personal shoppers whose services come complimentary at luxury department stores are often limited to choosing goods from the store's assortment, and says a lot of men don't like to go to stores or try on clothing in public.
What it all boils down to is the ability to impart a sense of style and confidence to professionals who are expected to be more on top of their look than ever.
"If I ask any man who's the worst dressed guy in the office, they can tell me in a second – so obviously people do notice," she said.
The irony of all of it is that, by catering to a group of men that can't – or won't – keep up with society's expectations, she's helping to break the very stereotype that characterizes the group of men she's targeting.
"The key is all men need clothing. Even if they could care less about clothing, after working with us, they often have a deeper appreciation for it."