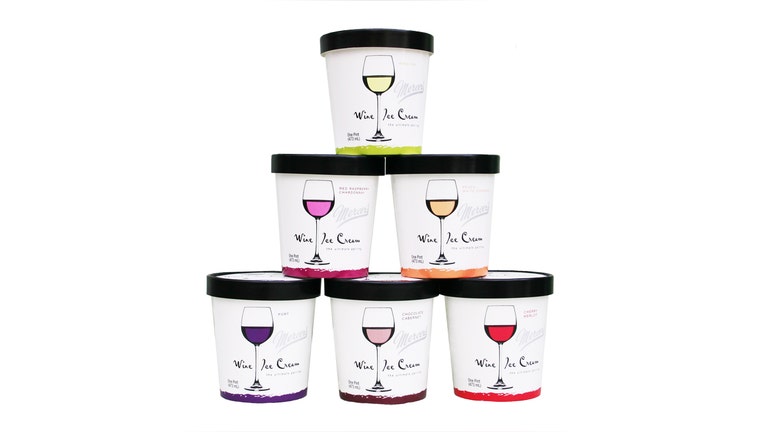 Ever wonder how Democratic presidential front-runner Hillary Clinton "wines" down? The answer may lie in some wine-infused ice cream by Mercer's Dairy.
"Hillary Clinton has always been a fan of our products. She referred to my Aunt Roxaina as 'the Godmother of her favorite New York ice cream,'" says Ruth Mignerey, who co-owns the creamery with her aunt.
The 5% alcohol ice cream was created in 2006 after Clinton invited Mercer's to participate at New York Farm Day in Washington, D.C.
"We featured our traditional ice cream alongside New York Wine & Grape and the bonds formed, which led to the creation of Mercer's Wine Ice Cream in 2008," adds Mignerey.
The company, which is based in Boonville, NY, has been producing ice cream for over 60 years but found mega success in their boozed-filled treats. Last year, they sold over 100,000 units and are projecting a 30% increase this year.
"We're exporting to 17 countries and are available in over 25 states. Currently, we are working on exporting to Costa Rica, Czech Republic, Chile, Australia and the United Kingdom," she adds.
The adult-only treat is available in eight flavors -- including "Strawberry Sparkling," which is part of Mercer's new champagne line -- and packs up to 310 calories per ½ cup.
"We took this [Strawberry Sparkling] flavor to the next level by actually putting a 'sparkle' in the strawberry. We used our cream base infused with champagne and added a ribbon of strawberry."
The women hired an international food scientist to create the wine-infused ice cream, making them the first in the industry to bring this type of dessert to market. And, they say they're already mixing two additional flavors to add to their champagne line.
The family duo has generated over $2 million in sales and they plan to launch an online store in January 2016.
It's still unknown, though, if Clinton plans to indulge in some champagne-infused ice cream next November.