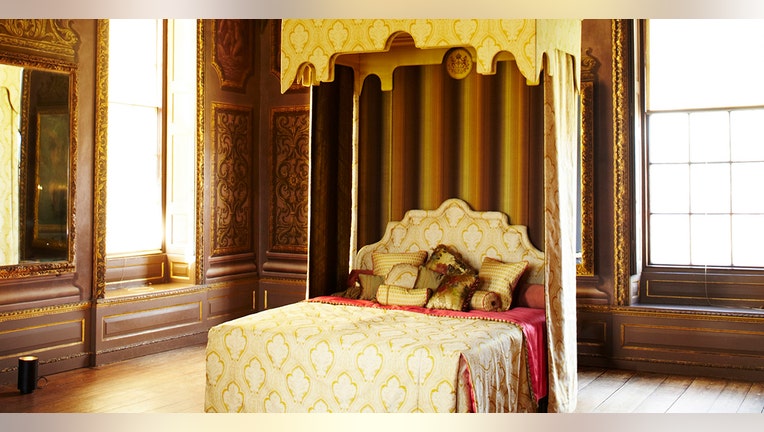 How much would you pay for a good's night sleep? One British luxury manufacturer is hoping a lot.
Savoir Beds is bringing a $175,000 mattress and bed to New York City this week, labeling it the "most expensive bed in the world."
The "Royal Bed" carries a bigger price tag than some homes, cars and college educations in America, but the niche company is confident luxury consumers will indulge.
Savoir CEO, Alistair Hughes says the brands' customers fit into two groups—the wealthy that appreciate the "best things in life," and those who are focused on high-end craftsmanship. The retailer will be releasing only 60 beds this year, which include the bed frame, mattress and comforter, to commemorate the 60th anniversary of Queen Elizabeth's Coronation.
Each bed takes more than 700 hours to create and the mattress features Latin American horse tail and Mongolian cashmere, as well as enough woven silk to string from New York to Miami and almost half way back again, according to the company. Consumers can even have their family crest sewn into the mattress, by the Royal School of Needlework, which is famous for helping create Duchess Kate Middleton's wedding dress.
"There are people who will spend more on their bed than they do their car," Hughes says. "To them, those six-to-eight hours a night sleep are more important. Yes times are hard, but that makes people think more about what they are spending their money on."
Hughes may not be off point. American Express Publishing (NYSE:AXP) and the Harrison Group recently reported that rich Americans are expected to increase their discretionary spending in 2013, despite not believing the recession is entirely over.
The 2013 Survey of Affluence and Wealth in America found that those in the top 10% income bracket in the U.S. will spend $247 billion this year as a group in luxury categories, like travel and accessories, up 3.4% from last year. And for the first time since the first quarter of 2011, more consumers (14%) in this group plan to increase spending while 10% plan to spend less in the next year.
Cara David, senior vice president of corporate marketing and integrated media at American Express Publishing and survey co-director, says the wealthy are willing to splurge because they've been able to get their "financial houses in order" post-recession.
"Thirty-two percent are telling us they now own their homes, 72% don't have credit card debt and they've never been more optimistic about their careers," David says. "Also, one-percenters, which is who will buy that bed, have been saving. They are in a really good position in their personal economies."
The American Express Survey focuses on the top 10% of earners, with $275,000 in annual income, $100,000 in disposable assets and at least $1.5 million in assets.
"It is a splurge," David says of something like the "Royal Bed," "but the details of distinction, for someone with the means, they'd say it's worth it. That is the due diligence that the affluent have become really good at applying to purchasing. They can separate the truly sublime from everything else."
Savoir sales have been increasing in the U.S., according to Hughes. The company did more than $2 million in U.S. sales last year and expects more than 30% growth in America this year. The company's lower-end models retail for around $10,000.
He is the first to admit, it's a very niche clientele, and he claims Madonna and Oprah as customers.
But not everyone is buying into the luxury boom. Pam Danziger, affluent consumer expert and president of Unity Marketing, says that while there is evidence of growth and prosperity, consumers are still be cautious with their spending.
"We see a careful consumer holding onto cash," Danziger says. "They are paying attention to what is going on in the world, and it's a tenuous place. Even if they have cash on hand, they are being cautious about where they are spending it."
Unity tracks spending among high middle income earners in the top 20% of homes, with between $100,000 and $250,000 in earnings annually, as well as those in the top 2% of homes, at $250,000 or above, the ultra-affluents, and the top 1% of earners, beginning at $380,000 annually.
In 2010, for example, she says there was a major run up on luxury spending after the recession as a result of pent-up demand. The psychology of shoppers has since changed. Generational demand also plays into how consumers are shopping.
Come 2020, Unity is predicting a potential luxury boom thanks to Millennials. This group will be at its peak earning capacity, and spending levels, however it will depend on luxury brands to rise to the task on the marketing end of the chain.
"Younger affluents are more inclined to purchase luxury goods in particular, they have a headier appetite," she says. "They are more prone to indulge."