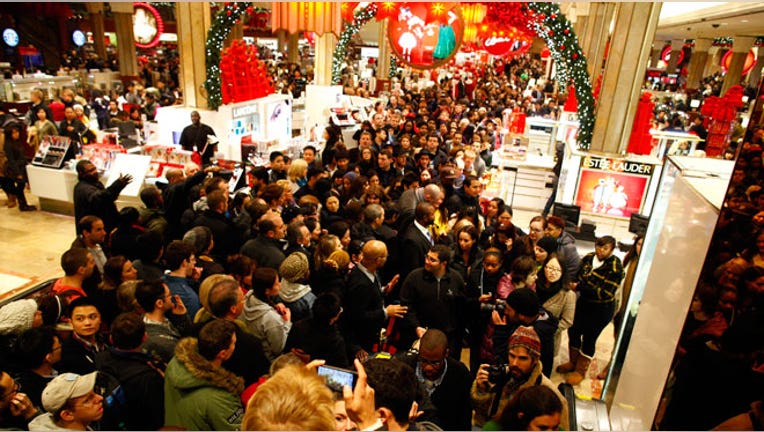 Now that the Black Friday ads are leaking at a steady pace, we're finally getting a clear picture of the 2014 Black Friday landscape. We've examined the advertised deals from stores like Target (NYSE:TGT), Best Buy (NYSE:BBY), and Walmart (NYSE:WMT), and we're ready to pick some early winners. Keep in mind though that new ads will continue to trickle in, but in the meantime, here's our roundup of the top Black Friday ads so far.
The Best Black Friday Ads So Far
Panasonic 50" 1080p LED LCD HDTV for $199.99 at Best Buy If you want to make a statement, offering a brand-name HDTV as your show-stealing doorbuster is a heck of a way to do it. This Panasonic 50" set comes in at an astonishing$99 below our Black Friday prediction for the 46" to 47" class TVs. In fact, this deal will be tied as the best price we've seen for any 50" HDTV by about $100 — including refurbs. (We've only seen a 50" TV drop this low once before, on Thanksgiving last year.) Best of all, this price outshines the leaked Black Friday prices for every other TV in this size range, including Target's incredible $235 48" set. The only drawback to this doorbuster is that you'll have to go to the store to grab it.
Asus Intel Laptop for $100 at Staples We admit, this ad is as vague as you can get, but even without specifics it's safe to assume this laptop is housing a low-cost Intel Atom or Celeron processor. Nevertheless, as far as budget systems are concerned, this deal is poised to blow all other deals out of the water. Not only does it beat our laptop prediction for budget machines by $78, but when this deal comes to fruition, it will set a new benchmark for cheap laptops — and become the cheapest laptop in DealNews history.
Element 40" 1080p LED LCD HDTV for $119 at Target Just when we thought 40" to 42" TV deals had plateaued, Target went and slashed the price of this 40" Element to $119. Not only does that destroy our Black Friday TV prediction for this size category by $59, but it's just $9 away from tying last year's best Black Friday price for a 32" TV. Without a doubt, this is the star of Target's Black Friday ad and easily snags a spot in our Top 10.
Vizio 65" 1080p Smart LED LCD HDTV for $648 at Walmart Even if you don't consider Vizio to be a brand-name manufacturer, this 65" Smart TV doorbuster is spectacular. Starting at 6 pm local time, in-store shoppers can grab this set for $648, which is a whopping $102 less than the best price we've ever seen for any 65" HDTV, even refurbs. Better yet, this deal easily blows Best Buy's $800 LG TV out of the water.
Samsung 55" 4K 2160p Smart LED LCD Ultra HDTV for $899.99 at Best Buy Remember when we said you shouldn't buy a name-brand smart TV on Black Friday? Here's the glaring exception to that rule. You don't even have to brave the in-store crowds to score this incredible Samsung 55" 4K Smart TV deal; according to the ad, this doorbuster will be available online. At $900, this set beats our August mention of a refurb, becoming the cheapest Samsung 55" 4K TV we've seen by $315.
Apple MacBook Air Haswell Core i5 11.6" Laptop for $779.99 at Best Buy If you're shopping for a current-gen MacBook Air on Black Friday, this is definitely the deal to beat. That $780 price point not only shatters our Black Friday prediction by $19, but it blows past our previous all-time low by $70. Best of all, it knocks a delightful $120 off Apple's (NASDAQ:AAPL) price.
Samsung Galaxy Tab 4 7" 8GB Android Tablet with $20 in SYWR points for $150 at Kmart This is an incredible deal, bar none. First off, Kmart's ad price beats the best deal we've ever seen for this tablet by $6. Plus, the Shop Your Way Rewards credit brings this popular 7" slate to $20 below our Black Friday prediction for a small, mainstream Android tablet. Coincidentally, the credit also helps Kmart beat Sam's Club's leaked Black Friday price for this tablet.
Amazon Fire HD 6 6" 8GB WiFi Tablet with a $20 Meijer Custom Coupon for $79 at Meijer Here's an ad that blows our Black Friday tablet predictions right out of the water. Against all odds, here's the Fire HD 6 (the bottom-tier tablet in Amazon's recently refreshed lineup), marked down by $20 with an extra $20 credit tacked on for good measure. Assuming you'll use the credit, that'll be 40% off and the very first discount we've seen on this tablet. Furthermore, Meijer's leaked price beats Kmart's by $11 once all credits are taken into account.
Apple iPhone 6 16GB Smartphone for $99 at Sam's Club Although iPhone 6 deals have been mediocre since Apple's launch, this deal may be the one to open the floodgates. Outside of an early Walmart preorder, the 16GB iPhone 6 has not dropped below $179. This Sam's Club deal cuts the list price by 50% to just $99 (with a 2-year contract renewal), which is right on par with our iPhone prediction. Better yet, this pricebeats Target's iPhone 6 ad by $51. All of the Sam's Club Black Friday iPhone deals go live on November 15, so proceed with caution because other retailers may swoop in and undercut them.
Samsung Galaxy S5 16GB Android Phone for 1 cent at Target We haven't seen a decent discount on a subsidized Samsung Galaxy S5 since August, and that one cost $100. Flash forward to Black Friday, when Target will drop this in-demand Android to just one penny (with the activation of a 2-year contract). Unless we start seeing for-profit deals, this is as good as smartphone ads get — it even beats Sam's Club's deal by about a buck.
Xbox One Halo: The Master Chief Collection Bundle with a $30 Walmart Gift Card for $329 We've seen quite a few noteworthy Xbox One bundle ads, but this one is our top pick. Although Target is offering the Assassin's Creed Unity version of this bundle paired with a $50 gift card, shoppers might think twice about dropping so much cash on a game that one critic called "my least favorite major Assassin's Creed since the 2007 original." On the other hand, this 6 pm doorbuster comes with four Halo games (as opposed to the other bundle's two), access to a beta, and more. The $30 gift card can even be used to further bulk up your Xbox One collection; Walmart will also have select Xbox One titles on sale from $20 during Black Friday. However, if you are interested in the Target bundle, know that the heftier gift card means it's effectively $70 below our Black Friday prediction for a Kinect-less Xbox One.
Beats by Dr. Dre Solo HD On-Ear Headphones for $79.99 at Best Buy Sorry, Target: Best Buy just became the place to buy a pair of Beats cans on Black Friday. Even we're floored by this $80 doorbuster; that ties the all-time best price we've seen for these headphones refurbished.
Apple iPad Air 2 16GB Tablet with $140 Gift Card for $499 at Target Target is currently the king of iPad Air 2 deals bundling a very generous $140 Target gift card with the purchase of the 16GB model. That's effectively $140 off the tablet's retail price and easily trumps last Black Friday's $429 iPad Air low. If you don't want to deal with gift cards or if you just want to pay the least amount possible, Best Buy gets runner up for shaving $100 off the full cost of the iPad Air 2.
Dyson DC33 Multi-Floor Bagless Upright Vacuum for $199 at Walmart Somewhere, a Dyson fan just fainted. We predicted that new Dysons would start at around $250, and this 6 pm doorbuster demolishes that price by $51. Furthermore, this price is $40 below our previous all-time low for a new unit.
Predator Generators 8,750W 13HP Gas Generator for $550 at Harbor Freight Tools Power outages are probably the last thing on your mind this month, but emergency preparedness is always a good thing and this generator is $225 under the cheapest 8,000-watt generator we've seen all year. Even better, it also manages to undercut every 5,000-watt generator we've posted this year. While most experts recommend a 4,000-watt unit, at $550 you can afford to double the power. A great buy for home owners who've yet to purchase a generator.
4-Burner Gas Grill with Side Burner for $99 at Walmart Although the summer months typically see better grill sales than Black Friday, this gas grill is a steal. At $99, it'll be tied with a May deal as the cheapest 4-burner gas grill we've seen in the past two years. Better still, this 6 pm doorbuster beats the next cheapest Black Friday gas grill by $61.
Every hour, more ads are trickling in, but the 2014 landscape is already packed with incredible offers. We hope we'll see more ads that are just as good as Staples' $100 laptop and Target's $119 TV in the coming days, but the deals above will certainly be hard to beat.
Excited for Black Friday deals? Consider subscribing to the DealNews Select Newsletter to get a daily recap of all our deals; you never know when a Black Friday price will be released! You can alsodownload the DealNews apps, check out the latest Black Friday ads, or read more buying advice.
More From DealNews:
Is the 'Holiday Creep' Actually Slowing Down?Deals Go to Your Head: A Professor Explains Black Friday Psychology11 Things NOT to Buy on Black Friday
With over a decade of experience covering technology, Louis Ramirez has written for CNET, Laptop, Gizmodo, and various other publications. Follow him on Twitter at @louisramirez.