That's Weird: Four Things You Can Pay Someone to Do for You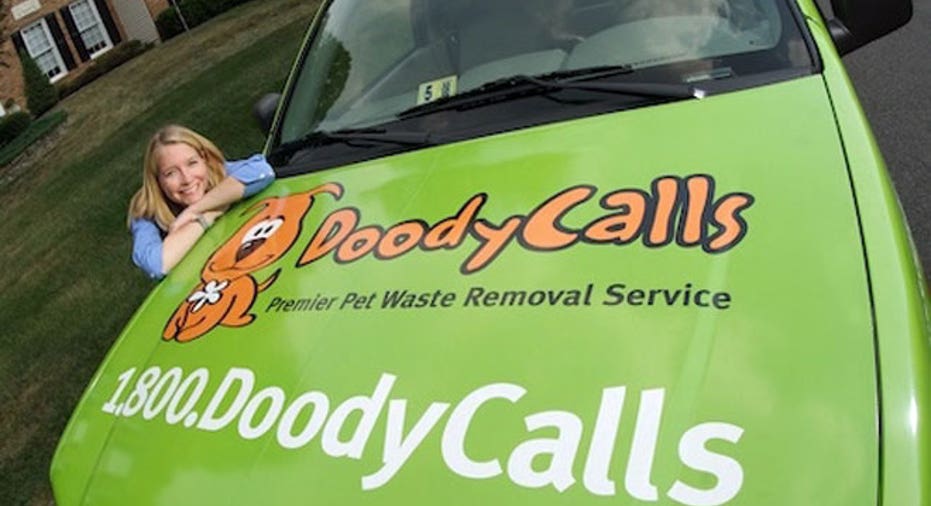 Remember when your mother told you no one would clean up after you?
Well, she was kind of wrong. (Sorry, mom.)
These days, it's easy to find people willing to carry out your everyday tasks – and not just the common ones, either. From hiring someone to pick up your dog's poop to having someone manage your fantasy football team, there's no shortage of unusual services at your fingertips.
Here are four strange things you can pay someone else to do for you:
Pick up your dog's poop
For those of you too busy or too lazy to clean up after your pet, DoodyCalls may be the answer.
Headquartered in Charlottesville, Va., the franchise provides professional pet-waste removal services for homes and businesses across the U.S. The company currently has more than 55 locations and aims to reach 250 over the next 10 years.
DoodyCalls was founded by husband-and-wife team Jacob and Susan D'Aniello in 2000, and became a franchise in 2004. (If you're interested – Jacob, who had been working as a tech consultant prior to the company's establishment, first came up the idea after being inspired by "some wack job" on a radio interview.)
The company provides a number of services, offering everything from one-time cleanups to cleanups three times a week. D'Aniello says the average weekly rate for one dog is about $15. Rates are based on the number of dogs, the size of the area to be cleaned, the frequency of the service and the amount of waste produced.
The company also has a cat litter service that involves clients leaving dirty litter boxes on the porch and the company swapping them out for fresh ones. The rate is usually about $12 to $15 a week for one cat.
D'Aniello says his company's services are meant to make the average person's life easier.
"It's very much just for regular people who work hard," he says. "In a way, we're selling time."
Scope out a bar
Crowdmug is an iPhone app that allows you to get a sense of the real-time "scene" of a place (i.e. – what the crowd is like, how cozy the space is, etc.) by having other people visit the place to take pictures or videos for you.
For instance, the company says that instead of wasting time hopping from bar to bar, you can request real-time photos or videos of the locations you're interested in and make a more informed decision about where you want to go. The program is especially useful for event planners, real-estate agents and travel agents, the company says.
The app itself is free to download, but when you put in a request for a photo or video, you must indicate how much you'll pay the person who completes the task. Once you submit your request, Crowdmug users in the area are notified. The first person who fulfills the request gets the cash.
Crowdmug Founder Behzad Behrouzi says an important aspect of the service is that all of the photos or videos submitted can be seen by other users, which means people don't have to waste time posting redundant requests.
"One can simply launch the app and see what places look like in real time...even if they haven't requested anything," he says.
Draft a fantasy football team
For those too busy to keep on top of it, being involved in a fantasy football league can be daunting.
That's what motivated Kris Rivenburgh, the self-proclaimed Fantasy Football King, to begin offering personalized online instruction for fantasy football players.
Rivenburgh, a 31-year-old Internet marketer from San Antonio, Texas, can be hired to draft a team or manage a team over the course of the season. Some people even contact him mid-season to take over their teams for the remaining weeks.
For him, it's a side job – he says he worked with about 12 to 15 clients on their drafts this year at a rate of about $10 an hour. (The process typically takes about 3 to 3.5 hours, according to his website.) Managing a team for a full season costs upwards of $250, he says.
The services are geared not only to those with hectic schedules, but to those who don't know what they're doing but still want to compete with their friends. Rivenburgh says he actually had a client this year who participated in a live draft with his buddies, but while he was sitting there with his laptop open, Rivenburgh was logged in remotely making his decisions for him.
Rivenburgh says he has been playing since 1999 and has gained a deep knowledge about players' performance and injury histories over time. That said, he can't promise his clients that they'll win.
"I never offer any guarantees because it's impossible with fantasy football to guarantee anything; anybody who tells you otherwise isn't telling you the truth," he says.
Blow out your birthday candles
There's an iPhone app called "Blower – Real Air" that blows air from the speakers of your iPhone. While that may seem cool from a technological standpoint, its uses are a bit obscure. Qneo, the company that developed the app, posted a series of videos on YouTube showing how the app can blow out birthday candles and move herbs across a tabletop – two tasks that aren't tasks at all, really.
The app is 99 cents.