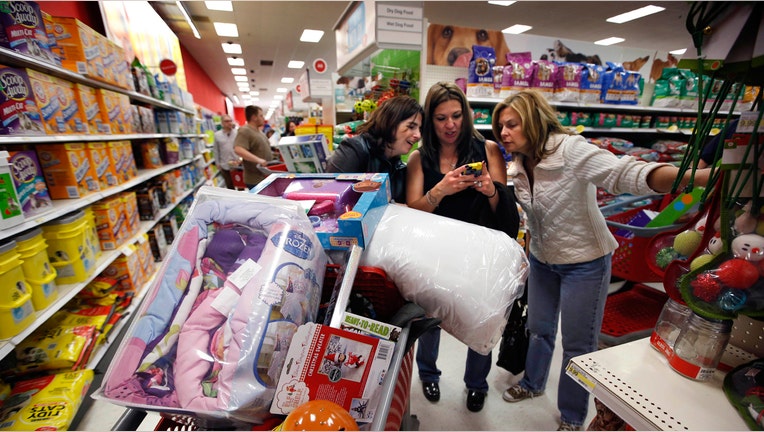 Crowds were thin at U.S. stores and shopping malls in the early hours of Black Friday and on Thanksgiving evening as shoppers responded to early holiday discounts with caution and bad weather hurt turnout.
Major retail stocks including Target and Wal-Mart fell in early trading.
Bargain hunters found relatively little competition compared with previous years. Some on Friday morning said they had already shopped online or visited the mall the night before. That reflects the new normal of U.S. holiday shopping, where stores open up with deals on Thanksgiving Thursday itself, rather than waiting until Black Friday.
In an effort to attract the most eager holiday shoppers and fend off competition from Amazon.com Inc <AMZN.O>, U.S. retailers have increasingly extended their holiday deals by opening stores on the evening of Thanksgiving.
That has hurt Black Friday sales in previous years, a trend analysts expect will continue this year.
"We believe Thanksgiving shopping was a bust," analysts at Suntrust Robinson Humphrey said in a research note. "Members of our team who went to the malls first had no problem finding parking or navigating stores."
Scott Tuhy, vice-president at Moody's who tracks companies like Macy's Inc <M.N>, said crowds on Thursday evening in New Jersey were steady but not busy. He said some stores saw a fair amount of activity around orders that were placed online and picked up in stores.
The Macy's store at Water Tower Place mall on a rainy Chicago morning saw thin crowds in the early hours of Friday after a fairly busy Thanksgiving evening, store associates said.
Nia Darrell, a 23-year-old student, was shopping for coats and handbags at the store with two friends.
"I shopped online yesterday and picked up most of what I wanted," she said." I'm out because Black Friday is more like a tradition but the discounts are similar even online this year."
While Black Friday seems to be losing some appeal in the United States, British shoppers have taken to the concept enthusiastically, with reports of large crowds at big stores and malls in the UK.
In early trading, shares of Target Corp <TGT.N> were down 0.2 percent, while Macy's, Best Buy and J.C. Penney <JCP.N> all lost more than 1 percent. Wal-Mart was also lower, while Amazon.com Inc <AMZN.O> traded up slightly.
A broad retail index <.DJUSGT> was down 0.2 percent in thin holiday trading. U.S. stocks will close early at 1 p.m. ET Friday.
ONLINE SALES STRONG
Shoppers in the United States spent more than $1 billion online, 22-percent more than last year, between midnight and 5 pm ET on Thursday, according to the Adobe Digital Index, which tracked 100 million visits to 4,500 U.S. retail sites.
Many stores around the country were full on Thanksgiving evening. Local media reported brawling shoppers at a packed Kentucky mall on Thursday, forcing a police officer to intervene and break up the fight.
Early Black Friday discounts included $700 off a 60-inch Samsung television at Best Buy <BBY.N> for $799.99, 20 percent off a $75 purchase at Target, and a Kindle for $49.99 on Amazon.com.
As much as 20 percent of holiday shopping is expected to be done over the Thanksgiving weekend this year, analysts said. The four-day shopping burst will help set the tone for the rest of the season, signaling to retailers whether they need to drop prices or change promotions.
The shopping season spanning November and December is crucial for many retailers because the two months can account for anywhere from 20 to 40 percent of their annual sales.
Shoppers are expected to be cautious with their spending again this year. The National Retail Federation is expecting holiday sales to rise 3.7 percent, slower than last year's 4.1 percent growth rate, due to stagnant wages and sluggish job growth.
Jorgette Clark, 27, said her budget would probably be lower this year because her husband works in the energy industry.
"I feel like we scaled back this year. Our husbands work in the oil fields... It's probably a smaller Christmas this year."
(Additional reporting by Kylie Gumpert in New York, Writing by Nandita Bose in Chicago; Editing by Nick Zieminski)