Thanksgiving by the Numbers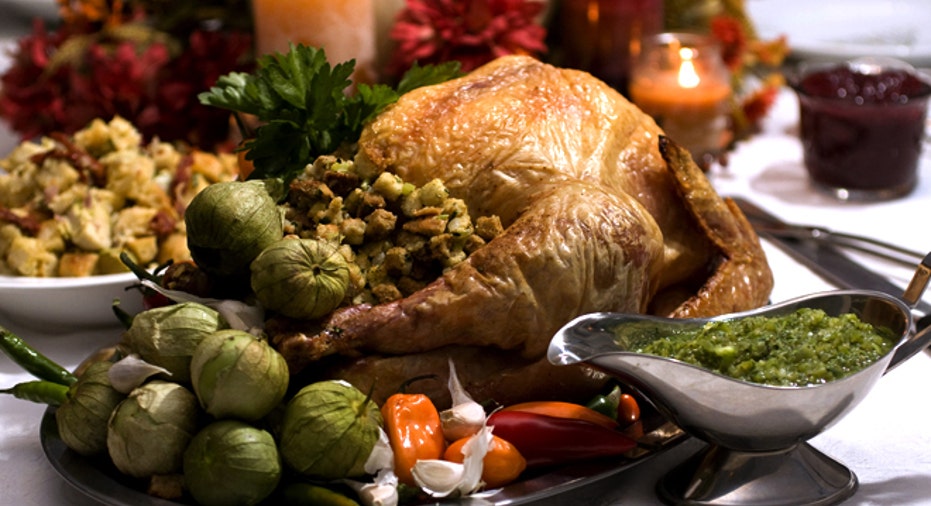 When people think about Thanksgiving, they may imagine an extended family enjoying a feast of turkey, squash, corn and pumpkin pie. That's certainly a key part of the American tradition, but it doesn't tell the whole story around the holiday weekend. With the advent of Black Friday and Cyber Monday, new Thanksgiving traditions have developed around shopping and consumerism in general. We dug into the data to highlight some of the most intriguing statistics surrounding one of America's most beloved holidays.
46 million turkeys - According to estimates by the National Turkey Foundation, 46 million turkeys are consumed on Thanksgiving. This means that 20% of the 228 million turkeys consumed in the U.S. each year are eaten on Thanksgiving. And 22% of the turkeys we eat come from Minnesota.
$50 feeds an extended family - The American Farm Bureau Federation calculates that the average Thanksgiving meal costs about $50 for a family of 10, equaling about $5 per head. This meal includes turkey and stuffing, rolls, sweet potatoes, green peas, fresh cranberries, carrots and celery and pumpkin pie with whipped cream. That's a pretty good deal considering Thanksgiving feasts typically result in plenty of leftovers.
36% rise in dinner cost – At $5 per head it's hard to be upset about the price of an average Thanksgiving meal but data shows the price has been climbing fairly fast. The American Farm Bureau Federation says that from 2005 to 2015, the average price of a family's feast has risen from $36.78 to $50.11. That's a 36% increase. For those on a budget, consider keeping the number of sides down and only serving crowd-pleasers.
Related Article: Where Does Your Thanksgiving Dinner Come From?
46% increase in turkey price - Turkey is the big-ticket item and the pièce de résistance at most Thanksgiving feasts. The big reason the price of the meal has gone up so much is that the cost of turkey – which makes up over half the total cost – is rising. The price per pound of a whole frozen turkey increased 46% in a decade. It went from $0.97 in November 2006 to $1.42 in November of 2015, according to the Bureau of Labor Statistics.
31% of Americans prefer mashed potatoes - There's a battle in many people's minds about what to spend their precious, limited stomach capacity on. According to a 2013 survey by Survata, 31% of Americans say mashed potatoes are their favorite Thanksgiving side dish. Green beans and corn aren't nearly as popular. Only 5% of those surveyed said corn was their favorite, while 6% enjoy green beans the most.
95% of Americans spend the holiday with family - While Friendsgiving may be trending on Venmo, data shows that Thanksgiving is still mostly about family. According to the Harris Poll, 95% of people surveyed in 2015 said they spend Thanksgiving with their families. It's tied with Christmas for the most family-oriented holiday in America.
46.9 million people hit the road - Any look at Thanksgiving by the numbers would be lacking if travel went unmentioned. Americans expend a lot of effort to get back home and spend the holiday with their families. According to the American Automobile Association, an estimated 46.9 million Americans traveled at least 50 miles to reach their Thanksgiving destination last year.
32.5 million people watched the NFL – Last year, 32.5 million viewers tuned in to watch the Dallas Cowboys face down the Carolina Panthers on Thanksgiving Day, according to Nielsen.
Check out SmartAsset's credit card calculator.
151 million people shopped - The National Retail Federation reports that 151 million people shopped online or in person on Thanksgiving weekend (Thursday-Sunday) in 2015.
$320 spent per shopper - The average shopper spend $320 on holiday purchases over the Thanksgiving weekend (Thursday-Sunday), according to the National Retail Federation. This includes purchases like holiday gifts, toys, electronics and clothes. Men outspent women by $108 on average.
40% of all holiday spending happens over Thanksgiving – For the entire holiday shopping season, from Thanksgiving to Christmas, the average American spends $802, according to a survey from the National Retail Federation. That means that 40% of total holiday spending happens over Thanksgiving weekend.
$11.1 billion in record online sales – According to Adobe Digital Index, shoppers spent a record-breaking $11.1 billion in online sales from Thanksgiving through Cyber Monday last year. Black Friday's online sales alone were $2.74 billion. But Cyber Monday took the top prize, racking up a whopping $3.07 billion in online shopping and setting a separate record as America's biggest day for online sales ever.
$116 million raised for charity – For the past four years, the Tuesday after Thanksgiving has been dubbed Giving Tuesday and is viewed as a global day of charitable giving ahead of the holiday season. Last year on Giving Tuesday, an impressive $116 million was raised for charities worldwide, according to GivingTuesday.org.
This article originally appeared on SmartAsset.com.
Read More From SmartAsset.com:
The Safest Cities in America in 2016