TGI Fridays Offering $10 Unlimited Appetizers Promotion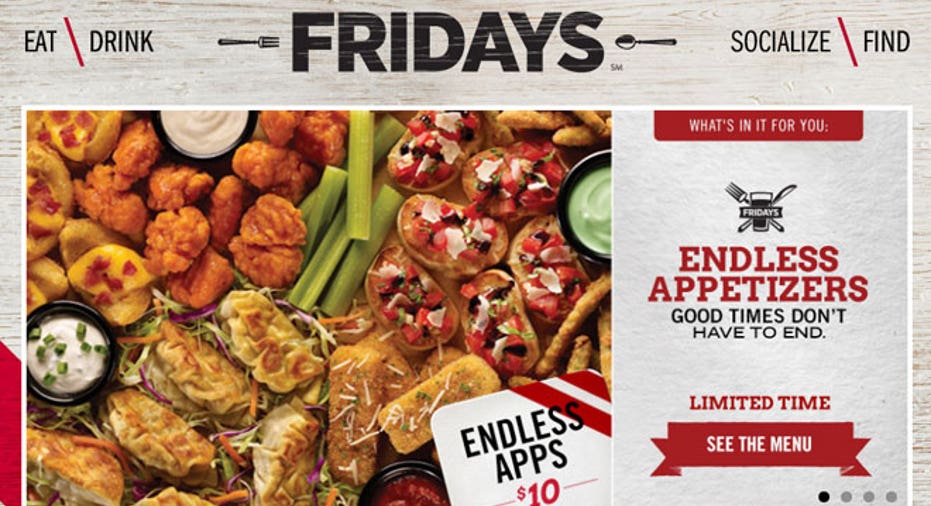 Just in time for beach season, TGI Fridays is launching an all-you-can-eat promotion that's decidedly not diet-friendly.
The summer-long "Endless Appetizers" deal offers customers unlimited orders of loaded potato skins, pot stickers, mozzarella sticks, bruschetta, spinach dip, boneless wings and crispy green-bean fries – all for $10 per person.
"You could say Fridays invented the modern bar appetizer with the introduction of our famous loaded potato skins 40 years ago," said Ricky Richardson, President and Chief Operating Officer, TGI Fridays USA in a statement released Monday. "'Endless Appetizers for $10' is our way of reminding guests how Fridays delivers on our promise of great food, great service, great value and great fun.  It's another example of how Fridays is giving our customers a better time out at every opportunity when they visit our restaurants."
The full-service restaurant chain, which has over 900 locations in 60 countries, will be celebrating its 50th anniversary in 2015. In late May, hospitality and travel company Carlson announced it had entered into a definitive agreement to sell TGI Fridays to Sentinel Capital Partners and TriArtisan Capital Partners for undisclosed terms. According to the company, the transaction is expected to close in July.
The "Endless Appetizers" promotion is seen by some as a last-ditch effort to stay afloat in an increasingly competitive restaurant environment.
"It's a desperate move to try to fight off the inevitable, which is the cannibalization that is happening at restaurants, primarily from fast-casual concepts. The worst place to be is a full-service restaurant where the check average is less than $20 – which is right where TGI Fridays finds itself," said Aaron Allen, founder of Aaron Allen & Associates, a restaurant industry consulting and analysis firm.
Allen said diners are more frequently turning to fast-casual concepts – a category that includes Panera Bread, Chipotle and Panda Express – rather than full-service restaurants.
"From a consumer point of view, why go into a TGIFs [restaurant], which is state of the art 1995 with the waiters with the tchotchkes, and pay $15 for a burger, when you could go to Five Guys and pay $8.50?" asked Allen.
Despite the $10 promotion's value, Allen said "Endless Appetizers" may not be so, well, appetizing to either restaurant-goers or the chain's new management team.
"You're taking the signature item – the appetizers – and turning it into a buffet approach, which appeals to the lowest common denominator. This type of approach works in the short run, but in the longer run costs more in terms of sales and profits," added Allen.