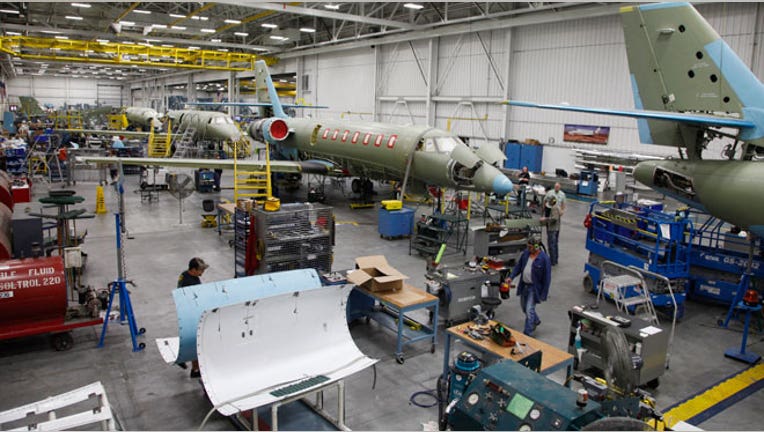 Shares of Textron (NYSE:TXT) plunged 12% on Wednesday as the world's largest maker of business aircraft spooked Wall Street by taking an axe to its outlook amid tepid demand for its Cessna jets.
In addition to cutting its 2013 earnings guidance below the Street's view, Textron also disclosed weaker-than-expected first-quarter earnings and plans to cut costs.
The Providence, R.I.-based company said it earned $119 million, or 41 cents a share, last quarter, compared with a profit of $118 million, or 40 cents a share, a year earlier.
On a non-GAAP basis, Textron said it earned 40 cents a share, trailing consensus calls from analysts by a nickel.
Revenue was unchanged at $2.86 billion, narrowly missing expectations for $2.89 billion.
Cessna posted a loss of $8 million last quarter, compared with a loss of $6 million the year before, and its backlog shrank by $28 million from the end of 2012 to $1.03 billion.
"Demand in the business jet market was softer than expected," CEO Scott Donnelly said in a statement.
But Textron really disappointed shareholders by downgrading its full-year earnings forecast by 20 cents a share to a range of $1.90 to $2.10. Even the high end of that new range would miss the Street's view of $2.26.
Textron warned that it now anticipates a decline in business jet deliveries.
The company also revealed plans to adjust production scheduled and implement other cost-cutting moves at its Cessna division.
"While we are taking these immediate actions, we believe the global business jet market still has significant long-term growth potential and we remain committed to our new product plans," Donnelly said.
Textron saw its stock retreat 11.67% to $25.92 during recent trading Wednesday morning, trimming its 2013 gain to just 4.5%. The S&P 500 was off 1.6%.