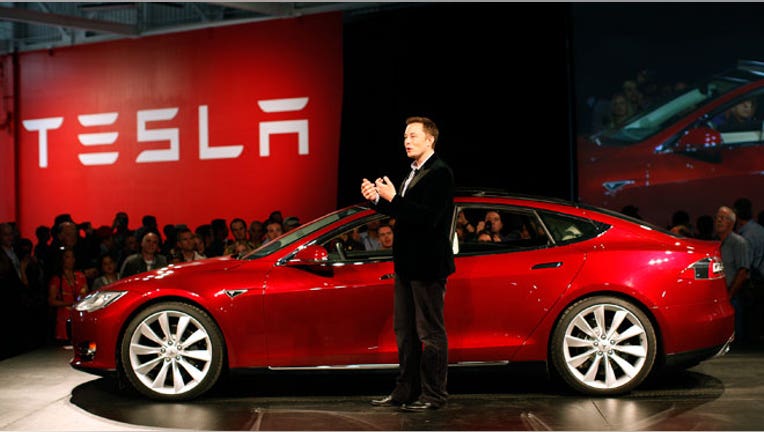 Tesla Motors Inc. was stung by rising costs in its first quarter, reporting a wider net loss compared with a year ago even as the sale of regulatory credits and Model S sedans increased sharply.
The Palo Alto, Calif., luxury electric car maker said on Wednesday its loss widened to $154 million, compared with $49.8 million in the same period a year ago. Revenue climbed 51% over a year earlier to $939 million in part as deliveries of its $71,000-and-up Model S rose 55% to a record 10,045 vehicles.
Its adjusted operating loss of 36 cents a share was better than analyst forecasts of 50-cents a share operating loss. The company said it met its automotive gross operating margin target despite currency exchange challenges and greater research, development, operations and capital expenditures.
Its shares rose 2.6% in after-hours trading on Wednesday to $236.32. It released first quarter results after the 4 p.m. halt of routine trading.
The results underscore the challenge facing one of the auto industry's most scrutinized companies. Tesla is posting record volume and says it is on track to deliver 55,000 vehicles this year, but investments in its network of fast-charging stations, and the development of its forthcoming Model X sport-utility vehicle and other future products widened losses and reduced its liquidity.
Its cash fell to $1.5 billion at the end of the first quarter from $1.9 billion three months earlier and $2.4 billion a year ago. Chief Executive Officer Elon Musk has said the company can fund its growth plan without share sales or convertible bond offerings.
The company said it remains on track to start delivering its vital Model X late in the third quarter and that it expects to begin making battery cells and full battery packs at a new Nevada factory in late 2016--earlier than previously forecast.
The company's battery-making plans has been in focus in recent days following Mr. Musk's April 30 unveiling of a new stationary-storage business. The investment in battery-making capabilities is one of the company's large capital expense items.
Tesla has been lifting its results by selling regulatory credits. It sold $66 million such credits in the first quarter, up sharply compared with the same period a year ago; it said it expects to sell $15 million more in the current quarter.
The auto maker, like others selling zero-emission cars, has regulatory credits that can be transferred to rivals needing to improve their emissions scores. Excluding those credits, the company said the gross margin on its Model S sedan was on plan at 26% of revenue on an adjusted basis and 25% on a Generally Accepted Accounting Principles basis. Analysts closely watch gross margin because it shows the company's efficiency as it reaches higher levels of production and scale.
Tesla said it expects to produce 12,500 vehicles in the current quarter, and deliver between 10,000 and 11,000 vehicles. Tesla also said it would raise the price on Model S vehicles by an average of 5% in European markets because of the strengthening U.S. dollar against the euro.
The company said it closed on a $100 million line of credit related to its leasing business in the quarter and plans to close on additional financing in the coming months.
Tesla's share price plummeted to below $190 earlier this year after fourth-quarter volumes missed expectations in China. Its shares have since risen 22.3% since the end of the first quarter in part to the announcement of the new stationary power storage business.
By Mike Ramsey And Anne Steele