Tesla Touches New Highs as Optimism Grows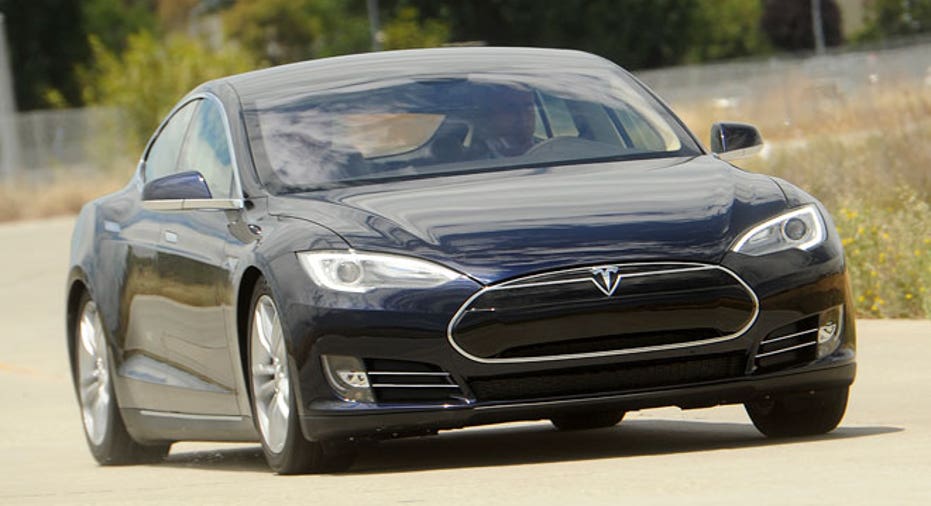 Tesla (NASDAQ:TSLA) raced to new all-time highs on Thursday after the electric-car maker posted better-than-expected earnings and forecast stronger deliveries in 2014.
The Palo Alto, Calif., company was one of the biggest gainers in the stock market last year, jumping 353% as investors banked on Tesla's ability to churn out more vehicles.
Tesla fueled that optimism with an upbeat outlook for the current year. It projected full-year  deliveries of 35,000 Model S sedans, which would reflect a 55% improvement over 2013. Tesla currently makes 600 cars each week but anticipates weekly production of 1,000 units by the end of the year.
The automaker also detailed plans to launch its Model X crossover in the spring of 2015. The Model X is expected to be Tesla's first vehicle to hit a cheaper price point in an effort to attract more buyers. Tesla's flagship Model S costs more than $70,000.
Investors sent Tesla shares as high as $215.21 early Thursday. The stock was up 7% at $207.13 in recent trade amid heavy volume. As of Wednesday's close, Tesla logged a year-to-date gain of 28.7%.
Goldman Sachs analyst Patrick Archambault raised his price target to $118 from $104 in the wake of Tesla's fourth-quarter beat. In a research note to clients, he said flat U.S. shipments compared to the third quarter points to stabilization in the market, "setting an important base for overseas growth."
Archambault also cited Tesla's 25% automotive gross margin during the period, as promised by chief executive Elon Musk, and its outlook for a gross margin of 28% in 2014.
Ben Kallo, an analyst at R.W. Baird, raised his price target to $245 from $215.
Overall, Tesla narrowed its fourth-quarter loss to $16.2 million, or 13 cents a share, from $89.9 million, or 79 cents a share, in same period a year earlier. Adjusted earnings rose to 33 cents a share versus a year-ago loss of 65 cents. Revenue doubled to $615.2 million, while non-GAAP revenue checked in at $761 million.
Tesla is expected to provide more detail in the coming weeks about its plans to build a "GigaFactory" that will lower the cost of battery modules. The company cautioned that battery constraints would hold back production in the first half, saying the investment in a new plant will help ramp up supplies.
Kallo said Tesla will likely look to raise additional funds for construction of the battery plant.
"We believe this catalyst makes it difficult to short the stock ahead of more details," Kallo wrote in a research note.