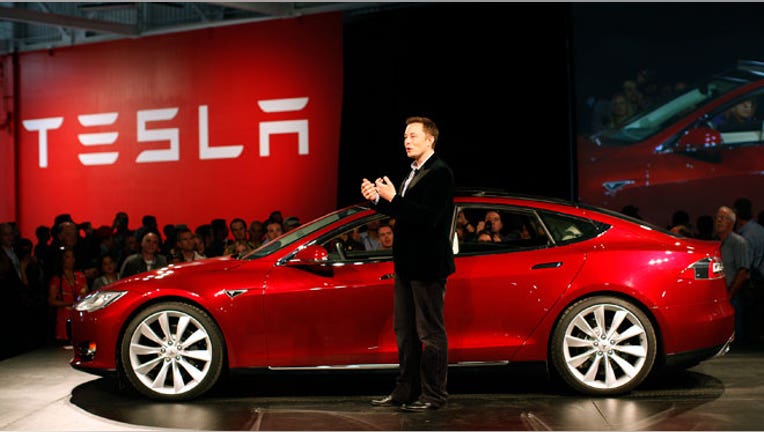 Electric car maker Tesla (NASDAQ:TSLA) shocked Wall Street with a second-quarter adjusted profit and stronger-than-expected revenue, as the company delivered a record number of its Model S sedans.
Shares revved 13.3% higher to $152.14 in late trading Wednesday. The stock has been on a torrid pace, nearly quadrupling over the last year and hitting a high of $140 this week.
Tesla reported a net loss that narrowed to $30.5 million, or 26 cents a share, from a loss of $105.6 million, or $1.00 a share, in the year-ago period.
Adjusted per-share earnings, which exclude certain one-time items, checked in at 20 cents versus an 89-cent loss last year.
Revenue soared to $405 million from $26.6 million.
Analysts were looking for a per-share loss of 17 cents and revenue of just $383 million.
Gross margin widened to 22% from 17% a year earlier.
Tesla said it sold 5,150 Model S electric cars in North America, topping the company's previous outlook of 4,500 deliveries. The company's production rate jumped 25% to almost 500 vehicles per week.
European deliveries began this month, while Tesla plans to open its first store in China this year. During the second quarter, the company opened seven new retail locations to bring its total to 41 locations worldwide, including 30 in North America.
"As demand for Model S grows, we are continuing to expand our manufacturing capacity as well as our global footprint of service center, retail and Supercharger networks," Tesla said.
Looking ahead, Tesla expects to deliver slightly more than 5,000 Model S vehicles in the third quarter and reaffirmed its guidance for 21,000 global deliveries for the full year.