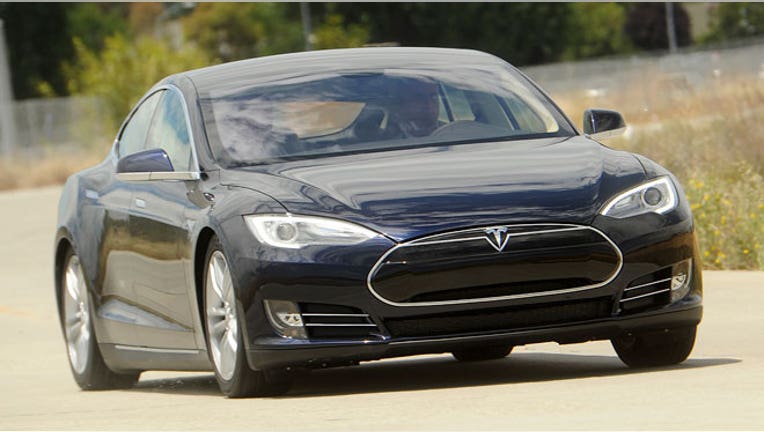 Tesla Motors (NASDAQ:TSLA) beat the Street in the third quarter as deliveries accelerated, although the electric car maker sparked a selloff as investors locked in gains and revenue from zero-emission credits slumped.
Shares tumbled 11.2% to $157.01, pulling back from a gain of 422% so far this year.
The company reported a loss of $38.5 million, or 32 cents a share, compared with $110.8 million, or $1.05 a share, in the year-ago period. Adjusted per-share earnings improved to a profit of 12 cents versus a 92-cent loss.
Revenue rose sharply to $431.3 million, while adjusted revenue jumped to $603 million.
Tesla's adjusted profit beat estimates by a penny. Analysts expected adjusted revenue of $534 million.
Tesla delivered roughly 5,500 vehicles in the latest period, including 1,000 in Europe. That topped the 5,150 Model S electric cars sold in the second quarter.
But the company said its mix of sales shifted more to Europe and non-ZEV states, driving down anticipated revenue from emission credits to $10 million from $51 million in the prior quarter. Model S deliveries also missed some estimates, with Deutsche Bank anticipating 5,850 deliveries.
Automotive gross margins excluding ZEV credits widened to 21% from 14%.
The Palo Alto, Calif.-based automaker sees fourth-quarter adjusted earnings remaining "about consistent" with the third period. Deliveries are forecasted to check in at just below 6,000 vehicles. Tesla raised its full-year delivery forecast by 500 vehicles to 21,500.
Tesla also said it expects to deliver its first Model S cars in China during the first quarter.