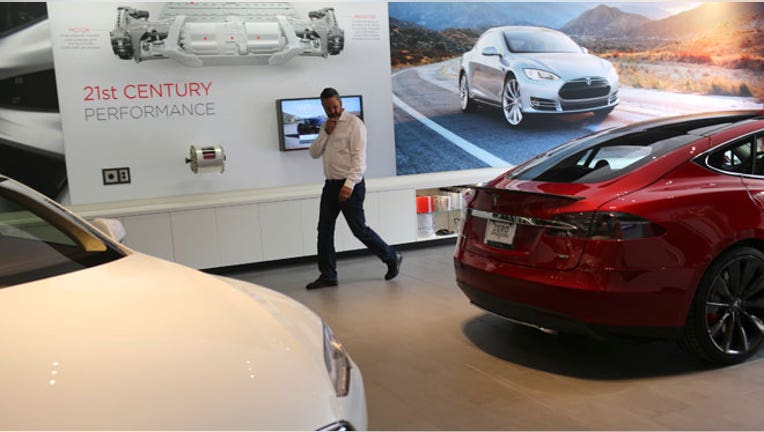 Tesla Motors (NASDAQ:TSLA) reported a wider loss in the second quarter, as the electric car maker continues to invest in production capacity and new models.
Tesla said Thursday it posted a loss of $61.9 million, or 50 cents a share, compared to $30.5 million, or 26 cents a share, in the year-ago period. On an adjusted basis, per-share earnings fell to 11 cents from 20 cents.
Revenue climbed 90% to $769.3 million. Non-GAAP revenue checked in at $858 million, up 55%.
Analysts forecasted an adjusted profit of four cents a share and revenue of $810.61 million.
Shares dropped 2.4% to $217.94 in after-hours trading. Tesla was on a tear in 2013, soaring about 350%. The stock has continued its ascent this year with a gain of 48% through Thursday's close.
Wall Street has been keeping a close eye on Tesla, which plans to launch the Model X crossover in spring 2015 and open a large battery plant in 2017. On Thursday, Tesla said it broke ground outside of Reno, Nevada, at a possible location for its so-called Gigafactory. The Palo Alto, Calif.-based company is also considering sites in Arizona, California, New Mexico and Texas.
The Gigafactory, in partnership with Panasonic, is expected to boost production and lower the cost of lithium-ion batteries used in Tesla's vehicles. Tesla plans to price the Model X and a next-generation sedan, the Model 3, below the current Model S.
In the second quarter, deliveries of the Model S totaled 7,579 vehicles compared to 6,457 in the first three months of the year. Tesla affirmed its target for 35,000 deliveries in fiscal 2014. Production also increased to 8,763 units, and Tesla expects to average 1,000 vehicles per week in the fourth quarter.
Chief executive Elon Musk said Tesla is off to an "encouraging start" in China. Tesla is also entering right-hand drive markets like the U.K.
"In both North America and Europe, Q2 Model S orders increased sequentially at a much faster rate than for the rest of the automotive industry," Musk wrote in a letter to shareholders.
Automotive gross margin rose to 26.9%, or 26.8% on an adjusted basis. Tesla booked margins of 22% last year and 25.3% in the first quarter.
Operating expenses more than doubled to $241.7 million. Tesla cited increased research and development costs tied to the development of the Model X. The company now expects to invest $750 million to $950 million in new models and retail expansion, an increase of $100 million from prior guidance.
Production on a new assembly line for both the Model S and Model X begins next week. Tesla recently shut down its manufacturing facility to prepare for Model X production.
Including the impact of the shutdown, Tesla is forecasting production of 9,000 cars in the current quarter. The company said it would have produced 11,000 units without closing its factory for retooling.
Tesla also provided guidance for third-quarter deliveries of 7,800 Model S vehicles. Automotive gross margin is expected to remain flat with the second period, although Tesla is still calling for 28% margins by year's end.