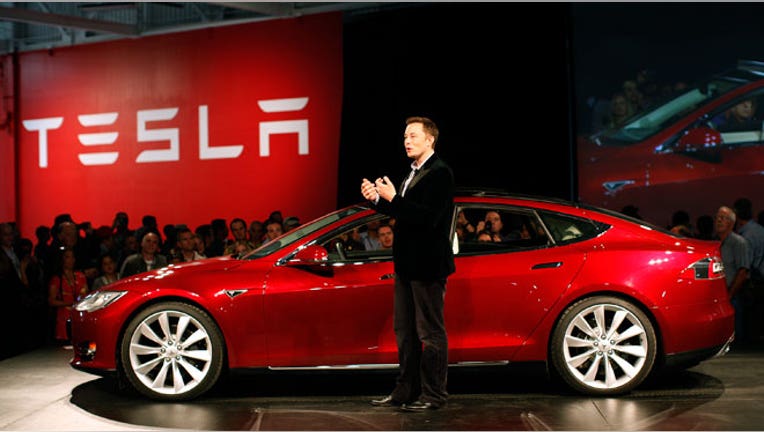 Tesla Motors (NASDAQ:TSLA) posted better-than-expected earnings and provided an upbeat outlook for vehicle deliveries in the new year, sending shares higher late Wednesday.
The electric-car maker narrowed its loss to $16.2 million, or 13 cents a share, from $89.9 million, or 79 cents a share, in same period a year earlier. Tesla did swing to an adjusted profit of 33 cents versus a year-ago loss of 65 cents.
Revenue doubled to $615.2 million, while adjusted revenue checked in at $761 million. Tesla didn't book any gains tied to zero-emission credits.
Tesla beat Wall Street estimates for an adjusted profit of 21 cents a share and revenue of $686 million.
Shares jumped 13% to $193.64 in after-hours trading. Tesla raced 353% higher in 2013 and  closed Wednesday up 28.7% since the start of this year.
As announced at the Detroit auto show, the Palo Alto, Calif., company delivered 6,892 of its flagship Model S sedans in the fourth quarter. Tesla had forecasted deliveries of about 6,000.
Tesla also detailed plans to have a prototype of its Model X crossover ready this year, with sales of the less expensive vehicles due to begin in the spring of 2015.
The company expects to deliver 35,000 Model S vehicles in fiscal 2014, 55% more than last year. Tesla also expects a gross margin of 28%. In the fourth period, Tesla recorded an automotive gross margin of 25%.
Tesla warned that production would be strained in the first half due to its supply of batteries. However, chief executive Elon Musk said he will soon announce more details on Tesla's plans to build a "GigaFactory" that will lower the cost of battery modules and ramp up production.