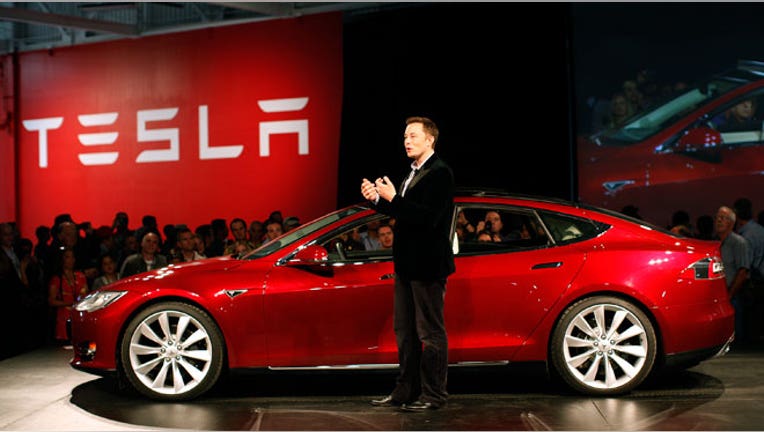 Tesla Motors (NASDAQ:TSLA) is opening its patent portfolio in hopes of encouraging other companies to create new electric vehicles.
In a company blog post on Thursday, chief executive Elon Musk said Tesla will not pursue patent lawsuits against anyone who wants to use its electric-car technology "in good faith."
"Yesterday, there was a wall of Tesla patents in the lobby of our Palo Alto headquarters. That is no longer the case. They have been removed, in the spirit of the open source movement, for the advancement of electric vehicle technology," Musk wrote.
Tesla shares dropped 86 cents, or 0.4%, to $203.61 following the news, compared to a 0.72% dip on the broad S&P 500 stock-market index. The stock was trading as high as $209.88 earlier in the session.
Musk raised the possibility of releasing his company's patents at Tesla's annual shareholder meeting last week. The PayPal co-founder foreshadowed a "controversial" announcement that would address the lack of long-range electric cars on the market.
On Thursday, Musk said many patents tend to hold back innovation and "enrich those in the legal profession, rather than the actual inventors."
Palo Alto, Calif.-based Tesla created patents to prevent large automakers from using the technology and their manufacturing prowess to overwhelm the startup, according to Musk.
"If we clear a path to the creation of compelling electric vehicles, but then lay intellectual property landmines behind us to inhibit others, we are acting in a manner contrary to that goal," Musk wrote, stressing that Tesla was founded to accelerate the creation of sustainable transportation.
By letting go of its patents, Tesla expects electric vehicles to hit the road at a faster pace. Musk said automakers are producing electric cars with limited range, preventing consumers from adopting the technology.
Plug-in vehicles remained less than 1% of new car sales in 2013, even as manufacturers roll out new models. Analysts have suggested that high sticker prices and limited range are driving consumers away.
Musk believes Tesla's main competition comes from the millions of gasoline vehicles manufactured each year, "not the small trickle of non-Tesla electric cars being produced."