Tesla Motors Cuts Full-Year Revenue Outlook as Model S Production Slows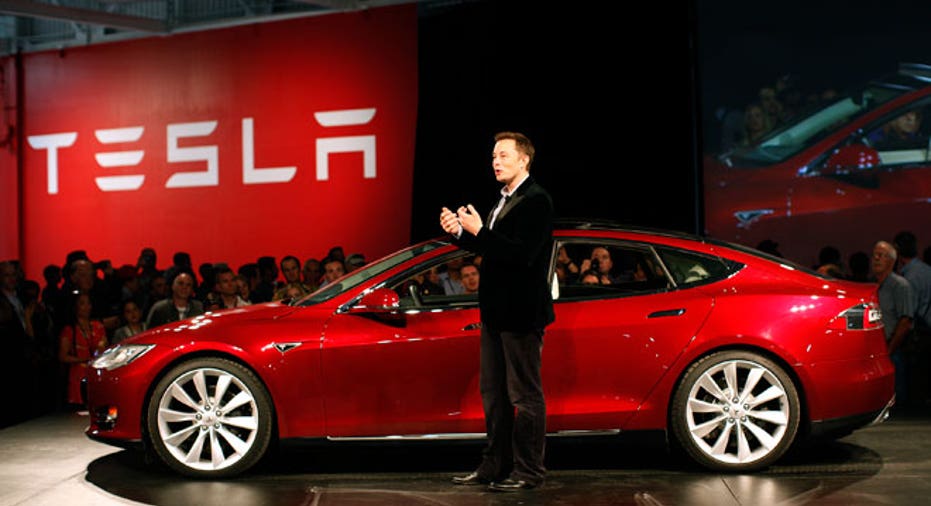 Shares of Tesla Motors (NASDAQ:TSLA) fell more than 6.5% Tuesday morning after the maker of electric vehicles and components cut its fiscal 2012 sales forecast citing a slower-than-expected roll out of its new Model S sedan.
The Palo Alto, Calif.-based automaker now sees full-year revenue in the range of $400 million to $440 million, down from its earlier view of $560 million to $600 million and below average analyst estimates of $545 million in a Thomson Reuters poll.
It forecasts third-quarter sales of $44 million to $46 million, below the Street's view of $83 million, and Tesla said it anticipates its gross margin will be negatively affected by the limited number of Model S vehicles ready for delivery.
The company blamed the narrowed outlook on a delay in supplies that could not fully keep up with its demand, leading to a slowdown in production.
"As our main focus is on quality, we have methodically increased our Model S production at a rate slower than we had earlier anticipated," Tesla said in a filing with the Securities and Exchange Commission. "Certain suppliers have experienced delays in meeting our demand and we continue to focus on supplier capabilities and constraints."
As of Sept. 23, the company produced a total of 225 Model S vehicles and said it forecasts producing more than 300 cars in the third quarter. By the year's end, Tesla plans to be steadily producing 400 Model S cars per week, putting it on track to produce more than 20,000 in 2013.
Tesla anticipates delivering between 200 and 225 Model S cars in the third quarter and between 2,500 and 3,000 in the fourth quarter, which is slower than it originally expected and puts it four to five weeks behind its previously determined delivery goals. The company will begin shipping vehicles to both Europe and Asia in 2013.
"Even if we were to receive no new net reservations, we expect that it would take more than six months to completely work through our existing Model S reservation backlog assuming production rates remain consistent with our current expectations," Tesla said.
Despite the slow production, reservations for the Model S continue to grow and now sit around 13,000, up from about 11,500 as of June 30, partially offset by an increase in cancellations. Tesla expects reservations to grow as it opens new stores and service centers, including in Boston in the third quarter.
"This will allow us to reach out to a much larger base of customers across the country," Tesla said.
Tesla's shares fell more than 6.5% on Tuesday morning to $28.65.