Tesla 4Q Loss Widens, Deliveries Miss Target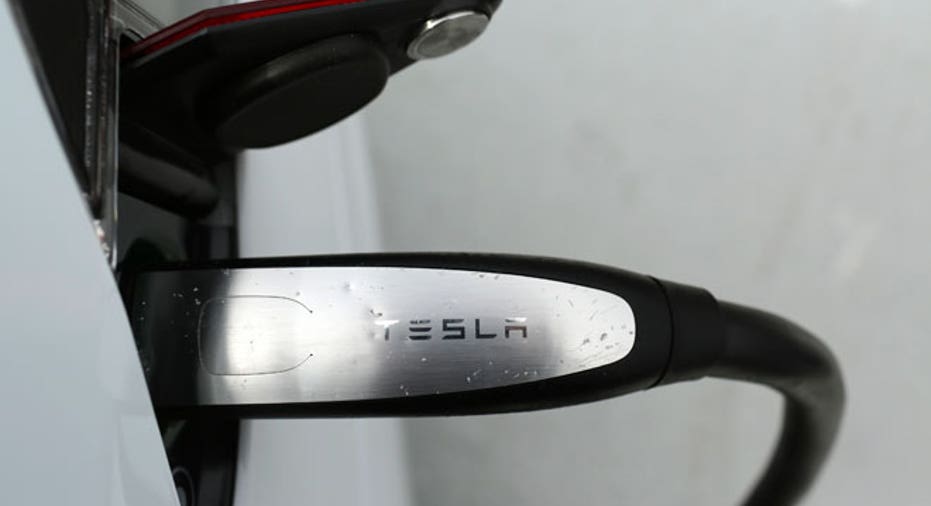 Tesla Motors (NASDAQ:TSLA) posted a wider loss in the fourth quarter and missed Wall Street expectations as full-year vehicle deliveries fell short.
The electric car maker said Wednesday it lost $108 million, or 86 cents a share, compared to $16.2 million loss, or 13 cents a share, in the same period a year earlier. On an adjusted basis, Tesla booked a loss of 13 cents a share.
Revenue surged 56% to $956.7 million. On an adjusted basis, revenue was up 44% at $1.1 billion.
Analysts were looking for an adjusted profit of 31 cents a share on revenue of $1.23 billion.
Tesla shares fell 2.3% to $207.81 in after-hours trading. The stock is down 4.3% since the start of 2015.
Industry watchers have been closely eyeing Tesla, which has laid out aggressive plans to expand its business. The Palo Alto, Calif.-based company is constructing a large battery factory in Nevada, hoping to lower the cost of producing electric cars, and plans to launch the Model X crossover in six months.
Tesla said it entered 2015 with 20,000 reservations for the Model X, plus 10,000 orders for its Model S sedan.
During the latest period, Tesla built 11,627 vehicles to meet its 2014 goal of 35,000. Production included the original Model S and new all-wheel drive versions.
Model S deliveries totaled 9,834 units, below the 11,000 vehicles needed for Tesla to meet its guidance for 33,000 deliveries in 2014. Tesla initially projected annual deliveries of 35,000 vehicles. The company later cut its forecast, citing lower-than-expected production during the third quarter.
Tesla noted that 1,400 Model S sedans were set to be shipped in the quarter, but weather and other issues pushed those deliveries to the first quarter of this year.
Approximately 55% of Model S vehicles were purchased by customers in North America last year. Full-year deliveries were flat in the region, which Tesla attributed to increased shipments to the Asia-Pacific market.
Operating expenses almost doubled year-over-year to $336.5 million.
Fourth-quarter gross margin came in at 27.4%, or 26.7% on an adjusted basis. Excluding emissions credits, gross margin was 22%.
Tesla sees 2015 deliveries of 55,000 vehicles, including the Model S and Model X. That would reflect a 70% increase year-over-year. The company also projected first-quarter production of 10,000 units and shipments of 9,500 vehicles.
Tesla said it believes the company can achieve a non-GAAP automotive gross margin of 30% for the Model S by the final quarter. Margins are expected to hit 26% overall in the current quarter.
The company also noted that capital spending and operating expenses will continue to increase in 2015. Tesla plans to invest $1.5 billion in production capacity growth, Model X development, the Gigafactory battery plant and retail outlets.