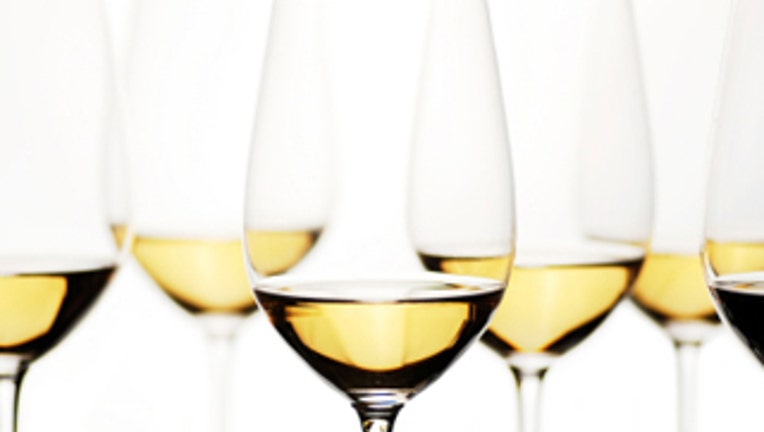 When you're strolling through the wine section in the liquor store or purusing the wine list at a restaurant is there really a huge difference between the $10 bottle and that $25 bottle? If the waiter or wine store sales guy recommends something and you're stumped, how can you make sure you aren't getting ripped off?
Sometimes you can really be misled. A few friends and I attended a wine tasting recently at a very posh restaurant. They had a specialty list just for the event, and when a few wines had prices like "$50", "$75" and "$100" next to it, we figured, surely, that had to be the price per bottle. Oh yeah, when our check came we found out the unfortunate news, those were the prices per GLASS! Let's just say it was a good thing we had a few glasses of the very.expensive.wine! Because it helped numb the pain of paying the bill! Of course we should have asked for clarification before we ordered, but it was such an upscale place we didn't want to sound tacky. And we paid for it. Big time.
How can you make sure you aren't paying too much? Wine guru Rosina Wilson shared her top ten tips on how not to get duped.
Ordering Wine at a Restaurant:
1. Don't let the server intimidate you. His or her job, after all, is to please "you," the customer. And although you don't need to know anything at all about wine to enjoy it, or order it, a little knowledge does help.
Related: Modern Tipping Rules: Who to Tip & How Much 
For instance, if you know that Pinot Noir is a lighter red wine and Cabernet is heavier, you might order a pork chop and say "I'd like some red wine, but I don't want anything too big (strong, overwhelming) for the pork." You can ask about Pinot Noir or other light reds, match your food well, and get your money's worth.
2. Do some homework. If you're planning to dine at a restaurant that has a website, a little "homework" beforehand will enhance your experience - and help you spend your money wisely - especially when it comes to wine.
A restaurant with a well-chosen wine list is generally proud enough of it to post the list, along with its menu, online. Why not browse the wine offerings in advance for bargains? You might discover a little-known treasure. And if you want to take the next step, your favorite Internet search engine is just a few clicks away!
3. Order the right amount. Not long ago, most restaurants sold wine by the bottle ~ period. Now, with more diners ordering wine and wanting to pair it with food, many restaurants have started offering wines in half-bottles and by the glass.
As for pricing, restaurants need to charge more per ounce for wines by the glass or half-bottle, because these smaller amounts don't bring in the higher total that a full bottle would. But even though a glass of wine might cost you 50% more per ounce, it still beats paying the full-bottle price. If, on the other hand, you're in a group, or plan a lengthy meal for two, that full bottle becomes a better value.
Related: Five Ways to Cut Down on Dating Costs 
4. Know the specials. To bring in both new and repeat customers, many restaurants offer special pricing at certain times of day (e.g. "Happy Hour") and/or certain days of the week. Seek these out, and you can avoid paying the usual markups on wine as well as food. (Here too, the Internet is your ally!)
Even restaurants that are quite posh do their own versions of this. One such place near me has a special "small plates" menu in the late afternoon, with everything priced at $6.00 ~ including oysters by the half-dozen and excellent sparkling wine by the glass. Fantastic idea!
5. Consider your budget. If you're on a tight budget, or you want only one glass of wine with your meal, consider drinking it with your main dish only. Since that's generally the most wine-friendly course in the first place, this makes sense in several ways.
And if you're ordering starters such as soup and salad, ask for iced tea, club soda, etc., which are inexpensive, or just stick with water until your wine and entrée arrive. You'll spend fewer dollars, get maximum pleasure per dollar spent, and save on calories as well!
Shopping for Wine:
6. Read the "shelf-talker" tags. Shelf talker tags are those little "paper ambassadors" that stores display to describe their wines. Here, pay less attention to numerical scores (only *you* know your taste; also, higher scores sometimes mean higher prices) and more attention to things like the wine's body and specific flavors.
Let's say you're comparing two red wines at the same price, with one described as "soft and smooth, with cranberry, cherry and spice flavors" and the other as "big and bold, with coffee, cocoa and licorice." Which would you choose for your roast chicken or turkey? There's no right or wrong answer, but if you pick one you don't like with your food, you might be wasting money.
Related: Sneaky Ways You Pay More at the Grocery Store 
7. Think Global. If you like Cabernet, for instance, but refuse to drain your wallet on brands that cost $50 and up, why not look in a different direction? Elsewhere in the world, where Cabs don't yet have the clout to ask these sky-high prices, bargains abound.
While you're out wine shopping, look at some descriptions (on bottles and "shelf-talkers") of Cabernets from various places, and compare prices and "flavor profiles." You'll most likely find that the less-expensive Cabs are somewhat softer and lighter-bodied than the pricey ones. And although they're not built to age, they're probably ready to drink with *tonight's* dinner!
8. Join a wine club. A great way to delve deeper into the world of wine, without overpaying, comes from the wineries themselves. To build a loyal customer base and ensure a steady revenue stream, many wineries have created their own wine clubs.
Usually, members sign up to receive different-sized "packages" (of, for example, three bottles of white, four of red, or six mixed), several times a year. The wineries discount the wines generously, and also host one or more annual members-only wine parties, winemaker dinners or other special events.
9. Shop online. Buying wine online can also be a great way to go. Choose one or more wineries that you like or want to know better, go to their websites and sign up for their mailing lists. You'll be among the first to learn of their reduced-price offerings: end-of-vintage closeouts, seasonal specials and more.
Additionally, there's a fairly new category in online wine buying, with independent firms selling small lots of clearance wines at great prices. Discounts sometimes exceed 50%, in fact, and shipping is often free with a minimum purchase.
Related: How Technology Will Change the Way You Shop 
10. Develop your own taste. My very best advice to you, to avoid getting ripped off when you're buying wine, is to develop your own taste, learn enough so you'll feel comfortable in restaurants and wine shops, and most of all, trust your own judgment when it comes to what you like and dislike.
It's easier than you think. Next time there's a good sale on wine, try bringing home several bottles to compare with each other. Then try them with different foods and see what works best for you.
The more you experiment with it, and the more fun you have, the more you're empowering yourself to keep moving forward with wine. You'll be ordering and shopping for wine with confidence, while remaining alert for rip-offs.
Best of all, you'll be experiencing the sheer enjoyment of wine - and the whole new world of flavors that unfold whenever you lift your glass in a hearty toast.
Rosina now has a new, free wine eBook that just came out. If you want to get it click here.
Read More from GalTime: