Ten Products Under $10 Every Kitchen Needs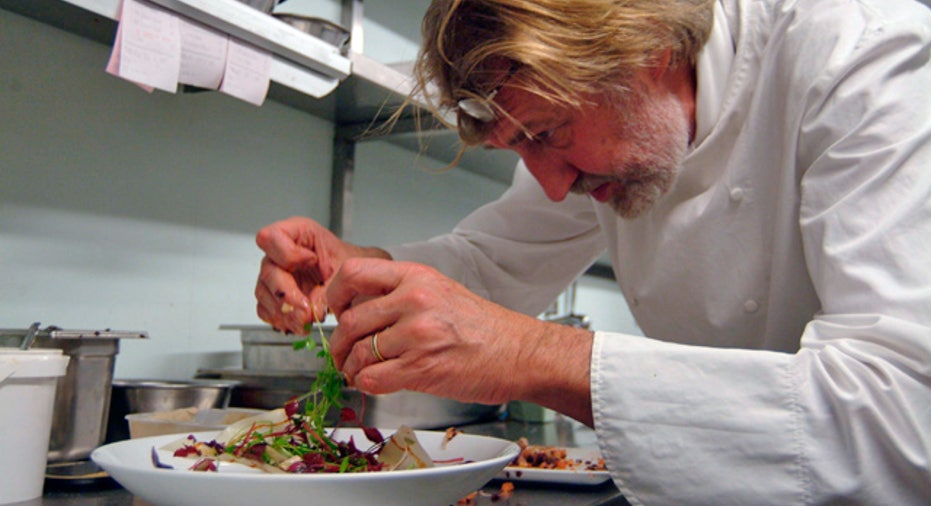 Those of us on a budget already know that eating out every night isn't an option—even preparing a gourmet meal at home a few times a week racks up a hefty tab. However, with a few cheap essentials in your kitchen arsenal, you can cook like a pro without the price tag. We checked in with expert chefs who recommend 10 versatile ingredients that can spice up any dish with epicurean flavor for less than what you'd pay for a salt and pepper set.
Canned Tomatoes 
"Everyone should have some form of canned plum tomatoes in their cabinet," advises Alex Pilas, executive chef at Eataly in New York City. "Avoid the ones that have been overly processed with additives like salt and sugar. Look for something that's as natural as possible."
Canned tomatoes have been picked and canned at the peak of ripeness, he says, and are as close to fresh tomatoes as possible and are handy for soups, pasta dishes, chilis and stews.
"You can even put them in the oven and dry them out for a snack alone or as a topping on brochette."
Price: $4-$6 for 32 ounces
Pasta
"Pasta is the most versatile dish there is," says Pilas. "I don't know anyone who doesn't see the appeal of spaghetti."
Pilas recommends always having a box of penne and spaghetti on hand to create a variety of hearty dishes. Penne is great to make macaroni and cheese, baked ragu, or pasta salads. Spaghetti can be combined with meat or vegetable-based sauces or can be dressed simply with butter and olive oil to create crowd-pleasing meals.
"A cold pasta salad is great for a picnic in the park and stores nicely in the fridge," Pilas says.
Price: From 0.99 cents per bag and up
Sriracha 
"Sriracha is pretty much in every Vietnamese or Thai dish. It's what you see in Chinese restaurants in the big squeeze bottle on the table," says Pilas. "It's made from a paste of red chili pepper, vinegar, garlic, and sugar, and I like it in everything."
Sriracha can be used in marinades for vegetables or protein, and can be mixed with mayonnaise to create a spicy dressing for sandwiches and salads, he recommends. It can also serve as a base for vegetable dip or pasta sauce.
"It's not something most people use every day, but it makes everything better. You can probably find it in any grocery store where the mustard and ketchup are located."
Price: $4 for 16 ounce
Garlic
"Garlic is in just about every savory dish," says Gabi Moskowitz, professional chef and author of The BrokeAss Gourmet Cookbook . "It's also one of those things that loses flavor as soon as you cut it or chop it, so buy whole heads of garlic, not the pre-peeled or pre-chopped kind."
Cooks who have garlic on hand will be amazed at its usefulness, says Moskowitz. She suggests mixing it with olive oil and salt and pepper for a light pasta sauce, or roasting it in the oven to spread on bread. Of course it can also be used as part of more elaborate dishes, such as any type of roast meats, pizzas, soups, stews, and more.
"A few cloves of chopped garlic make things that much better. You can even add it to canned beans, and they'll instantly taste so much higher quality, so much more expensive. It takes basic things to the next level."
Price: 0.50 cents per head
Balsamic Vinegar
"Stop buying salad dressing," says Moskowitz. "There's no reason to buy it when you can whisk together balsamic vinegar and olive oil and it's so much better for you."
Balsamic vinegar can be an excellent addition to any marinade, she says, because the acid aids in tenderizing the meat and the sugar helps create a golden crust on the outside. It can also be used when sautéing onions because the sugar can speed up the caramelization process.
When buying balsamic vinegar, verify you are getting the real thing. "Make sure it's not just white vinegar with caramel color and sugar in it. Check to see that real balsamic is listed in the ingredients," Moskowitz advises.
Price: $4 for 12 ounces
Walnuts
"Walnuts are great for adding texture to something that's plain," says Morgan Murphy, food critic and author of Off the Eaten Path. "Add chopped walnuts to plain lettuce from the supermarket, and suddenly it's a gourmet lunch."
Although whole walnuts can pricy, Murphy suggests looking for chopped walnuts or walnut pieces because they're cheaper and many dishes call for them to be chopped anyway. Walnuts are great in cheese dishes, brownies, oatmeal, and as a garnish on many Asian and Thai dishes, Murphy says.
Price: $6 for a ½ pound bag of walnut pieces
Goat Cheese 
"Cheese is something that people can really go out and overspend on, especially if they're entertaining," Murphy says. "One cheese that's incredibly versatile--but not terribly expensive--is goat cheese."
Goat cheese is excellent when drizzled with honey and walnuts served at a party, or used in salads, omelets, or quiche. More unusual goat cheese recipes gaining favor include goat cheese cheesecake and bagel spread, according to Murphy.
"Another great thing about goat cheese if you're entertaining is that many people who are lactose intolerant are not affected by goat cheese."
Basil 
"Last year I bought two basil plants for $6 and now they are huge," says Murphy. "You can make pesto all day long, use it on salads, on pizza, pastas, the list goes on."
If you plan to grow your own basil, the plant requires minimal maintenance. If you plan to buy it in the grocery store, it's one of the cheapest herbs available, either fresh or dried.
"Don't underestimate simply serving basil on grilled chicken or with tomatoes and olive oil. It's phenomenal with simple things," Murphy says.
Price: Around $3 for a bunch fresh, around $4 for a jar dried
Chicken Stock/ Chicken Broth 
"I always have chicken stock on hand. It keeps forever, and it's called for in so many recipes," says Murphy. "If the kitchen were a toolbox, chicken stock would be the hammer."
Murphy advises using chicken stock in place of water when cooking things like rice, kale, collard greens and quinoa to add extra flavor and make meals pop.
"It's a flavor enhancer; it's the educated chef's version of MSG," he says. "Any kind of vegetable soup is enhanced by chicken stock. Even cabbage soup when made with chicken stock has such a flavor punch."
Price: 48-ounce chicken stock for $3
Chocolate Chips
"For kitchens with kids—or cooks with a sweet tooth—have a bag of chocolate chips on hand at all times," Murphy advises.
Everyone knows chocolate chips can be used to make chocolate sauce, hot chocolate, or in cookies, says Murphy, but they can be used in some really creative dishes, too. Mole sauce can be made with chocolate chips as well as things like French toast, pancakes, and trail mix.
"I love to mix them with walnuts and raisins and take them with me when I go on a hike with the dog. And if I'm honest, I secretly like eating them right out of the bag. I think as a food critic, I'm probably supposed to have some artisanal chocolate lying around, but a handful of chocolate chips really does it for me."
Price: 32 ounces for $4