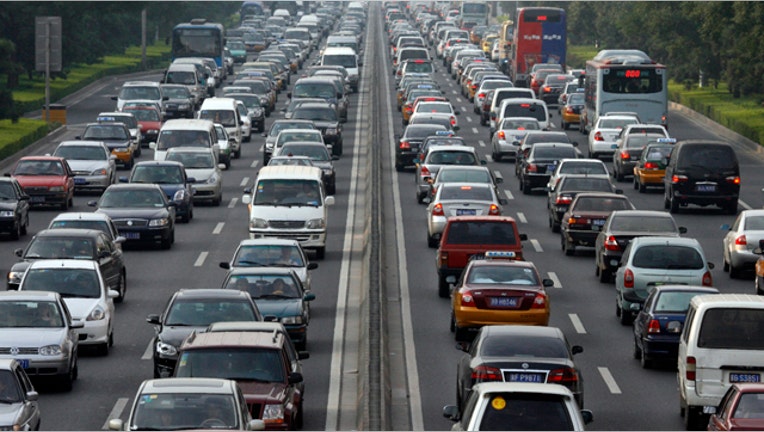 If you think Bankrate's list of 10 big-time gas guzzlers is populated with high-ticket European imports, you would be correct. Only two entries are not.
"Gas guzzler" is the better-known name of the progressive tax paid by manufacturers and assessed to passenger cars that get less than 22.5 combined miles per gallon.
For the most part, there are no big surprises here. All of the usual suspects are represented: Ferrari, Lamborghini, Bentley, Aston Martin and Rolls-Royce. That a Lexus and a Cadillac managed to elbow their way into this group of gas guzzlers might raise a few eyebrows.
To earn its place among the fuel-consumption notorious, a car must have a combined city and highway fuel-economy estimate of 14 mpg or less. Nearly 20 models qualify, and three or four brands could have easily dominated this list of gas guzzlers. But Bankrate decided to mix it up a bit by including only one model per brand.
In the car's description is its base price before delivery charges or taxes. The estimated mpg is from the Environmental Protection Agency, the manufacturer's website or Edmunds.com.
2012 Bugatti Veyron 16.4 Grand Sport
Price: $1.76 million (according to Car and Driver magazine)
Mileage: 9 mpg city/15 mpg highway
If you research the Veyron on the Internet, you will find as many retail prices as sites you visit. That's because Bugatti set the Manufacturer's Suggested Retail Price at 1.4 million euros. When the exchange rate between dollars and euros changes, U.S. prices can reflect the fluctuation.
You may be disappointed to learn that with the top removed, the Grand Sport can only reach 233 miles per hour rather than the top maximum speed of 253 mph. In either case, this gas guzzler will still hit 60 mph in less than three seconds.
That's what happens when you join two V-8 engines together to form a 1,200-horsepower, 8-liter engine driving all four wheels.
2012 Maybach 57 S
Price: $418,950
Mileage: 10 mpg city/16 mpg highway
It's the last year for this brand that is a division of Mercedes-Benz. As Lexus is to Toyota, Maybach is to Mercedes-Benz.
The 57 S is designed for an owner wishing to be chauffeured in a gas guzzler. Two reclining, overstuffed leather captain's chairs separated by a console with minirefrigerator provide the rear-seat, first-class accommodations. A full range of uber-luxurious features ensure total creature comfort.
Getting to 60 miles per hour from a standstill requires slightly more than five seconds, thanks to the 620-horsepower, 6-liter, turbocharged V-12 engine.
2012 Lexus LFA
Price: $375,000
Mileage: 11 mpg city/16 mpg highway
The LFA provides Lexus with a performance machine of the first order. A rare bird indeed, the entire scheduled production run is only 500 units.
At its heart is a 552-horsepower 4.8-liter V-10 engine mated with a six-speed automatic transmission with steering wheel-mounted paddle shifters. It will gallop to 60 mph from a stop in less than four seconds.
As if the LFA wasn't already exclusive enough, this gas guzzler can be ordered in 30 different exterior colors and 12 interior colors. There are even six brake caliper colors.
2012 Ferrari FF
Price: $295,000
Mileage: 11 mpg city/17 mpg highway
A veritable bargain when compared to the price of some others on this gas-guzzler list, the Ferrari FF is all new for 2012. A Ferrari of sorts for crossover fans, it seats four, has standard all-wheel drive and a front-mounted engine.
Rocketing to 60 mph from a stop in less than four seconds, the FF is powered by a 651-horsepower, 6.3-liter V-12 engine. The seven-speed automatic transmission shifts like a manual.
It offers rain-sensing wipers, Bluetooth connectivity and a navigation system as standard equipment along with a grocery list of extra-cost options.
2012 Lamborghini Aventador Coupe
Price: $387,000
Mileage: 29 mpg city/38 mpg highway
All new for 2012, the Aventador is the sort of intimidating gas guzzler that Lamborghini is notorious for engineering. A subthree-second advance to 60 mph gives it serious street cred. You may streak by the next gas station before even seeing it.
Power comes from a 700-horsepower, 6.5-liter, V-12 engine that drives all four wheels.
Still, it's not just about performance. This gas guzzler comes with a navigation system and a multimedia interface with Bluetooth connectivity. The cabin is a bit tight, and for cargo room, well, you can always put your toothbrush in your pocket.
2012 Bentley Mulsanne
Price: $290,000
Mileage: 11 mpg city/18 mpg highway
The Mulsanne is Bentley's flagship. Sprinting to 60 mph from a stop in less than six seconds, it is powered by a 505-horsepower 6.8-liter twin-turbo V-8 engine, putting the Mulsanne on the gas-guzzler list. An eight-speed, driver-shiftable automatic transmission sends power to the rear wheels.
More of a luxury touring car than a sports car, the Mulsanne places passenger comfort ahead of aggressive performance.
Inside, expansive leather surfaces are interrupted with real wood accents. Even the rear seats have power adjustments and are heated. The car's multimedia interface includes a navigation system.
2012 Aston Martin DBS
Price: $275,461
Mileage: 11 mpg city/17 mpg highway
When you just have to go 190 mph, the DBS with its 510-horsepower 6-liter V-12 engine stands at the ready. A six-speed manual transmission ushers engine production to the rear wheels. Getting to 60 mph from a standstill takes slightly more than four seconds.
Irrevocably linked to the James Bond movies, Aston Martin conjures up visions of exotic locales and exciting adventures, making wealthy owners less likely to care that it's a gas guzzler. In its DBS guise, it comes with assorted creature comforts such as a 13-speaker Bang & Olufsen audio system, hard-drive navigation system and Bluetooth connectivity.
2012 Rolls-Royce Phantom Coupe
Price: $408,000
Mileage: 11 mpg city/18 mpg highway
Either the sedan or convertible versions of the Phantom could have substituted for the coupe on this list; all post the same mpg numbers. Rolls-Royce is so pleased with the Phantom that it made no changes to it for 2012.
A 453-horsepower 6.7-liter V-12 engine uses an eight-speed automatic transmission to send output to the rear wheels. Getting to 60 mph from a stop requires less than six seconds.
Real wood, yards of supple leather and fancy accents fill the spacious cabin. A multimedia interface, hard-drive navigation system and Bluetooth connectivity are just a few of the creature comforts in this gas guzzler.
2012 Mercedes-Benz CL600
Price: $160,300
Mileage: 12 mpg city/18 mpg highway
Best described as a coupe version of the S-Class sedan, the CL600's rakish good looks mingle with a high degree of passenger comfort, resulting in a world-class touring gas guzzler.
Gobs of leather and wood punctuated by standard features ease the task of road work. These include a Cockpit Management and Data, or COMAND, electronics system, hard-drive navigation system, and a Harman Kardon surround-sound audio system.
The CL600 turns its rear wheels with a 510-horsepower, 5.5-liter V-12 via a five-speed driver-shiftable automatic transmission. Reaching 60 mph from a stop takes it 4.5 seconds.
2012 Cadillac CTS-V Sedan
Price: $64,515
Mileage: 14 mpg city/19 mpg highway
The least pricey among Bankrate's gas guzzlers, the CTS-V qualifies for this list whether in sedan, coupe or wagon form. The retail price for all three is the same as well. Able to sprint out in front of most high-cost imports, the CTS-V dashes to 60 mph in slightly less than four seconds.
The six-speed, driver-shiftable automatic transmission that produces the poor fuel economy to put this Caddy on the gas-guzzler list is a no-cost option. It's mated to a 556-horsepower 6.2-liter supercharged V-8 engine.
The CTS-V has all the usual luxury bells and whistles, plus a rearview camera, navigation system and a Bose-infused audio system.