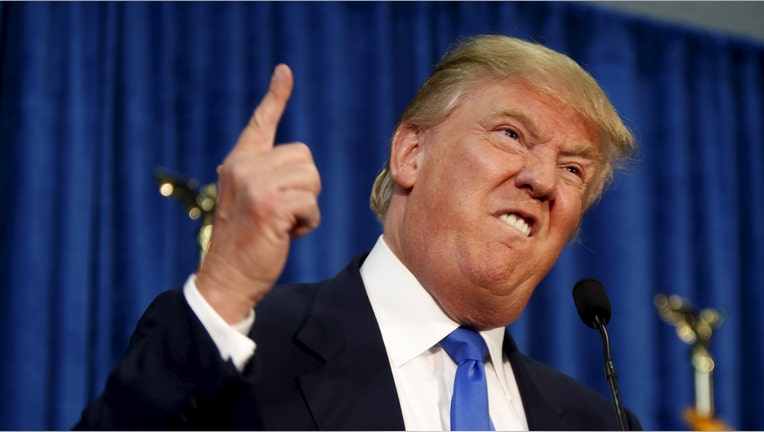 There seems to be no stopping billionaire businessman Donald Trump as he continues dominating the Republican field just two months out from the Iowa primary. A new national poll by Quinnipiac University released Wednesday shows Trump in first place with 27% support from Republican voters.
Senator Marco Rubio is now in second place with 17% and neurosurgeon Ben Carson drops to a third place tie with Senator Ted Cruz at 16%.
"Trump is no mere mortal, he is a unique political animal," said Ford O'Connell, Republican strategist and former adviser on the 2008 McCain-Palin presidential campaign.
"Where Trump is really killing in the field is on the issue of who is a strong leader and terrorism. It's what is keeping his numbers right where they are, on top."
Donald Trump's Teflon-esque candidacy has been in focus since June, when he announced his run for the Republican nomination. Since that time Trump has consistently pushed the envelope with politically incorrect statements and tough criticism for his opponents. In recent weeks, he stirred up controversy for suggesting killing the family members of terrorists, aggressive surveillance of Muslims and allegedly making fun of a disabled New York Times reporter after walking back a story.
"Trump is Teflon at this juncture; he could conceivably say something that could turn off the majority of Republican leaning independents but that has not happened yet and I wouldn't be waiting around to hope for the best," said O'Connell.
Among GOP voters, 26% say they "would definitely not support" Trump and his honesty grade ranks low. According to the poll, 59% say Trump is not honest or trustworthy, versus 28% who say he is.
"Trump is no mere mortal, he is a unique political animal"
On the Democratic side, Hillary Clinton is the clear frontrunner with 60% support from Democratic voters, compared to Senator Bernie Sanders at 30%.
Like Trump, Clinton has a reliability issue in the public's eye; 60% of voters agree the former Secretary of State is not honest or trustworthy. However in a head-to-head matchup against the Republican nominee, 63% of American voters have faith that Clinton has a good chance of winning.  When paired against the Donald, Hillary scores 47-44% over Trump and 45% to Marco Rubio's 44%.
"What's happening here is that the Republican electorate is screaming for a different approach – we don't normally go with freshman senators but at this point they want a fresh face," said O'Connell.
When it comes to electability, O'Connell says Rubio is the strongest matchup against Clinton.
"Marco Rubio gives Republicans the best chance to win  because of his favorability and he is seen as most trusted across the board in terms of the issues that matter most. We are potentially seeing what could be our final three GOP candidates: Trump, Rubio and Cruz."
Quinnipiac University surveyed 1,453 registered voters nationwide from November 23 – 30 with a margin of error plus or minus 2.6 percentage points. The survey includes 672 Republicans with a margin of error plus or minus 3.8 percentage points and 573 Democrats with a margin of error plus or minus  4.1 percentage points.