Teen Entrepreneurs Pitch Their Businesses to Obama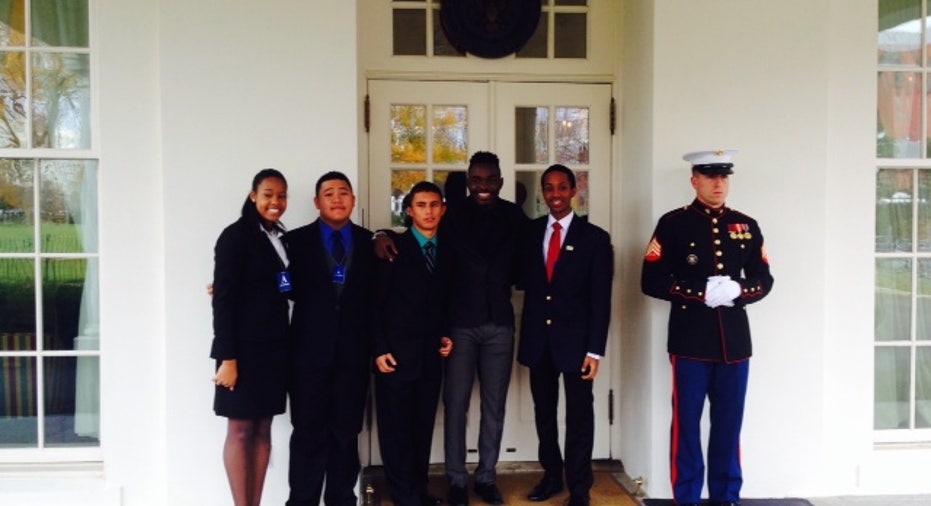 While many entrepreneurs feel nervous simply pitching investors, the teen entrepreneurs who pitched President Obama on Friday did so without breaking a sweat.
"We went into the Oval Office and talked about each of our businesses," says Toheeb Okenla, the 17-year-old co-founder of T&J Soccer, which makes soccer socks with pockets for shin guards.
Okenla and his business partner Jesus Fernandez, also 17 years old, were the grand-prize winners of the Network for Teaching Entrepreneurship's nationwide business plan challenge. They were joined by three other winning teen-preneurs.
NFTE president and CEO Amy Rosen says this is the third time she's brought teen entrepreneurs to meet with the president.
"The opportunity to meet with the president is huge," says Rosen, who says that the students couldn't stop quoting President Obama's advice.
"The major lesson was basically to embrace obstacles that might present themselves and be ready to deal with them on a daily basis and overcome them," says Okenla, who is now a freshman at the University of Illinois at Urbana-Champaign. Coming from Chicago, Okenla says he felt he had a shared background with the president.
And 17-year-old Dagim Girma, whose sports media company The Audible took the first runner-up prize at NFTE's national competition, says it was "incredible" to meet President Obama, whom he calls an inspiration. The Audible, which is geared toward younger sports fans, employs 50 high school writers; the site receives 6,000 unique visitors monthly.
NFTE celebrated its 25th anniversary last year, and Rosen says the organization has taught entrepreneurship to more than 500,000 students, with the goal of reaching 1 million by 2017. Rosen says NFTE's alumni are twice as likely as their peers to go on to create businesses as adults.
"And half of them are creating jobs," she adds.