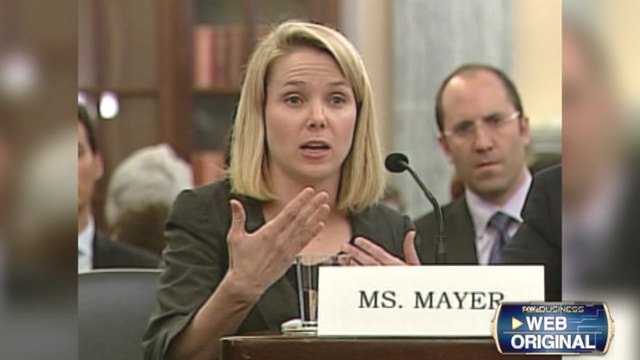 It was a big week for earnings news, with many of the large-cap technology sector companies weighing in with less-than-stellar results.
Yahoo's (NASDAQ:YHOO) Marissa Mayer closed out her first year with the company on Monday and on Tuesday co-hosted the search-engine's first earnings call delivered via online video stream with CFO Ken Goldman.
"I'm encouraged by Yahoo's performance in the second quarter," Mayer said in a statement. "Our business saw continued stability, and we launched more products than ever before, introducing a significant new product almost every week."
But the company's numbers were lackluster, as Yahoo missed second quarter revenue forecasts and lowered its full-year and third-quarter outlook.
Wednesday's bright spot was IBM's (NYSE:IBM) better-than-anticipated report, as the Street also weighed mediocre announcements from Intel (NASDAQ:INTC) and eBay (NASDAQ:EBAY). IBM reported a revenue decline for the fifth consecutive quarter, as profit fell 17% year-over-year, but the results came in ahead of expectations.  Intel posted second-quarter profit that was in-line with expectations, but the company's revenue fell just shy of the Street's view, and the company cut its full-year guidance. Brian Krzanich, the company's new chief executive, touted the opportunity he saw for Intel on the horizon.
"In my first two months as CEO, I have listened to a wide variety of views about Intel and our industry from customers, employees and my leadership team and I am more confident than ever about our opportunity as a company," Krzanich said.
EBay came in a penny shy of earnings-per-share expectations, as profit fell 7.5% compared to the year-ago quarter.  Revenue was in-line with expectations as its payments business, PayPal, continued its strong growth.
On Thursday Microsoft (NASDAQ:MSFT), Google (NASDAQ:GOOG), and Nokia Corp. (NYSE:NOK) each reported disappointing results.  Microsoft earnings missed the mark on both the top and bottom line, and the Redmond, Wash.-based firm blamed its weaker-than-expected 10% increase in sales on the troubled PC market.
Google earnings failed to impress Wall Street.  The company delivered earnings per share and revenue that fell below expectations, but revenue and profit grew 19% and 16%, respectively on an uptick in sales from its advertising business.  The cost-per-click fell 6% in the second quarter, as more consumers used  Google's search engine on mobile devices, where ads tend to cost less.
Nokia swung to a second-quarter miss, reporting a 24% revenue decline in the second quarter as sales of its mobile devices continued to slide.  The Finnish company announced its newest smartphone, the Lumia 1020, last week, but Nokia still trails well behind smartphone heavyweights Apple and Samsung, as it struggles to establish a third mobile platform based on Microsoft Windows.