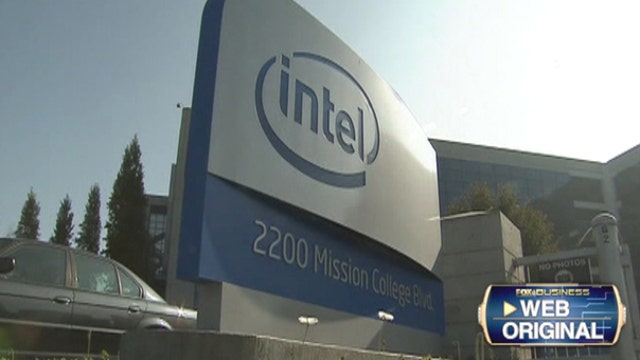 Intel kicked off earnings season, and Woody Allen leapt from the silver screen to Amazon Prime screens -- this is your tech rewind of the week.
The blue-chip chip maker revealed fourth-quarter profits per share of 74 cents, topping analysts' expectations calling for 66 cents. Intel's (NASDAQ:INTC) CEO cited improved PC and expanding tablet sales. But revenue, which was in line with Wall Street views, coming in at $14.7 billion, and first quarter guidance underwhelmed investors. Intel shares were down more than 2% in extended trade.
In M&A news, Reuters reported midweek Samsung might be acquiring BlackBerry (NASDAQ:BBRY) for $7.5 billion, which sent BlackBerry shares up 29% -- the biggest gain in 11 years. The high didn't last: Shortly after the news broke, BlackBerry's CEO said in a statement that the company "was aware of the reports," but that it had "not engaged in discussions with Samsung in any respect to a possible offer purchase." Shares sunk 14% and some analysts say that a Samsung-BlackBerry marriage has some merit to it, so if BlackBerry board members decide otherwise, the stock stands to tank much further.
President Obama indicated in a speech on Monday that consumer privacy and fraud protection would be high priorities for 2015. Among the proposed legislation he discussed, the president talked about a federal bill requiring companies to notify consumers and the public when they've had a data breach.
According to a report by Re/Code, Google (NASDAQ:GOOGL) plans to offer business loans through Lending Club (NYSE:LC) to small businesses that resell Google business software. The search giant is also making changes to its Google Glass project, retooling the troubled venture into a standalone unit, which will be led by Ivy Ross. She and her team will report to former Apple executive Tony Fadell, who heads Nest Labs. Google plans to halt the sale of Glass through its explorer program to individuals, but is expected to introduce a new Glass model later this year.
Amazon.com (NASDAQ:AMZN) announced this week it has signed on silver screen legend Woody Allen to write and direct a new television series to stream exclusively online on its Prime service. Details about the series, such as genre, title and cast, are still under wraps, but TV critics say it further cements Amazon's credibility in the space. The news came days after Amazon Studios, the e-commerce giant's film branch, won it's first Golden Globe award for original online programming for its show "Transparent." For Allen's part, he joked in a statement that he "had no ideas" and that his "guess is that Roy Price [Amazon Studios VP] will regret this."
It looks like Spotify shook it off -- Taylor Swift's yanking of her music from the streaming service, that is.  The online music streaming platform announced they had reached 60 million monthly active users and 15 million paying subscribers globally in 2014, a 50% growth since last spring.
Facebook (NASDAQ:FB) launched a mobile app offering free Internet in Colombia as part of its Internet.org project and in partnership with local mobile phone provider Tigo. In an appearance with Colombian President Juan Manuel Santos, Zuckerberg touted the service as a foundation by which entrepreneurs in the country can "build their own prosperity." Colombia is the first Latin American country where Internet.org has launched. The service first launched in Zambia last year and is part of Zuckerberg's efforts to expand Internet access in developing countries.