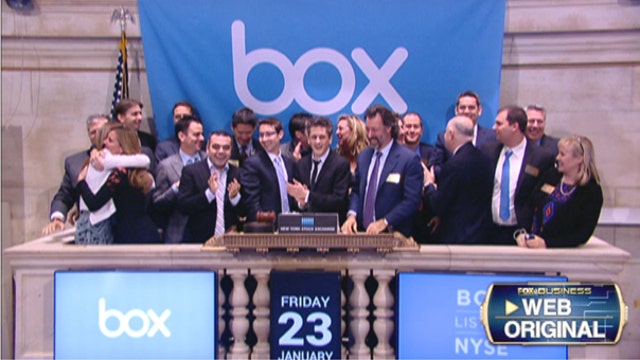 An earnings blitz, Box went public and President Barack Obama gave a State of the Union shout out to Instagram -- this is your tech rewind of the week.
After 10 months of delays, Box (NYSE:BOX) surged in its NYSE debut Friday. The cloud storage company began trading 44% above the $14 per-share level it priced at Thursday night. But despite the fanfare, Box is set to face financial headwinds and big competition as a public company.
It was a mixed bag for tech companies as earnings report cards began trickling in this week.
Netflix (NASDAQ:NFLX) shares popped 15% on Tuesday in extended trade after the video-streaming company beat its own estimates of 4 million added subscribers worldwide with 4.3 million added. Quarterly revenue rose 26.3% to $1.48 billion and net income rose to $1.35 per share.
IBM (NYSE:IBM) revealed a miss on revenue, reporting sales of $24.1 billion, below the $24.76 billion economists expected. The blue-chip tech company reported adjusted fourth-quarter earnings per share of $5.81 that widely beat views, sending shares up 2.3% after hours Tuesday. Some say the mixed results show the longtime tech leader's struggle to make headway in the cloud computing world.
Meanwhile, eBay (NASDAQ:EBAY) posted lukewarm earnings with adjusted fourth-quarter profits per share of 90 cents, besting estimates by a penny. Revenues of $4.9 billion were in-line with expectations. But the e-commerce giant also said it plans to slash 2,400 jobs as it prepares to spinoff PayPal later this year.
The layoffs didn't end there: American Express (NYSE:AXP) said it would cut 4,000 jobs, citing restructuring plans. The credit card company unveiled fourth-quarter earnings per share of $1.39 on revenues net of interest expense of $9.1 billion, topping expectations. But a rise in quarterly expenses further disappointed investors, and shares were mostly flat in after-hours action Wednesday.
To help boost Internet access, Google and Fidelity invested $1 billion in space startup Space-X. The space exploration company said in a statement the money will also go toward continuing research in space transport, reusability, and satellite manufacturing. And speaking of Google (NASDAQ:GOOGL), not a week after it temporarily pulled its Glass project, Microsoft (NASDAQ:MSFT) introduced its augmented-reality goggles, HoloLens. Microsoft shares were relatively flat for the week, but the Twitter-verse erupted with excitement at the prospect of new virtual reality head gear.
In his sixth State of the Union address on Tuesday, President Obama urged Congress to pass tougher cyber security legislation, saying "no foreign nation, no hacker, should be able to shut down our networks." That, and cyber delinquents should not have the power to "steal our trade secrets, or invade the privacy of American families, especially our kids."
In his message to Congress, he said if the U.S. didn't act fast to pass stricter penalties, it had the potential to cripple not just the nation but also the economy. Obama indirectly grazed the topic of net neutrality, saying he "intend[s] to protect a free and open Internet, extend its reach to every classroom, and every community" so that future innovators have an effective platform and fast network from which to work off of.
The president showed his hip side, giving (Facbook-owned (NASDAQ:FB)) Instagram a shout out when he asked astronaut Scott Kelly to document his upcoming year-long mission on the photo service. Space selfie, anyone?