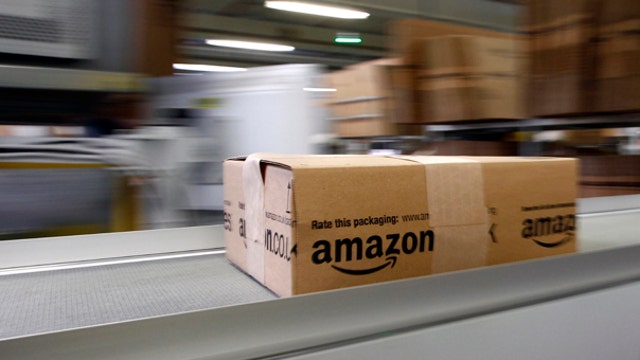 A shift to mobile took center stage as tech titans got back mixed earnings report cards -- this is your tech rewind of the week.
After a disappointing earnings report, Amazon's (NASDAQ:AMZN) "Fire" phone went on sale Friday on Amazon.com. The 32GB will retail at $199 for a two-year contract and will be available exclusively at AT&T stores starting Saturday. For a limited time, Amazon is throwing in a year of Amazon Prime with "Fire" purchases. Shares of the e-commerce giant continued to slip on Friday.
AT&T (NYSE:T) also posted earnings this week. The telecom giant unveiled a second-quarter miss with earnings per share of 62 cents coming up short by a penny. Revenues of $32.6 billion also came in shy of expectations for sales of $33.2 billion.
Investors shifted focus to reports of Apple's (NASDAQ:AAPL) hotly-anticipated new class of iPhones, expected later this year, after the tech juggernaut posted strong earnings results.  Apple has reportedly asked suppliers to produce up to 80 million large-screen iPhones ahead of the launch, and is rumored to be developing a line of "smart" watches, too.
Facebook (NASDAQ:FB) shares jumped to record highs on Thursday, a day after the world's largest social network logged a second-quarter, mobile-ad-fueled beat. The social media giant's monthly active users rose to 1.32 billion with 1.07 billion checking in on mobile – count for daily active users jumped 39% from 654 million last year.
On the heels of a massive layoff announcement last week, Microsoft (NASDAQ:MSFT) posted mixed fiscal fourth-quarter results, with sales topping views, but profits missing estimates by five cents. Shares of the software giant bounced between gains and losses on Tuesday, and were slightly up on Friday.
Despite a hike in prices, Netflix (NASDAQ:NFLX) reported an increase of 1.7 million subscribers in the second quarter – and the video streaming company saw a profit rise of 141% for the quarter. Thanks in large part to the success of their original series "House of Cards" and "Orange is the New Black," Netflix is forecasted to add 3.7 million subscribers in the third quarter.
And after a Thursday earnings report showed slowed user growth, Pandora (NYSE:P) shares plunged 12% in extended trading. Still, the music streaming service saw a 38% rise in quarterly revenue on higher ad sales.
Continuing a trend of mixed earnings, mobile chipmaker Qualcomm (NASDAQ:QCOM) revealed better-than-expected fiscal third-quarter results, however, its revenue outlook for upcoming quarter fell below analysts' views, causing its stock price to drop. And while Visa's (NYSE:V) third-quarter profit rose 11%, the payments network lowered its 2014 revenue outlook.
And on Friday, the New York Attorney General's office lifted its temporary restraining order on the Uber-rival ride-sharing service Lyft, after the two reached a deal regarding the company's compliance with state and local regulations.