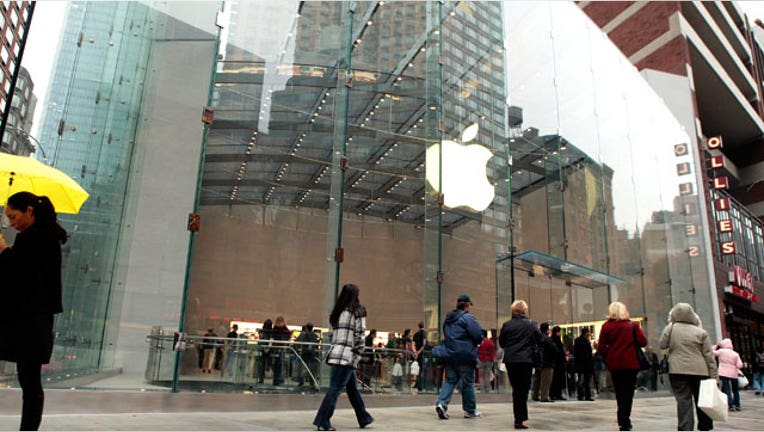 Markets roiled, investors fled, the bears set up shop and undoubtedly sales of Pepto Bismol hit new highs. All the while Apple (NASDAQ:AAPL) quietly sealed a new level of dominance in the world and hardly anyone noticed! But I did! This week, not only did Apple overtake ExxonMobil (NYSE:XOM) to become the most valuable company in the world, but it shut out Walmart (NYSE:WMT) in the music download department. Heres that and everything else that moved this week:
Your paranoia with Facebook has merit!
If you were worried before about what access Facebook had to your personal information, you will reach new levels of paranoia with this revelation: Facebook has now uploaded all your personal phone contacts into your personal profile! So Aunt Sues digits and those of that pesky old boyfriend's you cant seem to shake are all commingled in one more place in your life your Facebook profile.  The company claims that there is a way to undo this and that this feature has existed for a year. Even still, this just compounds big brother fears I have about all social networking and mobile sites and how transparency and consent is being abused. Heres a step by step guide on how to take the feature off.  And for petes sake! Do yourself a favor and delete the old flames phone number NOW. It can only lead to trouble.
All hail Apple!
Apple was big before, but now it is taking on new proportions and challenging the dominance of two of the worlds largest companies: Exxon Mobil and Walmart and in two very different ways.  First to ExxonMobil and the battle for market cap leadership:
On Wednesday, for the first time in history, Apple shares closed the day at a price that gave it a market cap larger than that of the previous market cap leader ExxonMobil. The oil giant isnt the only company Apple has stepped over recently. Last year, it leaped over Microsoft to become the most valuable tech firm.
Apple's now toppling Walmart (kind of) but rest assured, Walmart will always sell more toilet paper than Apple
The world's largest retailer tried to compete against the dominant iTunes platform and is now regretting its decision. It announced it is closing the doors on its music downloads store after eight years. It sold songs for as little as 88 cents, but never gained any traction against Apple or Amazon (NASDAQ:AMZN). The digital music store will shut down on August 29 but youll, of course, still be able to buy CDs and DVDs at physical Walmart locations. I guess people still actually do that?Why do hackers have to be so creepy?
Check out this video. This is supposedly the world-famous hacking group Anonymous launching a threat to destroy Facebook via this clip in. But apparently the hacking group shares the same dysfunction that my own family suffers from when, for instance, were deciding where to go to dinner or what movie to see (making me feel a little better that it isnt just ME). This dysfunction also applies to highly-sophisticated, rogue international hacking groups too! Theres rumored internal disagreement on whether to pursue the mission as a whole, and so not EVERY Anonymous hacker is on board. So only some hackers are trying to kill Facebook. Makes me feel so much more comfortable that my photos, phone numbers and personal information will only be targeted by a few handful of criminal hackers. See above story about phone numbers in Facebook.
Bangin headphones, Dr. Dre branding and a sweet phone = a beautiful combo.
This seems likes a great match-up to me. HTC the global phone maker of the Droid and other fantastic phones and the Beats by Dre line are marrying to make a new baby: a new line of smartphones with superior audio.  A smart move by HTC which is continually trying to differentiate itself in the crowded smartphone space. Thanks to this deal, Dr. Dre just made more money selling headphones than he ever did making music. Now thats the American Dream!
Tune into Shibani Joshi everyday at 2pm ET on FOX Business or email her at ShibaniAndCharles@foxbusiness.com or on twitter at www.twitter.com/shibanijoshi