'Tebow Time' Already Worth Millions to Mets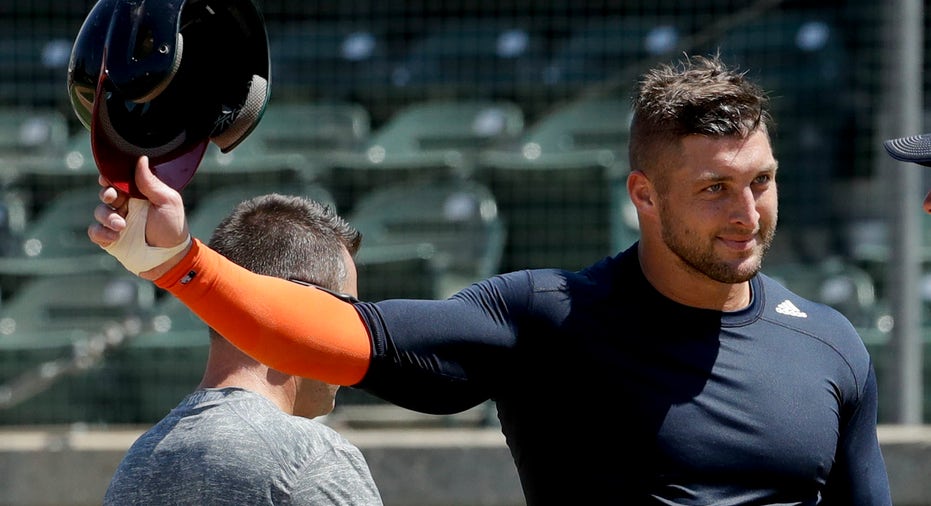 Tim Tebow has signed a minor-league contract with the New York Mets, and his arrival is already paying dividends for the club's brand.
The Mets announced early Thursday morning that Tebow, the former NFL quarterback, will report to Port St. Lucie, Florida, to play in the fall Instructional League. As of Thursday afternoon, media exposure from TV, radio and online platforms has generated an estimated $1.88 million worth of public-relations value for Tebow and the Mets, Apex Marketing Group told FOXBusiness.com. That number doubles when factoring in all of the buzz on social media.
Tebow's total ad value of $3.8 million produced in the first hours after the news was revealed—before nightly news coverage even kicked off—is worth far more than his signing bonus to join the Mets' organization. Tebow received a $100,000 bonus in the deal, according to the Associated Press. That's the maximum bonus for undrafted free agents and players taken after the 10th round of the draft. Anything over that amount counts against a team's bonus pool, which could result in a tax levied by Major League Baseball.
Mets General Manager Sandy Alderson stressed that the team was "intrigued" by Tebow's potential as a player.
"This decision was strictly driven by baseball. This was not something that was driven by marketing considerations or anything of the sort," Alderson said on a conference call.
"I know it's a tough game, but I'm looking forward to putting in the work," Tebow said. "I felt like this was the best fit."
The quick payoff for the Mets reflects Tebow's continued popularity among fans and media. The Heisman Trophy winner has maintained a large following of fans, almost four years after his last appearance in an NFL game. Tebow sells autographed items on his website, and he routinely makes speaking appearances, often to discuss his Christian faith.
Alderson said Tebow, 29, will be permitted to miss a couple days a week while playing in the Instructional League to continue his work as a college-football analyst on ESPN's SEC Network. The Instructional League begins in late September.