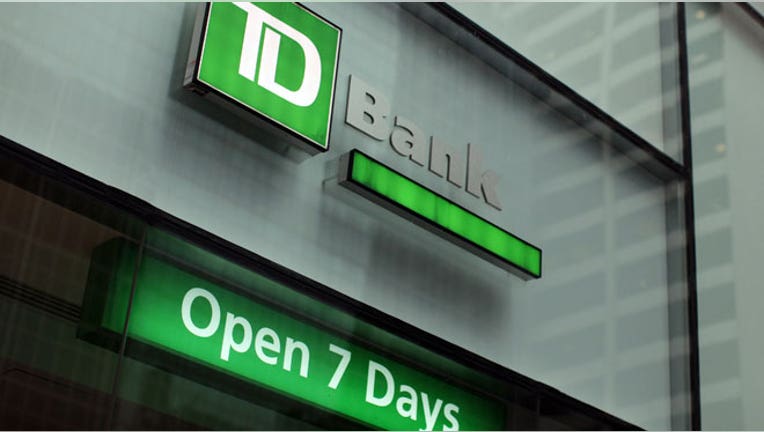 Toronto-Dominion Bank reported a stronger-than-expected quarterly profit on Thursday, boosted by gains at its core Canadian retail business and the impact of buoyant capital markets on its investment banking and trading arm.
Canada's second-largest lender said its net income rose to C$2.1 billion ($1.93 billion) or C$1.11 per share, in the third quarter ended July 31, from C$1.52 billion, or 79 Canadian cents a share, a year earlier.
Excluding special items, earnings were C$1.15 a share. Analysts had expected C$1.09 per share, according to Thomson Reuters data.
Profits at its Canadian retail arm jumped 54 percent to C$1.4 billion from a year earlier, when the company's insurance operation was hit with heavy claims from floods in Ontario and Alberta.
But the division also benefited from the purchase of part of the lucrative Aeroplan Visa credit card portfolio from Canadian Imperial Bank of Commerce.
The pace of lending growth in Canada has slowed down, something the bank has anticipated for a number of years and views as healthy, but is unlikely to slip further in the near-term, said Colleen Johnston, TD Bank's chief financial officer.
"I think today's run rate is about where we'll be for a little while. I don't see anything dramatically different going forward," she told Reuters.
She said that while Canadian housing prices are probably overvalued by up to 10 percent, they look unlikely to drop near term and are more likely to come under pressure if Canadian interest rates begin to rise next year.
Profit at TD's U.S. retail banking operation, which includes more than 1,300 branches on the eastern seaboard, rose 4 percent to C$485 million. Johnson said lending there is likely to continue to grow at an 8 percent rate over the next few years.
TD wouldn't rule out some tuck-in acquisitions to expand its U.S. network, but is more focused on internal growth and will open another 30 U.S. branches this year, she said.
Wholesale banking income, which includes trading, investment banking and advisory businesses, rose 46 percent to C$216 million, boosted by "robust" capital markets and trading activity, the bank said.
(1 US dollar = 1.0855 Canadian dollar) (Editing by Chizu Nomiyama)